Marjan Manček: Hribci kremeniti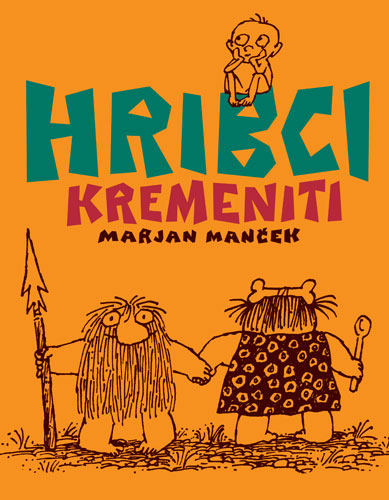 -THIS RELEASE IS IN SLOVENE LANGUAGE-
The Hillies – a popular collection of one-page stories revolving around a  curious Stone Age family and their humorous adventures for all generations!
Minimundus edition #7, 96 bw pgs., 27,5 x 21,5 cm, hard covers, September 2011 / January 2013 (1st re-print), 12 eur

A popular collection of one-page stories revolving around a curious prehistoric family and their humorous adventures for all generations!
The Hillies is a collection of one-page stories that deal with the peculiar conditions of being human in the times of prehistory. The reader is amused with the everyday life of a curious and inquisitive prehistoric family and their humorous adventures. The Hillies are not only a well-thought, witty and educational comics collection, but a great read for kids and parents alike, too, sporting a plethora of lessons that apply to the contemporary life as well.
The Hillies are the most popular creation of Marjan Manček, an illustrator and comics artist with a long line of works dedicated to children. His simple drawing style and a didactical approach allow him to create comics that kids enjoy and parents appreciate. This book is a comprehensive collection of all of his stories with the Hillies, with four extra stories that the artist created especially for this edition.
Marjan Manček (1948) is a famous Slovenian comic book artist, illustrator, author of many books for children and youth and author of animated films. He's an amazing storyteller with a fine sense of humour, a sophisticated and creative approach to language and a flair for precisely designing his main characters, who are curious explorers of the time and space that surrounds them. His work is infused with warm humour and characterized by a non-intrusive educational note. His light, flowing drawings are lucid and full of playfulness and imagination. In 2016 he received The Hinko Smrekar Lifetime Achievement Award at the 12th Slovenian Biennial of Illustration.
Save
Save