Madburger – comics questioning sanity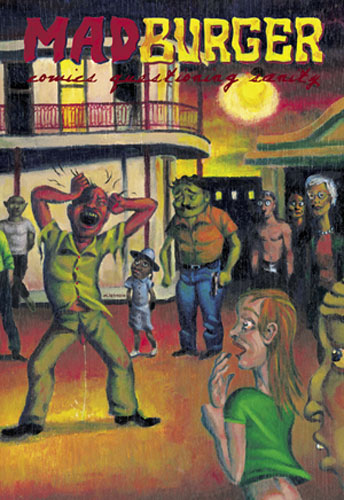 -SPECIAL ISSUE-
sold out
August 2002, 216 pages
This time the subheadline reads "Comics Questioning Sanity" and we're showing off fresh, radical, non-moralizing and even humorous submissions that will hopefully shatter the taboo called madness. Covered by a brainstorming painting by Matthias Lehmann, the 216 pages are filled with stories about living with madness, madness as a blind belief system, mad society, medical treatment and other acute psychotic phenomena.
Participating artists: Jean Bourguignon, Benoit Goesaert, Maud Cressely, Kapreles, Benjamin Monti (Belgija/Belgium); Lucie Markvartova (Češka/Czech Republic), Ole Comoll Christensen (Danska/Danmark); Veiko Tammjärv (Estonija/Estonia); Jyirki Heikkinen, Marko Turunen (Finska/Finland); Alex Baladi, Capucine Latrasse, Matthias Lehmann, Pakito Bolino, Gomé & Fedi, Didier Progeas (FrancijaFrance); Dragoljub Mladenović, Miroslav Nemeth, Irena Jukić Pranjić, Emil Jurcan & Goran Cvek, Ivana Armanini & Mima Simić (Hrvaška/Croatia); Maicol & Mirco, Diego Pagani, Rocco Lombardi, Alberto Corradi, Claudio Parentela (Italija/Italia); Miroslav Lazendić, Vladan Nikolić, Kiza, Maja Veselinović, Vuk Palibrk, Aleksandar Opačić & Wostok, Aleksandar Zograf, Letač, Goran Delić, Lazar Jovanović (Jugoslavija/Yugoslavia); Richard Suicide, Michael Nicoll Yahgulanaas, Leyla Majeri (Kanada/Canada); Marcel Ruijters (Nizozemska/Netherlands); Jason (Norveška/Norway); Jacek Fras, Mateusz Skutnik, Marek Turek (Poljska/Poland); António José Lopes, Emilia Prosot (Portugalska/Portugal); Andrej Štular, Žiga Aljaž, Mina Žabnikar, Koco (Slovenia/Slovenia), Marcus Nyblom (Švedska/Sweden); Tom Hart, Mac McGill & Tauno Bilsted, Madison Clell, Mike Diana, Chris Cilla, Josh Neufeld (ZDA/USA).
Uvodnik/Introduction: Wostok (Serbia).