Lars Fiske: Matjemanija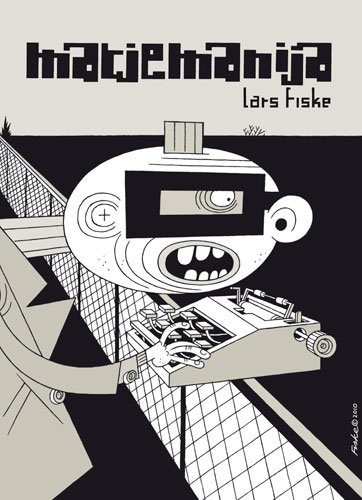 -THIS RELEASE IS IN SLOVENE LANGUAGE!-
 Ambasada Strip edition #13, 96 pgs., December 2012, 10 eur
translated from the Norwegian by Darko Čuden



The story of the poet Matje is a fictional satire about poetic and intellectual communities, portraying the artist's creative development and his struggles as an author. In addition to the humour, Lars Fiske's work is known for its original graphical style, often described as expressionist psycho-cubism. 
Matjemanija je fikcija, satira o pesniškem, umetniškem in intelektualnem svetu. Prikazuje navdahnjenega pesnika Matjeja, njegov ustvarjalni razvoj in avtorski boj. Poleg humorja je glavna značilnost stripa tudi avtorjev izviren likovni stil, ekspresionistični psiho-kubizem.
Lars Fiske (1966) je eden najbolj uspešnih norveških striparjev. Album Matjemanija je ustvarjal od druge polovice 90. let. Trilogija je leta 2010 izšla v samostojni knjigi pri norveški založbi No Comprendo Press, v slovenščini pa jo je izdala revija Stripburger. V slovenščino je strip prevedel Darko Čuden. Lars Fiske je za prvo poglavje te stripovske knjige na Norveškem leta 1997 prejel zlato medaljo.
PREDSTAVITEV: mednarodni festival animiranega filma Animateka, Kino Udarnik, Maribor
pon., 10. december 2012, ob 19.00
ODPRTJE RAZSTAVE del Larsa Fiskeja
tor., 11. december 2012, ob 20.00
PREDSTAVITEV KNJIGE, POGOVOR z avtorjem Larsom Fiskejem in stripovskim založnikom Espenom Holtestaulom iz No Comprendo Press

Projekt so omogočili:
Javna agencija za knjigo RS, NORLA, Norveška ambasada