Stripburger
Regular Stripburger issues. There are 2 of those each year – one in spring and one in autumn! All comics are in English or can be read in English via Connector!
GET IT:  write to burger@mail.ljudmila.org
WE SHIP WORLDWIDE! Preferred payment: PayPal.
NOTICE: All international shipping rates will be calculated at time of checkout. Due to high shipping costs we do recommend a minimum order of 2 copies of the magazine.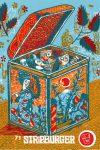 FOREVER YOUNG! 3,50 € + around 5,00 € international shipping. May 2017, 96 pages, cover: ATAK.