Stripburger 44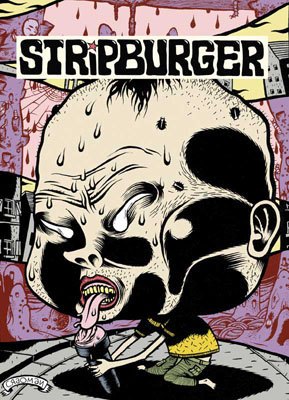 December 2006, 96 pages
(SOLD OUT)
In the profile we're presenting Vladan Nikolic, who exhibited comics, illustrations and paintings in October 2006 in Ljubljana.
A special section is devoted to association Les Requins Marteaux, that created comics on the NO! topic especially for this issue. Results are mostly 1-page stories.
For the first time we're hosting Akinori Oishi, first Japanese artist ever to be printed in Stripburger.
---
COVER: Craoman (Francija/France)
INSIDE COVER AND BACK COVER: Akinori Oishi (Japonska/Japan)
COEDITORS: Morgan Charpentier, Gaelle Gerbault
PROFILE: Vladan Nikolic
COMICS: Koren Shadmi (ZDA, Izrael/USA, Israel), Mallin Biller (Švedska/Sweden), Goran Dacev (Makedonija/Macedonia), Christoph Feist (Nemčija/Germany), Anna Ehrlemark (Slovenija, Švedska/Slovenia, Sweden), Koco (Slovenija/Slovenia), Attila Stark (Madžarska/Hungary), Sylvain Schnaidt (Francija/France)
LES REQUINS MARTEAUX: Nicolas Moog, Sébastian Lumineau, Lindingre & Lefred Thouron, Rémi, Willem, Kaze Dolemite, Olivier Josso, Jossic Tangui, Guillaume Guerse & Marc Pichelin, Felder, Karine Gervier, Quentin Faucompré, Tanxx, Pich', Lucie Durbiano, Pierre Druilhe, Besseron, Morvandiau, Nicola Witko, Bertoyas, Nato.
REVIEWS: Gašper Rus, Matej de Cecco
INTERVIEW: Wostok (Srbija/Serbia)
BACK COVER: Vladan Nikolić (Srbija/Serbia)