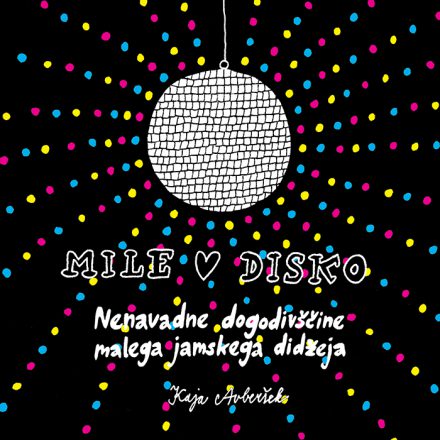 Mile ♥ Disco: Unusual Adventures of a Little Cave DJ  – a playful »diary in comics« on the peculiar adventures in the time of pregnancy.
---
Edition O #21, 104 bw pgs.

7.00 €Add to basket
This cheerful and subtly humorous comic book presents a tiny and somewhat rampant man Mile who lives inside the belly of his mother. The reader is invited to take a peek into the darkness of his cave where things seem different than if seen from outside. Mile is not just an embrio – he's a tiny weewee-esque entity who's a DJ by profession, highly skilled in electrical installations and e-bay. He adores ice cream and grilled meat and there are always some juicy rumors circulating about him. Now he has devised a very precise plan how to turn from an insider into an outsider. But what about his mother? Well, she doesn't have a clue about his plans but she will find it all out when the time comes.
The artist explores her personal haps and mishaps in the time of her pregnancy, disclosing to the readers her most intimate thoughts and feelings in that time in a lighthearted and humorous way. By putting the readers in her shoes she reverts the usual point of view, subverting thus the established one and adding thus a motherly perspective, all while re-examining normative images of pregnancy and motherhood.
Kaja Avberšek (1983) is a Slovenian visual artist, comics artist and designer. She's had several independent comics exhitibions and contributed her comics to different comics magazines and anthologies. Apart from that she also creates illustrations and visuals/scenographies for puppet shows. Her comics shine with a playful departure from the conventions of the comics medium on a formal level and with an extremely stylized, almost pictographic drawing style characterized by a both linguistically and visually relaxed approach.
---