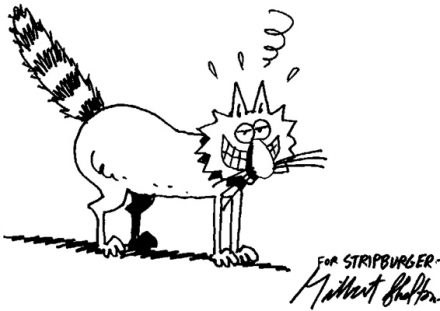 Who are we & what we do?
Stripburger is a publishing pioneer of independent comics in Slovenia. Since 1992, we publish a renowned international comics magazine dedicated to showcasing the work of contemporary comics artists with personal styles and stories.
Alongside the magazine, we also publish Slovenian and translated comic books and graphic novels for adults and young readers.
Additionally, an important part of the Stripburger's activities are comics exhibition, workshops, contests, lectures and other events that aim to promote comics culture and creativity in Slovenia and abroad.
---
What is it – Stripburger?
In the year 1992 the first issue of this, now legendary magazine was published. What compelled the forefathers of Stripburger to start a magazine? It was a lack of independent comics in Slovenia. Due to small local production, explorative tendencies of the editors and the inescapable bind between local production and global trends, the magazine was publishing comics by foreign as much as local artists – mélange of styles and narratives that remains one of the most appealing features of Stripburger.
The editorial board visited numerous festivals, book fares and galleries and succeeded in arousing the attention of the international public. In January 2001 the magazine won the Alph-Art award at the at the Angoulême International Comics Festival in the category of "Best alternative comics" while at the KomiksFEST! 2014 in Prague (Czech Republic), Stripburger received the Muriel honorary award for more than two decades of hard work dedicated to the promotion of alternative comics from Central and Eastern Europe.
Big attention was also given to special editions of the magazine, namely Stripburek (Comics from the Other Europe), anthology of Eastern European comics;  Honey Talks – comics inspired by painted beehive panels; and Workburger – a skillfully woven patchwork of diverse comics narratives, revolving around the topic of contemporary work.
With 30 years of continuous publication, Stripburger today is the only Slovenian comics magazine that features works by both Slovenian and foreign comics artists and complements them with reviews and reflections on the comics art & medium. Being bilingual (Slovenian & English), it has evolved into an important resource on the international comics scene and is also the most important source of information for foreign followers of the Slovenian comics production. Two issues of the magazine are published annually. The editorial policy favours visually strong and expressive comics with a tight narrative and innovative, fresh, experimental or just simply good visual presentation.
"… edini …" – Delo, "… excellent …" – Liberation, "… well executed …" – the Comics Reporter "… bizarre …" -Wostok
EDITORIAL BOARD:
Katerina Mirović, Bojan Albahari, Domen Finžgar, Ana Bogataj, Katja Štesl, Tanja Skale, David Krančan
---
If you want to receive our newsletter, please send us your e-mail with "NEWSLETTER" in the subject.
We use your personal data (name, e-mail address) exclusively for the purpose of sending out our digital newsletter. Your data will not be disclosed to third parties. With our newsletter we keep you updated about our editions, exhibitions and other activities.
If you do not wish to receive any further information from us in the future, please send us an e-mail with "UNSUBSCRIBE" to burger@mail.ljudmila.org.
---
Our programme is kindly supported by: the Slovenian Book Agency (JAK), Ministry of Culture, City Municipality of Ljubljana.