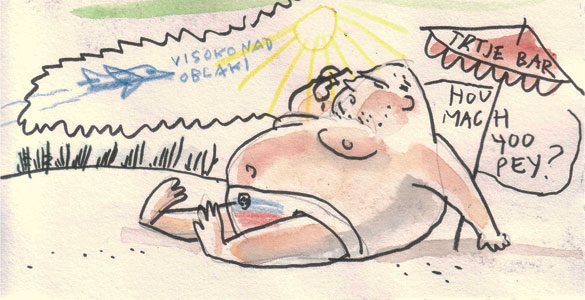 WHEN?
You can find information on current calls for submissions (and deadlines) on our website. Of course, we are always interested to discover new artists, so if like to take part, just send us an e-mail with a link to your comics.
We will look at all your e-mails but might not be able to answer to you right away.
HOW?
You can send us your contributions via e-mail burger@mail.ljudmila.org.
Submissions should include your name, surname, where are you from (country), website (optional).
TECHNICAL SPECIFICATIONS
The format of the magazine is 27 x 19 cm (portrait). (The format may vary in Stripburger's special editions.)
All the techniques are allowed. We prefer comics in black and white or in grayscale, but we accept color pages, too. But keep in mind that there are limited number of color pages per issue.
The preferred file format for digital contributions is TIFF (600 dpi linearity for BW comics and 300 dpi for grayscale and color ones).
Submit only low resolution jpgs or a single pdf for our consideration. The big resolution files as described above we'll ask you to send later.
LENGTH?
The maximum length allowed is 12 pages for b&w comics and 4 pages for color ones. If you want to send us longer stories, contact us first.
LANGUAGE?
English or Slovenian.
THEME?
See the current call for submissions on our website.
Stripburger's editorial board reserves the right to accept or decline any contribution. All selected works will be published in print and digital version of Stripburger magazine. Copyright is retained by the author at all times.
Unfortunately we cannot pay any artist for their contributions. Every author published in the magazine receives 5 free copies of the magazine.
We are looking forward to receiving your submissions! If you have any questions write us!