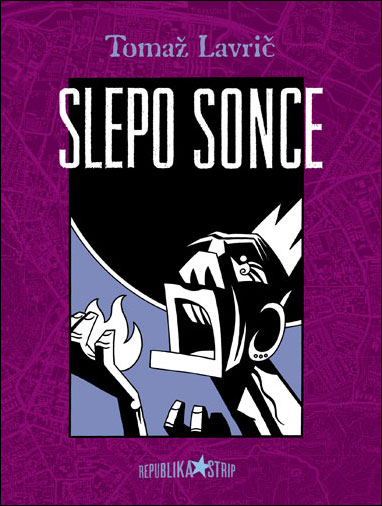 The Blind Sun – a collection of short stories – highly stylized visual extravaganza with a strong humanist message!
---
THIS RELEASE IS IN SLOVENE LANGUAGE!
Republika Strip editon #3, October 2004, A4-, 60 pgs.
SOLD OUT
Save
BLIND SUN (orig. Slepo sonce) is a collection of nine short poetic narratives from the not-so-distant future. Planet Earth is slowly turning into a desert due to the inevitable disruptive impact of civilization itself. This creeping catastrophe is the perfect background to portray tiny human dramas of love, loneliness, hopelessness and fate, while the increasing severity of living conditions highlights universal human issues. Lavrič's Blind Sun features skillful montage, stylized graphic style and a competent use of light & shadow. His expressive drawings are so evocative that Miha Knific, a Slovenian movie director, even made a short movie after the Cloud Hunter story from this book.
TOMAŽ LAVRIČ (1964) is considered the greatest of all Slovenian comics artists, a true comics »chameleon« whose skillful montage and competent brush strokes tell dynamic stories with heavy re-reading value. He's one of the few Slovenian comics artist that was published in several other countries abroad and the first Slovenian ever published in France (Glenat). He's received all the awards a Slovenian visual artist can receive, including the prestigious Prešeren award, granted to only the most excellent artists, for his opulent bibliography, versatile style, originality and prowess.
Save