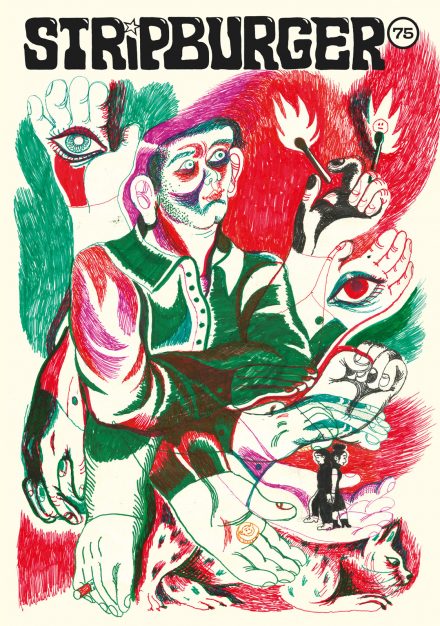 COVER:
Sarah Mazzetti (IT)
SOAPBOX:
Cecilia Valagussa (IT)
INTERVIEWS:
Lorenzo Mattotti (IT), Giorgio Carpinteri (IT)
COMICS:
Eliana Albertini (IT), Margherita Morotti (IT), Ambra Garlaschelli (IT), Serena Schinaia (IT), Cecilia Valagussa (IT), Sarah Mazzetti (IT), Sara Menetti (IT), Silvia Rocchi (IT), Giorgio Carpinteri (IT), Alessandro Ripane (IT), Patrícia Guimarães (PT)
BACK COVER:
Cecilia Valagussa (IT)
STRIPBURGER'S COMPENDIUM #3:
Paola Bristot (
Valvoline Mon Amour
), Ana Bogataj (
Comics Analysis: Stabat Mater
), Gašper Rus (Jason Lutes:
Berlin
), Matej Kocjan – Koco (Helena Klakočar:
Zid Mediteran
), Katja Štesl (Danijel Žeželj:
Fractalia
), Aljaž Vesel & Anja Delbello (
Stripburghetti, a note on design
)
---
Junij 2020, A4-, 124 pages: 96 magazine + 28 supplement
4.00 €
Stripburger all'italiana!
We took advantage of the quarantine to explore the Italian comics scene and delve into the secrets of its visual vitality: from the still dynamic and subversive veterans of the Valvoline collective to the 'young guns' who are to co-create the future history of Italian comics.
We went back in time, to the period of the famous Valvoline collective that shook the Italian and international comics scene with their fierce energy, bold exploration and rebellion against established comics conventions in the Eighties, and we interviewed two significant members of the group, Lorenzo Mattotti in Giorgio Carpinteri, both distinctive and recognizable artists with very picturesque and characteristic styles and an abundant comics opus.
The editorial was written by Cecilia Valagussa, an Italian comics artist from the younger generation who's very well aware of the roots of Italian comics subversiveness. Her comics story – in the luxuriously colourful middle of the magazine – pays homage to Umberto Boccioni and to the tradition of Italian futurism, the same one that inspired the members of the Valvoline group decades ago.
Alongside many and diverse comics treats by younger Italian artists, we also present a longer mute comics story Stabat Mater by the Portuguese Patrícia Guimarães, which is accompanied by a comprehensive comics analysis of the story in the Compendium, now an already established supplement of the magazine. Compendium also features a short but informative presentation of the aforementioned Valvoline group by our Italian correspondent Paola Bristot and a brand-new batch of freshly written reviews.
Buon appetito!
---
PUBLISHER: Forum Ljubljana
RELEASED: June 2020, format A4-, 124 pages: 96 magazine( 23 full colour pages) + 28 supplement, language: English-Slovene, offset printed locally in Slovenia.
GET IT : 4 € (in Slovenia) + international shipping. Price abroad may vary across the country
HOW TO BUY : order it from our webshop or write to burger@mail.ljudmila.org.
WE SHIP WORLDWIDE! Preferred payment: PayPal.
SUPPORT : The Slovenian Book Agency (JAK).