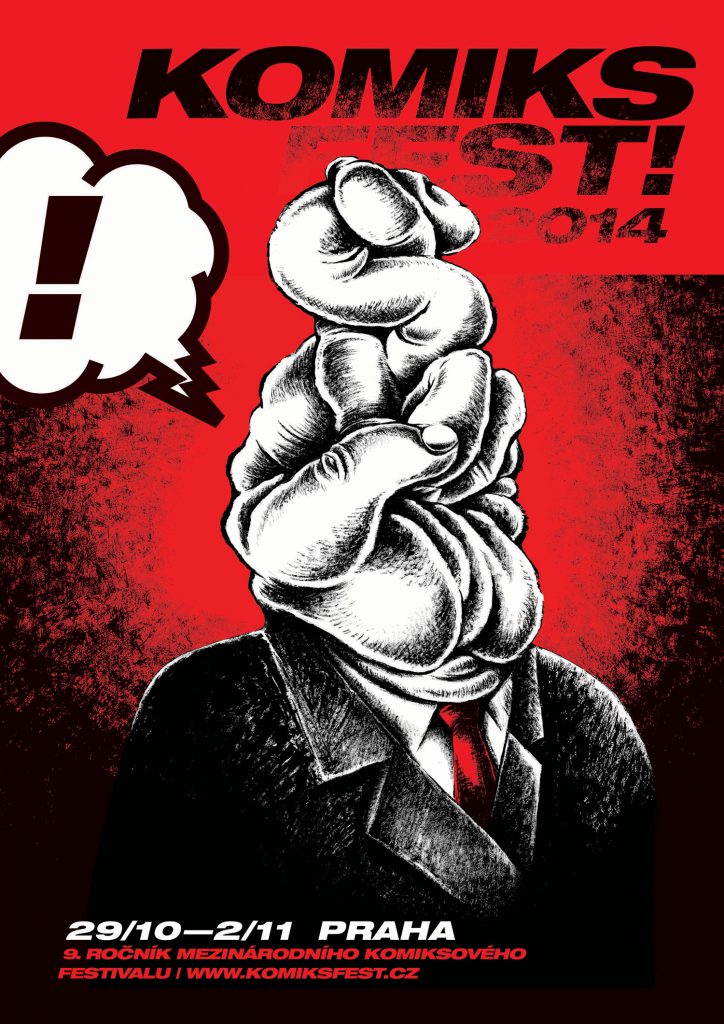 Four years after our last visit at KomiksFEST!, Stripburger trys to conquer Prague again! The 9th year of the international comic festival KomiksFEST! will be held in Prague from 29th October to 2nd November 2014.
As every year, new names, comic books, exhibitions, films, theatre performances, workshops, book signings and talk shows will be presented. This international event shows comics as a young, dynamic, attractive and universal media which is able to carry any meaning. The motto of the festival is »Comics Unlimited«.
Joining the local artists will be a host of international creators which include a mixture of renowned and established creators as well as number of leading up and coming ones. Thus one will be able to see and meet our old friend Igor Hofbauer, Alex Maleev from Bulgaria who won the 2003 Eisner Award for his series Daredevil, the French artist Dominique Goblet, the young Swiss artist Johanna Schaible, the collective Kutikuti from Finland… »Comics Saturday« will be the highlight of the festival. It will take place in MeetFactory on 1st November.
Stripburger presents its works & activities with the exhibition »Attention, work!« by some 50 world-renowned craftsmen/craftswomen of the comics medium from 12 different countries. The exhibition shows the work as one of the sources where the human being can find the main driving force of its existence – the meaning of life. At the same time it is kicking it's adverted face, impersonal sources of profit, where a person loses value. Of course then there are all the positions in between. What better place to put this project to work than to the former factory, MeetFactory!
Apart from Stripburger crew (David Krančan, Tanja Skale and Dāvis Ozols) the Croatian illustrator, comics author and a poster designer Igor Hofbauer will also be introduced. He is also the author of the cover of our Workburger International Comics Anthology. A discussion with Igor Hofbauer and editors of »the underground comics legend« under the title of »Attention, work!: Work and Comics!« will be held on Saturday 1st November in Meetfactory.
Get ready for comics and work!