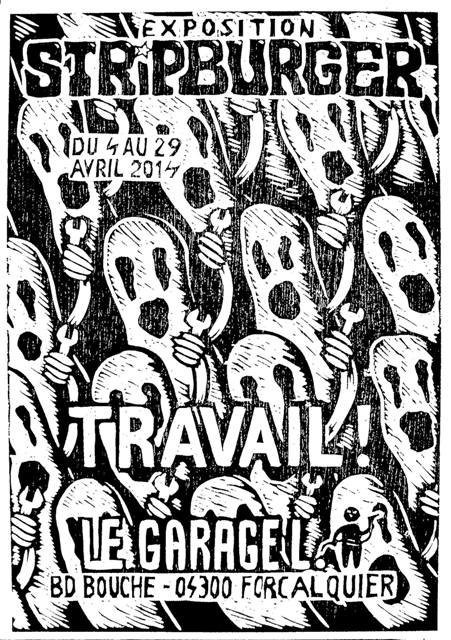 Stripburger's  exhibition Attention, work! continues its international journey – it will be on display from April 4 until April 29, 2014 in Le Garage L. in France.
Le Garage L. is an artist collective, production studio and exhibition space based in Forcalquier. It is a place for research, experimentation and graphic art production. Le Garage L. aims at establishing itself as a local as well as international platform through the organization of exhibitions, workshops, hosting of guests residents, publishing artists books and graphic zines, offering national and international artists and collectives to show their work.
Stripburger will be represented by comic authors David Krančan and Jakob Klemenčič. During their stay in Forcalquier they will explore various graphic techniques at the Le Garage L. print studio.
International artistic cooperation will continue in May 2014, when another Stripburger's longtime friend, the renowned Finnish comic artist Jyrki Heikkinen will pay a working visit to Forcalquier.

Exhibition Attention, Work! in Le Garage L, Forcalquier, France, 2014
Photo: Le Garage L