Long live comics! Long live animation! 18
comics exhibition
Kresija Gallery, Ljubljana
17th January – 15th February 2018
GUIDED TOUR: Saturday, 3rd February, at 10.30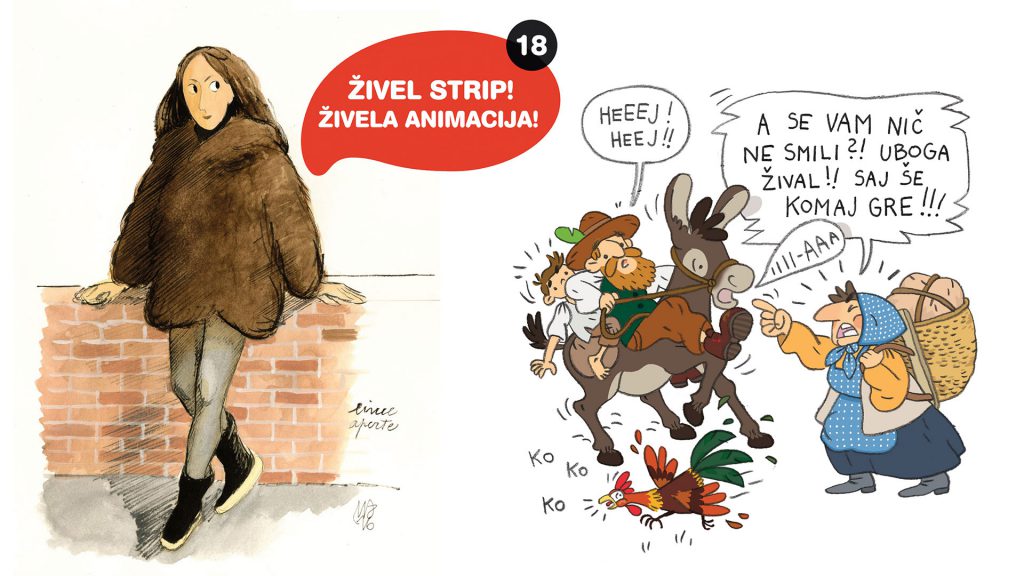 The thirteenth international Long live comics! Long live animation! contest again brings about an exhibition of two artists whose works are meant to reinforce the creative inspiration of young comics-lovers. The Slovenian part consists of miha ha: the domestic artist will present the original pages of his recently published comic story You cannot please everyone all the time (Vsem ljudem nikoli ne ustrežeš, Stripburger/Forum Ljubljana, 2017). This book contains a comics adaptation of a traditional Slovenian folk tale about a father, his son and their donkey they're taking to the fair to sell. Miha ha depicted the complete story in only one painting; his clear and obvious drawing, spiced up with just the right amount of details, makes for a readable and flowing narrative that reveals the evergreen wisdoms of folk literature to the youngest readers.
The contemporary Italian comics production is represented by Manuele Fior, creator of many awarded albums, who will present in Ljubljana, among others, his story of the girl Dora, which is also one of suggested themes of the contest. This unpredictable young lady has a special gift – she can read the minds of others – and this speciality of hers leads her into many unusual situations. His graphic novel titled The Interview (L'intervista, Coconino Press, 2013) is characterized by the classic comics approach which is nonetheless full of contemporary expressional freshness. The exhibition will include a part of his complete comics opus, namely pages from his graphic novel, awarded in Angouleme and titled 5000 kilometers per second (Cinquemila chilometri al secondo, Coconino Press, 2009)  then pages from his Red Overseas (Rosso oltremare, Coconino Press, 2006) graphic novel and his illustrations of poetry that were published in the La Repubblica newspaper.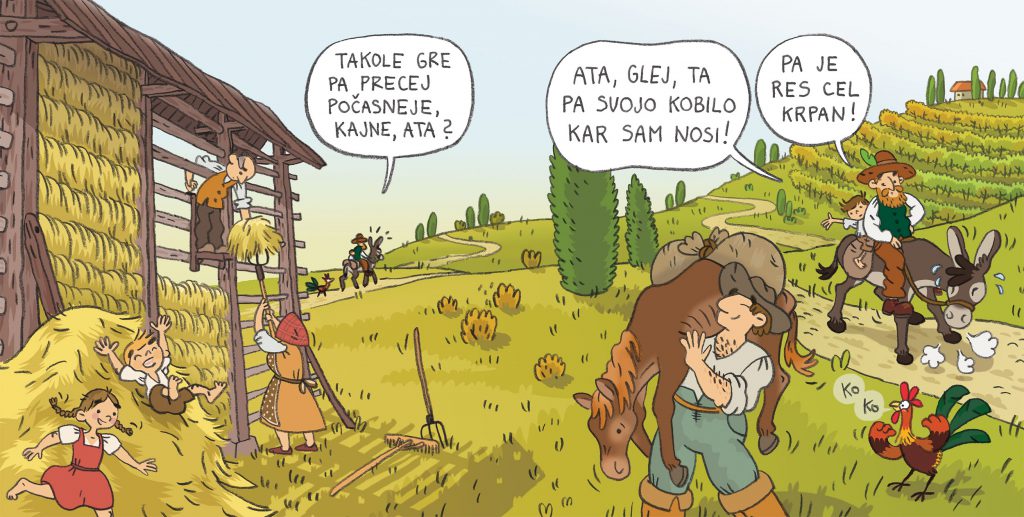 Miha Hančič (1986, Ljubljana) who hides under the pen-name of miha ha, has recently started appearing increasingly more often in Slovenian periodics with his comics created in tandem with the writer Maša Ogrizek. He mostly creates comics for the youngest readers and these are regularly published in Galeb, Ciciban and Stripburger magazines. He received, among others, the Golden Pear award for the illustrations of the My name is Skywalker (Ime mi je Skywalker, 2015) children book.
Manuele Fior (1975, Cesena) after graduating in architecture in 2000 in Venice, went to Berlin, where the worked for some years as a drawer, illustrator and architect. In comics, he often collaborates with his brother Daniele who's a writer. So far he's created several graphic novels that were awarded many times in comics festivals, while his illustrations are being regularly published in magazines and newspapers such as New Yorker, Le Monde, Vanity Fair, La Repubblica. He currently lives and works in Paris.
———————————————————————–
OPENING OF THE EXHIBITION: Wednesday, 17th January 2018 (photo: DK)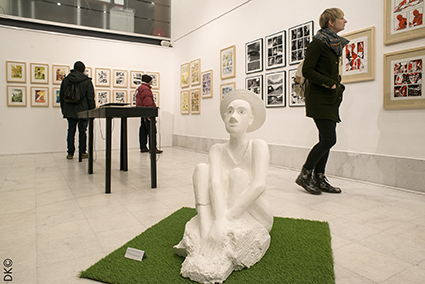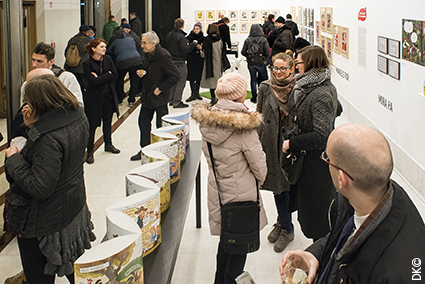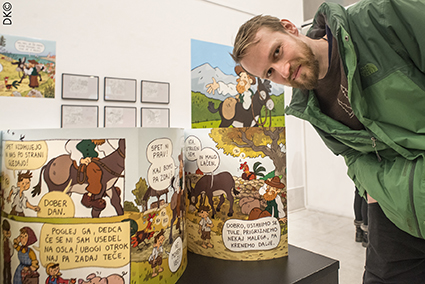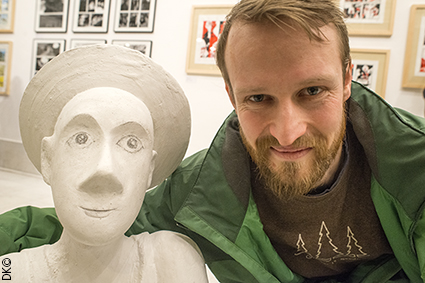 ———————————————————————–
Production: Stripburger/Forum Ljubljana, Viva Comix and Kresija Gallery.
The exhibition is part of the Bobri festival of cultural and artistic education in Ljubljana that takes place from the 20th of January till the 8th of February 2018.