You were born in Barcelona and are living in Palma de Mallorca for almost two decades now. Is the chilled atmosphere of the islands more soothing for your creative work than the noise of the big city? Is there any similarities between comic scenes in the Baleares and the rest of Spain?
Yes, it is certainly easier to concentrate on the work in the island. I live near a very small town, so there are not much distractions. And since my stories almost never have to do with daily life in big towns, there is no lack of inspiration at all.
The comic scene is the same in Baleares as in the rest of Spain. Only there is a surprisingly high density of comic artists in the island. It might have had to do that three of us, the veterans (Rafael Vaquer, Pere Joan and me) have always been supporting the younger artists.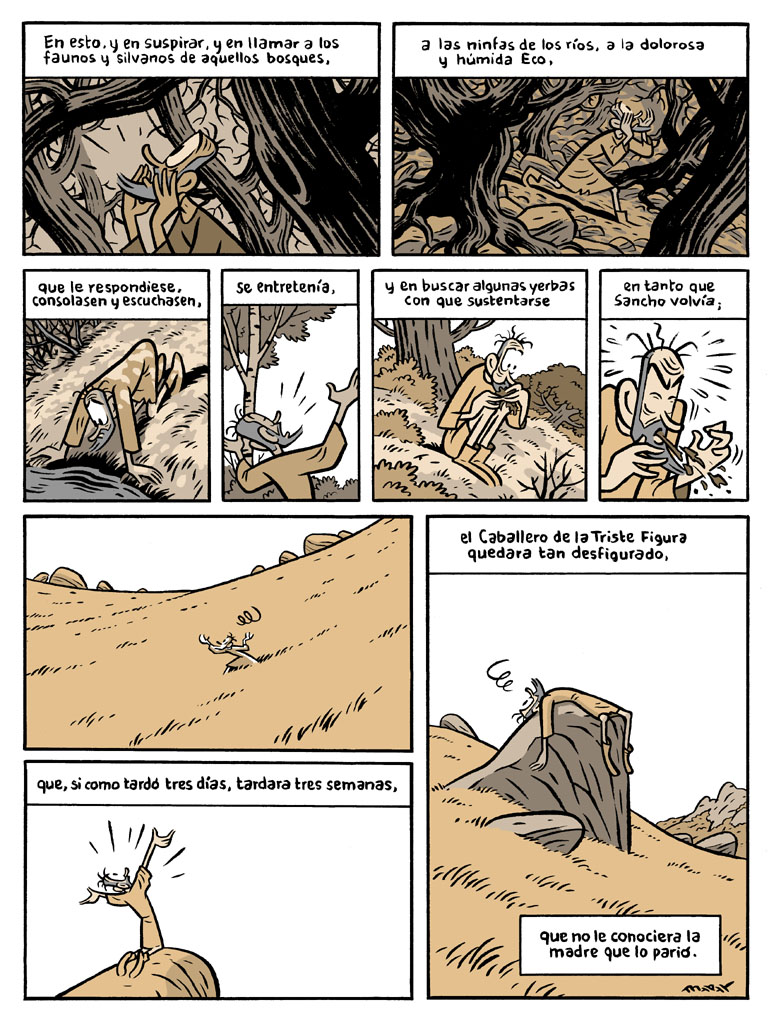 You are one of the pioneers of the Spanish underground comix scene. Do you remember the days in the early 70s when you started the group El Rrollo? And how El Vibora was started? Many covers you make for different bands show that punk and underground comix scene are still very much connected?
The early 70s were a special time. Franco's dictatorship was fastly going into decadence. Censorship was all around for politics, religion, sex. But people was more and more forcing its limits, specially in political fight and in the arts field. A handful of comic artists in Barcelona –El Rrollo- started to publish and sell underground comics clandestinely in the streets and the night bars. We had to go to trials for that. But in 75 Franco died and then nothing could stop people. There was a huge explosion of freedom, suddenly everything was new and people felt hungry for free speech in music, cinema, theater, comics… and in daily life habits, too. It was really great. In that atmosphere el Vibora started in 79, gathering all the underground comic artists from Spain.Three years later big commercial success arrived when we did a special issue about the »coup d'etat« by Colonel Tejero in the Parliament. Everybody was very afraid of the army, still full of fascist and ultracatholic generals. Politicians and intellectuals were being too respectful, trying not to annoy them. And then we came openly mocking those fascists. That gained us a lot of respect from the intelligentsia, and the media started to talk about us.
Your first comic album featured Gustavo (1981) as the main characer. What was the genealogy of this utopian anarchist? Do you think your characters lost their edge a little bit over the years?
Gustavo was a reflection of the people in my environment: post-hippies, anarchists, ecologists. I was, among the underground comic artists, maybe one of the most politized. I thought something could be done to change the world, even through comics. I was too optimistic or naïf, I'm afraid. It was all too simple to me: black or white. Slowly I started to realize that things are far more complicated than that: many greys. My characters and stories may have lost some direct political edge, but have gained richness, humanity and complexity along the years.
Your most succesfull and craziest book is Peter Pank (1985). What was the influences when making this saga? Which other comic books affected your work in general?
Graphically I was mainly influenced at that time by Yves Chaland, although I think that in those three Peter Pank books all of my main influences in comic since I started are visible somehow: Disney, Crumb, Hergé, the spanish Bruguera school –the kid's comics I read in my childhood- and many others. And, of course, there was the influence of punk attitude.
Your album Como Perros! (1995) was somewhat of a turning point in your career. The stories about Bosnia are the most moving of the book that features stories about fear and death. Everything else you did before was based on (more or less) black humour. What was happening with you at that time, was the situation in the world coinciding with your personal feelings to create such a change in your work?
That's right, by 1993 I was absolutely in crisis. Both personally and artistically. I had cancelled my »clear line« style in comics, I was bored to death with it. For some years I was devoted just to illustration, and didn't have new ideas for comics. When the killing started in ex-Yugoslavia, it made me really bitter to see how the rest of Europe was looking to another side. It was like having the nazi nightmare around again, and it was unbelievable that the governments were not reacting. So I decided I had to do the only thing I could do about it: a comic. And I had to publish it myself because spanish publishers said that in bad times readers want just happy stories. That comic was probably useless concerning the war itself, but it proved to be useful to unblock my crisis as a comic artist: it helped me develop a new drawing style, and I'd say it was also some sort of sparkle that started a new »independent« attitude in many comic artists of my generation, and in many younger ones (by that time, spanish market was absolutely taken either by USA superheroes or by manga for kids, or by erotic comics. There were no chances left for adult comics, be it classical european adventure comics or experimental)
Where did Bardin the surrealist come from. Is he based on any real person? How long was his fictive universe being built in your own mind? Is he a sort of mixture of all the different ideas you could not include in your previous works?
No, Bardin is not inspired on any real person at all. I just wanted to use a regular character again in my comics, but it had to allow me a lot of freedom so I didn't get bored with it after some time, like had happened with the others –Gustavo and Peter Pank-. So I created one that could be used in many kinds of stories: humor, poetical, philosophical, political, adventure, onirical, absurd… anything I could think of at any moment. The idea was to slowly go on building the character and his world through many short stories. I'm still on it, trying to end a longer story to complete a book to be published next year. I think I started the first sketches of the character by 1995, but didn't publish the first stories until 1997.
Besides comics you also work as a writer, illustrator for children books and make other kind of illustrations. What is the situation in Spain concerning children books? Is it a conservative literature or does it still give you a chance of expression?
I'd say that in Spain there is quite a lot of freedom in graphics for children books. Many styles, even risky ones, are accepted by the publishers. But from the literature point of view, it is not that easy. Publishers still cling too much to outdated didactical purposes or to political correctness. I think children are still being treated too paternally as not-exactly-intelligent-beings.
Not many of your books have been translated into other languages, except for Peter Pank. Is the case of The Extended Dream of Mr. D. (1998) being translated into English and French a change in your attitude towards comix scene? Has it become neccessary to be interantional? And can we expect more of your works to be translated into other european languages? And why do they translate you so much in Scandinavian countries?
It is somehow normal to be international –at least in the western world- We all share similar cultural backgrounds and more and more similar ways of life. And similar problems. I've been going to Angouleme comic festival for almost 25 years now. I've made friends there, mostly artists, but also publishers and journalists from all over the world. With many of them we share a common attitude about comic creation. I'd say there is some kind of an »international independant -or alternative- communion« where we all like each other and support each other in getting translated into other languages. That's how my Mr. D book came to be published in five languages. And I expect the same to happen with my next Bardin book. And it is not that big with me in Scandinavia: one book in danish, three in finish, and some short stories in swedish magazines. Maybe the scandinavian are just very interested about what happens way south of them.
You are the founder and the editor of Nostros Somos Los Muertos (»We are the Dead«), this experimental and inovative international comics magazine. Tell us all the troubles and joys of making a magazine, as it seemed for couple of times it's going to stop being published but somehow it just kept on.
For a while, the joys were bigger than the troubles. It was Pere Joan, a comic artist too, and me being the editors and publishers –with sometimes the support of other small publishers- in between 1995-2000, one issue a year. We enjoyed like crazy to make each issue until the moment it came out from the printer. From then on, everything was trouble. We just are not good for that: distribution, sales, dealing with money and bills… shitty job. And the small publishers that supported us were expected to know how to do that part of the job, but they proved to be no better than us at that. So it was a constant loss of money, even if the sales were not that poor. In 2003 we started again, this time with a better organisation, and a company co-owned by Pere Joan backing us in the post-printing tasks. Now we do two issues a year, 100 pages each, the name has changed to just NSLM, and we make it in bigger format and with 16 color pages. Still not earning money, but at least now the artists get paid something for their work. Our bigger satisfaction is to publish in spanish the work of artists –both spanish or international- we like a lot and that no one else would be publishing.
In 2001 you organised Sonic Comics, as a part of a bigger music festival Isladencanta. What was the main idea behind this international research and development of the comic language project and will it continue?
That festival included many arts besides music and I was in charge of the comic area. I just thought it would be fun that comic artists worked with the possibilities of expressing sound through comics, trying to expand the medium in this direction. The project never went on since the money the festival promised never was paid in the end. But the exhibition was done and the stories the artists did were published in a small book.