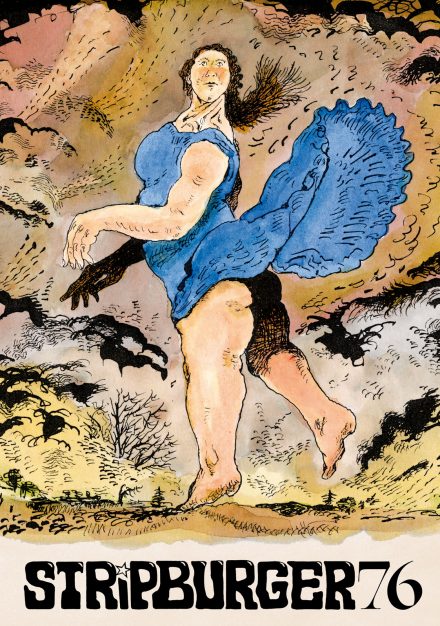 COVER: Lucas Méthé (FR)
SOAPBOX: Gašper Rus (SI)
INTERVIEWS: Lucas Méthé (FR), Stipan Tadić (HR)
COMICS: Lucas Méthé, Stanislas Mousse, L. L. de Mars FR (FR), Stipan Tadić (HR), Stefan Hahn, Andy Leuenberger (DE), Alex Potts (UK), Peter Kuper (US), Tanja Komadina, Katja Kovše, Gašper Rus (SI)
BACK COVER: Stipan Tadić (HR)
STRIPBURGER'S COMPENDIUM #4: Domen Finžgar (An Italian Square Appeared Right There in The Middle of London), Jakob Klemenčič (Zoran in Ivan Smiljanić: Črni plamen. Požig Narodnega doma v Trstu / Black Flame. The Arson of the Slovenian National Centre in Trieste), Ana Bogataj (Adrien Demont: Pépée – divja plat Léa Ferréja / Pépée – The Wild Side of Léo Ferré), Domen Finžgar (Posy Simmonds: Cassandra Darke), Ana Bogataj (Repetition of the Same Image Over and Over Again: an Analysis of a Comics Story by L. L. de Mars), Aljaž Vesel & Anja Delbello (Ink & Paper, a note on design)
---
December 2020, A4-, 120 pages: 96 magazine + 24 supplement


4.00 €Add to basket



A two-tone Stripburger!
These black & white times, full of contradictions, complexities and escalation have this time brought about a mostly black & white content of the magazine with several diverse comics by very different comics artists from all over the world.
With these comics you'll be able to explore the imagination's most secret nooks and crannies and spend the winter in great company, albeit in isolation. Speaking of which, it is something comics artists know very well as comics-making is often a solitary endeavor that requires a lot of patience to make the images come alive.
Gašper Rus, our good friend, colleague and satellite for more than 15 years, is writing about exactly that kind of effort in his editorial. His is also the opening story that takes us to the magical world of rich children's imagination and more or less impossible miracles.
We're also friends with two interviewees from this issue. The first one is Lucas Méthé, at the moment one of the most intriguing French comics artists. He's also presenting his work with a special English language premiere of his story of a mother that sets out to the world to find children to love – in no less than 28 pages of crazy artwork. The other interview features Stipan Tadić, the most punk of all Croatian painters, who has recently discovered his artistic liberty in … can you imagine … yes, in comics, so we've kinda adopted him and took him in too.
And what if making comics was the most basic response to a tumultuous intimate and social life? Or to a creative blockade? L. L. de Mars, another of our good friends, deals with these questions in his comic stories too. Read the analysis of his story in the Compendium, Stripburger's magazine supplement that, apart from a reflexive deliberation on comics scripts by our editor Domen Finžgar, also brings fresh new comics reviews.
Read the pandemic away!
---
PUBLISHER: Forum Ljubljana
RELEASED: December 2020, format A4-, 120 pages: 96 magazine + 24 supplement, language: English-Slovene, offset printed locally in Slovenia.
GET IT : 4 € (in Slovenia) + international shipping. Price abroad may vary across the country
HOW TO BUY : order it from our webshop or write to burger@mail.ljudmila.org.
WE SHIP WORLDWIDE! Preferred payment: PayPal.
SUPPORT : The Slovenian Book Agency (JAK).