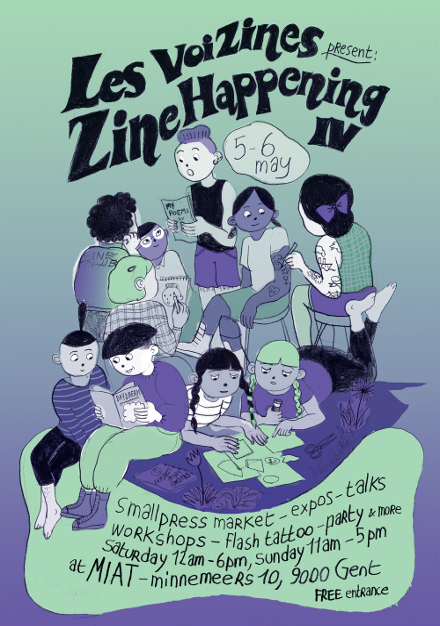 Les VoiZines: Zine Happening IV, 5 & 6 May 2018, Gent, Belgium
The Stripburger collective is a restless one, like a shark that needs to move constantly. Precisely for this reason they regularly visit comics festival all around Europe, one of these being this years' Zine Happening IV in the Flemish town of Gent that will take place between the 5th and 6th of May.
The festival in Gent will host a Stripburger's exhibition in honor of our 25th anniversary: a selection of silkscreen-printed posters and magazine covers, which will be on display at the MIAT museum for the duration of the festival. Furthermore, we will present the case of Stripburger: the collective's experiences with 25 of comics fanzine/magazine production as an example of good practice and longevity. And, as if that wasn't not enough, the visiting members of the crew (Bojan Albahari, David Krančan and miha ha) will be also present at the small press market that will take place as part of the festival.
There is "no rest for the wicked" which extends to the Stripburger collective as well. Come meet us in Gent!
PROGRAM:
Saturday 5/5/2018, 12 – 6 pm & Sunday 6/5/2018, 11 – 5 pm @ MIAT, Gent, Belgium
"Stripburger in print" exhibition & table at the small press market
Sunday 6/5/2018 at 2 pm @ MIAT, Gent, Belgium
"The case of Stripburger", talk

………………………………………………………………………………………………………..
Organised by Les VoiZines. Big thx to Jana, Valentine and Gerlin!
Supported by the The Slovenian Book Agency (JAK).