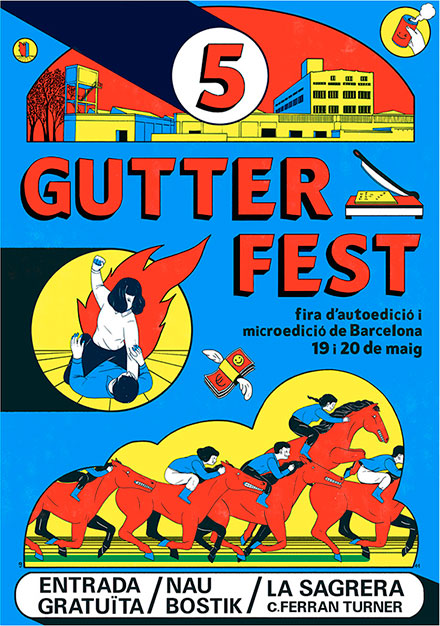 Gutter Fest,  Barcelona, Spain, 19-20 May 2017
Stripburger returns to the Iberian peninsula! This time, between 19th and 20th May, we will attend Gutter Fest in Barcelona, an independent festival dedicated to showcasing the work of independent artists and zinesters.
Our team will put on an exhibition of Attention, work! series of posters, and present our collective's activities. Apart from that, we'll show the Stripburger in motion and Wanted animated movies (directed by Boris Dolenc) and take part in a huge fair of the independent self-publishing scene that has been growing exponentially lately.
The Spain is suffering from a huge epidemics of a self-publishing and zinester virus at the moment, resulting in an increased creativity output from the affected victims. This creative smorgasbord hides many treats, or, promising young artists. Gutter Fest will be also the stage for the launching of the brand new 69th issue of Stripburger magazine featuring the comics by a bunch of young and brave Spanish artists.
Stripburger will be represented by it's editors David Krančan and Bojan Albahari and comics artist Martin Ramoveš.
See you at Gutter Fest!
_________________________________
Stripburger on tour:
Oslo Comics Expo, 9- 10 June 2017, Oslo, Norway
Crack!, 22-25 June 2017, Rome, Italy
Supported by the The Slovenian Book Agency (JAK).