Andraž Polič & David Krančan: Na prvem tiru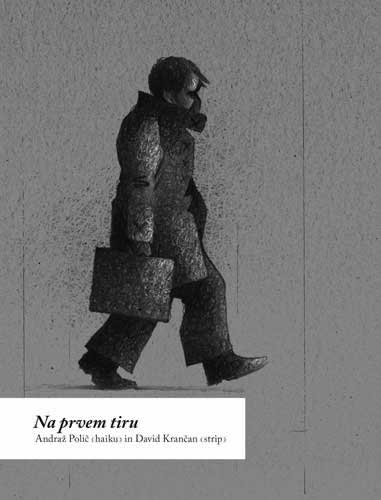 -THIS RELEASE IS IN SLOVENE LANGUAGE!-
On the First Track  – Andraž Polič (haikus) & David Krančan (comic),
a perfect symbiosis between comics and poetry!
Edition O #2, 2008, 123 p., 7 eur
-SOLD OUT-
Knjižica Na prvem tiru je rezultat sodelovanja literata in glasbenika Andraža Poliča ter strip avtorja Davida Krančana. Po Poličevih haikuih sta avtorja skupaj ustvarila scenarij, po katerem je Krančan zrisal strip.
David Krančan (1984, Ljubljana) zaključuje študij vizualnih komunikacij na oddelku za oblikovanje na  Akademiji za likovno umetnost in oblikovanje v Ljubljani. V času študija sodeluje na številnih skupinskih razstavah mladih avtorjev po Sloveniji in Evropi. 
Samostojno rastavlja svoja likovna dela v MKC Koper, KVŠ Vrhnika, KUD France Prešeren Ljubljana in v knjigarni GOGA v Novem mestu. Leta 2004 pri reviji Stripburger leta 2004 izide njegov mini-album An Illustrated Lovely Story (edicija Mini Burger – The Dirty Dozen & the Lucky 13th ). Oblikoval je več knjižnih in revialnih izdaj (Honey Talks – comics inspired by painted beehive panels, Stripburger, Silhueta) ter promocijskih materialov za kulturne dogodke. Pri svojem ustvarjanju se osredotoča na ilustracijo in risbo v oblikovanju. Sodeluje tudi pri organizaciji številnih ljubljanskih festivalov in razstav. 

Andraž Polič je pesnik, glasbenik, skladatelj in igralec (1972). Ustvaril je glasbo za več deset gledaliških predstav doma in v tujini. Sodeloval je z režiserji kot so Jernej Lorenci (nazadnje v SNG Drama: Crimekundan; izvedba v živo, 2005), Kaca Celan (Sarajevo, Durren), Tomi Janežič, Ivica Buljan (izvedba v živo, Schneewitchen, 2002), Nataša Burger, Barbara Bulatovič, Brane Bitenc … Nastopa z avtorsko skupino Hamlet Express. Izdana dela: Hamlet v Karpatih (1995), Miniature (2000), Brlog besed (2002), Srečevanja, CZ (2003), Zrcala na razpotju, Goga (2004), Arabeske, Apokalipsa (2004), Bližine – zgoščenka (2006), Ujeti glas, Cankarjeva založba (2006), Voda puščave, Kud France Prešeren (2008).