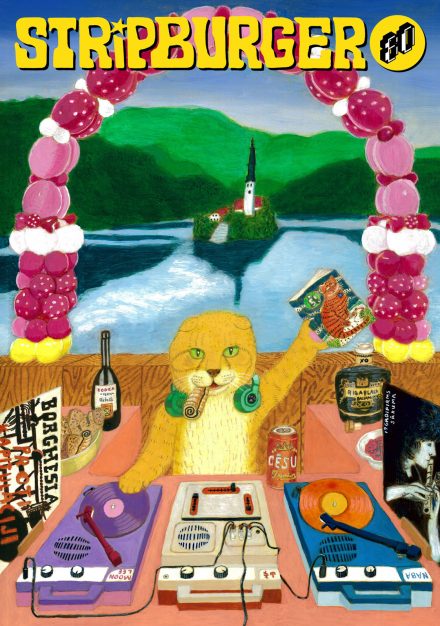 COVER: Harukichi (JP)
SOAPBOX: David Schilter (kuš!)
PROFILE: Malcy Duff (SCT)
INTERVIEW: Kutikuti (FI)
COMICS: Disa Wallander (SE), Ana Margarida Matos (PT), Evangelos Androutsopoulos (FI/GR), Bohdana Zaiats (UA), Oskars Pavlovskis (LV), Akvile Magicdust (LT), Maira Dobele & Rebeka Lukošus (LV), Pauls Rietums (LV), Harukichi (JP), Tommi Musturi (FI), Andrej Štular (SI), Nuka Horvat (SI), Powerpaola (CO), Lukas Weidinger (AT), König Lü. Q. (CH), Christopher Sperandio (US), Malcy Duff (SCT)
---
Guest Editor: David Schilter (kuš!)
December 2022, A4-, 120 pages: 96 magazine + 24 supplement


5.00 €Add to basket



Stripburger #80 aka kuš!burger!
2022 is the year of anniversaries. Stripburger just turned 30, and Latvian comics magazine kuš! celebrated its 15 years of existence. Joint celebrations are fun, so we switched our editors for one issue and, behold – The 80th issue of Stripburger! It brings a plethora of amazing new discoveries as well as familiar names from the international comics scene. All that, mixed in the refreshing comics cocktail by kuš! editor David Schilter. Japanese artist Harukichi joined our party as well by creating the cover. Not to mention that his famous DJ Cat Gosshi had finally travelled to Slovenia!
The issue features two interviews. One is a joint interrogation of our 'partners in crime' – Kutikuti artist collective from Finland. Since 2005 they have published an extraordinary & free (!) comics magazine Kuti, that reflects the boldness & artistic freedom we all value & cherish so highly. The other interviewed artist is Malcy Duff, prolific & passionate experimental artist from Scotland, notable for his unconventional approach to cartooning.
Now it's your turn, dear reader, to get your creative juices flowing! Or, as Malcy perfectly puts it: your interpretation and imagination keep comix alive.
Cheers to that!
Grab also š! #46: What's next?, with the Stripburger team as guest editors. Celebrate our 30th and kuš! 15th birthday with us. Hooray!
---
RELEASED: 21 December 2022, guest editor: David Schilter (kuš!), format A4-, 120 pages: 96 magazine + 24 supplement, language: English-Slovene, offset printed locally in Slovenia.
GET IT: 5 € (in Slovenia) +  international shipping. Price abroad may vary across the country
HOW TO BUY: order it from our webshop or write to burger@mail.ljudmila.org.
WE SHIP WORLDWIDE! Preferred payment: PayPal.
SUPPORT: The Slovenian Book Agency (JAK).