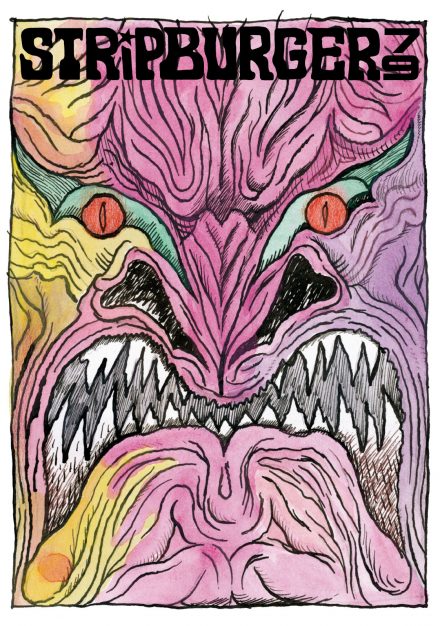 COVER: Boris Stanić (RS)
SOAPBOX: Katja Štesl, Consider And Deliber: The 10 Commandments of Comics Criticism (SI)
INTERVIEWS: Igor Hofbauer (HR), Boris Stanić (RS)
COMICS: Federica Ferraro (IT), Alex Potts (UK), Tanitoc (FR), Adrija R. & Đorđe Kamenarović (ME), ATHAN (HR), Igor Hofbauer (HR), Marko K. Gavez (SI), José Celestino (BR), Stanislas Moussé (FR), Christopher Sperandio (US), Boris Stanić (RS), Tamara Likon (SI)
BACK COVER: Boris Stanić (RS)
STRIPBURGER'S COMPENDIUM #7:
COVER: Hana Černivec (SI)
REFLECTION: Anja Skapin, Unease as a Universal Human Experience (Charles Burns: Black Hole)
CRITIQUE: Larisa Javernik (Kaja Avberšek: Knjiga z jajčki/The Book of Eggs), Katja Štesl (Moa Romanova: Goblin Girl), Matej Kocjan – Koco (Dora Benčevič, Izar Lunaček, Špela Frlic: Dekle, ki se ni balo medvedov/The Girl Who Was Not Afraid of Bears)
A NOTE ON DESIGN: Aljaž Vesel & Anja Delbello (Here There)
---
June 2022, A4-, 120 pages: 96 magazine + 24 supplement


5.00 €



Stripburger #79: Here, there and everywhere
We've been searching, nosing around and looking high and low to bring you the best selection of freshly made comics we could find. We discovered in the process several budding and promising artists from Slovenia, Croatia and Montenegro who make us feel there is no need to worry about the future of comics in the region.
We didn't forget about the seasoned scenesters and artists you already know & love either, such as interviewees from this issue: Igor Hofbauer – Hof and Boris Stanić. They both took us on a wild adventure through the expanses of the independent Balkan comics scene with their unique aesthetics, specific focus and unusual themes.
Katja Štesl's editorial almost reads like a manifesto on how to write comics reviews. If you happen to have one or if you'd like to write a review, let us know and perhaps we'll be able to find some room for it in the Stripburger's Compendium, a supplement to the magazine dedicated to comics reviews, reflections and other comics-based texts. This issue's Compendium thus features a genre dissection of the legendary Charles Burns' Black Hole by Anja Skapin, and reviews of comics by female artists only. Larisa Javernik covered the many educational witticisms from Knjiga z jajčki (The Book of Eggs) by Kaja Avberšek, Katja Štesl wrote about the Millennial Goblin Girl by Moa Romanova, while Matej Kocjan – Koco reviewed the fearless Dekle, ki se ni balo medvedov (The Girl Who Was Not Afraid of Bears), the comics debut by Dora Benčević that fascinates with its one-of-a-kind style & expression.
Stripburger #79: authentic aromas from the alternative comics kitchens globally.
---
RELEASED: June 2022, format A4-, 120 pages: 96 magazine + 24 supplement, language: English-Slovene, offset printed locally in Slovenia.
GET IT: 5 € (in Slovenia) + international shipping. Price abroad may vary across the country
HOW TO BUY: order it from our webshop or write to burger@mail.ljudmila.org.
WE SHIP WORLDWIDE! Preferred payment: PayPal.
SUPPORT: The Slovenian Book Agency (JAK).