Paul Karasik & David Mazzucchelli: STEKLENO MESTO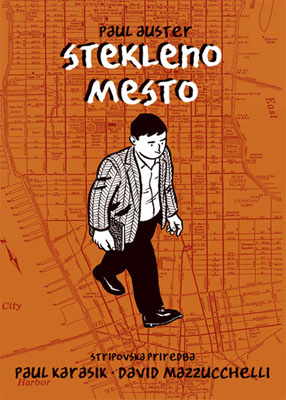 -THIS RELEASE IS IN SLOVENE LANGUAGE!-
Lud Literatura and  Stripburger/Forum Ljubljana, Litera Picta edition,
March 2007, 140 p., 10 eur
STEKLENO MESTO spada po mnenju ugledne revije The Comic Journal med sto najboljših stripov dvajsetega stoletja.   Po romanu Paula Austerja sta ga v strip priredila Paul Karasik in David Mazzucchelli.
Paul Auster je v romanu Stekleno mesto (orig. City of glass) v detektivsko zgodbo vpletel fascinatno razmišljanje o identiteti in fikciji. Daniel Quinn, nekoč obetavni pesnik, sedaj pod psevdonimom piše detektivske romane; prejme klic namenjen Paulu Austerju in možakar po imenu Peter Stillman ga najame, da popazi na njegovega očeta, lingvista, ki so ga ravnokar izpustili iz zapora. Oče je v prepričanju, da bo sin v izolaciji od zunanjega sveta spregovoril Božji jezik, v preteklosti z njim eksperimentiral in ga imel zaprtega v majhni temni sobi. Quinn se vmes zaplete v lingvistove blazne teorije ter začenja razumeti nevarnosti zgodbe.
Karasikova in Mazzucchellijeva priredba zgodbe v roman v stripu ni zgolj ilustracija besedila, ampak gre za kompleksno nadgradnjo. Z deljenjem posameznih strani na sobe, okna, načrte mest in ponavljajočimi se motivi avtorja ustvarita še bolj ekspresivno zgodbo.

O AVTORJIH:
PAUL AUSTER je scenarist (Lulu na mostu, Dim, moder v obraz) in romanopisec (v slovenščini dobite Leviatana, Orakeljske noči in Knjigo iluzij). Stekleno mesto je prvi del Newyorške tirlogije.
PAUL KARASIK je dolgoletni sourednik stripovske revije Raw magazine, izdajatelj lastne revije Bad News ter sodelavec the New Yorkerja in Nick Elodeon magazina. S sestro Judy je soavtor  avtobiografskega pol romana pol stripa The Ride Together: A Brother and Sister's Memoir of Autism in the Family.
DAVID MAZZUCCHELLI je predavatelj stripovske naracije, pripovedništva in stripovski avtor, čigar dela so objavljena v antologijah po vsem svetu. Prejel je tudi več nagrad.
David Mazzucchelli je začel stripovsko kariero z risanjem za založbi Marvel in DC Comics. Po skoraj štirletnem uspešnem sodelovanju s  Frankom Millerjem pri stripih Batman: Year one ter Daredevil: Born again, je zapustil žanr super herojev, da bi risal avtorske stripe. Večino je objavil v svoji antologiji Rubber Blanket.
Save