Tanja Komadina: Fino kolo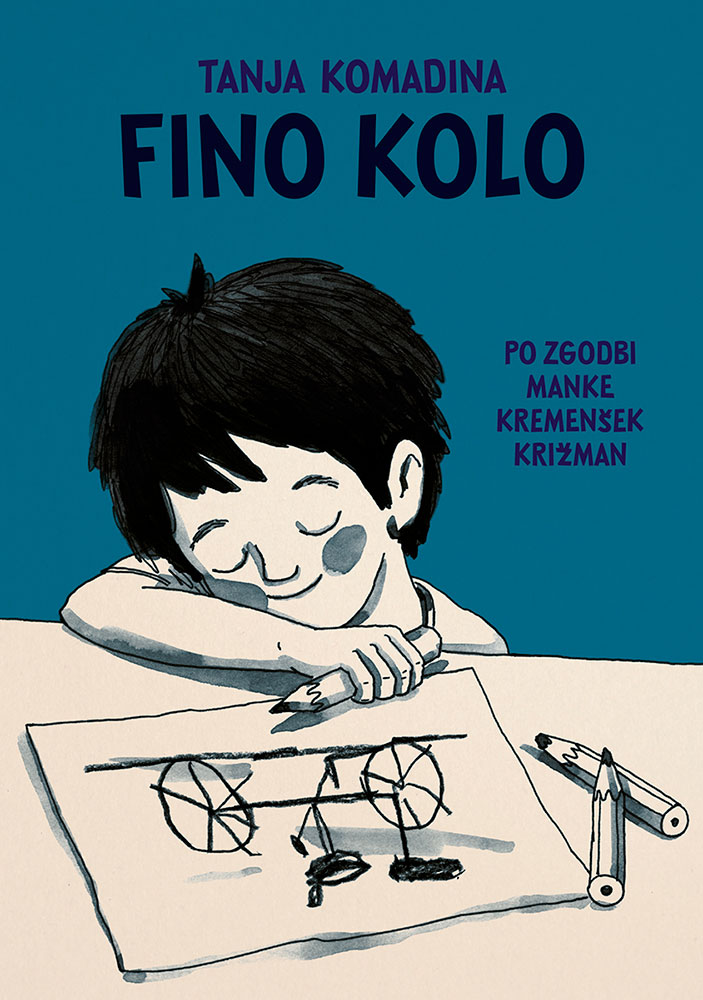 -THIS RELEASE IS IN SLOVENE LANGUAGE!-
Cool Bike, Minimundus edition #10, 2014 / 2016 (1st re-print), A4-, 64 bw pgs., 7 eur

The Cool Bike (Fino kolo) is the comics book debut by Tanja Komadina. Based on a short story by Manka Kremenšek Križman, this graphic novel deals with the subject of a strong child's wish that is left unfulfilled and with the consequences of the forceful realization of this wish.
Mile is a little boy from Mostar (Bosnia) who dreams of owning a bicyle. Each day on his way to school he admires one through the shop window. His mother promises him that he will buy him the bike in reward for the successful completion of the school year. But the war prevents the fulfilment of her promise. Mile moves to Slovenia, where he befriends Lana, who owns the bike he always wanted. When the bike is stolen and Mile is accused of being the thief, he is branded a worthless "Balkan gypsy". After a few days everything seems to be back to normal, but the slander remains in use.
The reader is immersed in a heart-breaking story where he can empathize with the protagonist and learn the lesson along with the main character. The story boasts a consistent artistic style and a distinct moral note with added educational value. The book has been included in the White Ravens 2015 selection of the best children and youth books by the International Youth Library of Munich.
"Tanja Komadina's wonderful story is her first comic. With touching pictures, she probes the xenophobic attitudes of the former Yugoslavian nations and considers what war does to people's minds." – The White Ravens 2015 Catalogue

Tanja Komadina (1976) is a member of the younger generation of female Slovenian comics artists. She graduated in Visual Communications from the Academy of Fine Arts and Design in Ljubljana and received the Academy's award for artistic achievements. She lives and works in Ljubljana and is mainly active in the fields of illustrations and comics. As an illustrator of books and textbooks for children and youth she works for numerous Slovene publishing houses, and has her work regularly published in the children magazines Ciciban and Cicido. She contributes visual content with a pinch of humor to magazines' educational features and literary texts. Her illustrations, if the text allows it, often feature elements of comics. Her comics story 'Ko zorijo jagode/Strawberry Time' (2009) was included in the comics anthology 'Slovenski klasiki/Slovenian Classics', while her comics experiment, titled 'Mechanics' (2012), was published in the international comics anthology 'Workburger'. The book 'Fino kolo/Cool Bike' is her comics album debut. She has received a number of awards for her work, amongst other the Golden Pear plaque for her comic book Cool Bike (Stripburger, 2014) and the Golden Pear award for the illustration of the collection of stories by Nataša Konc Lorenzutti Who is in charge today?  (Miš, 2015).
The Cool Bike was translated into Swedish in 2016 (Cool Cykel, Tuser Serier, 2016).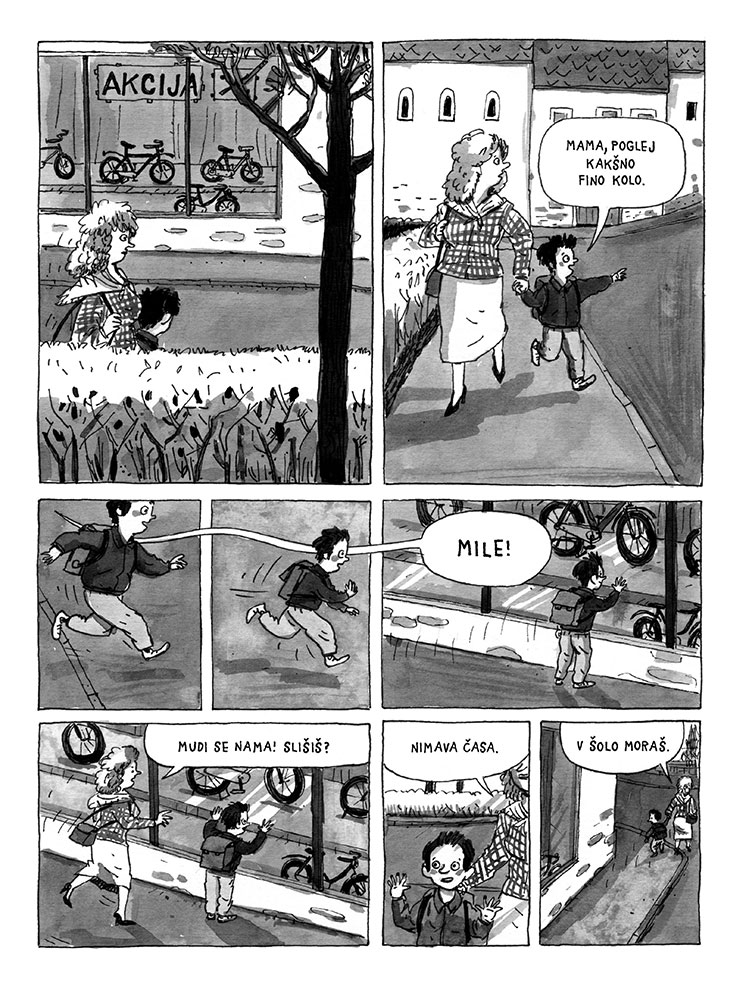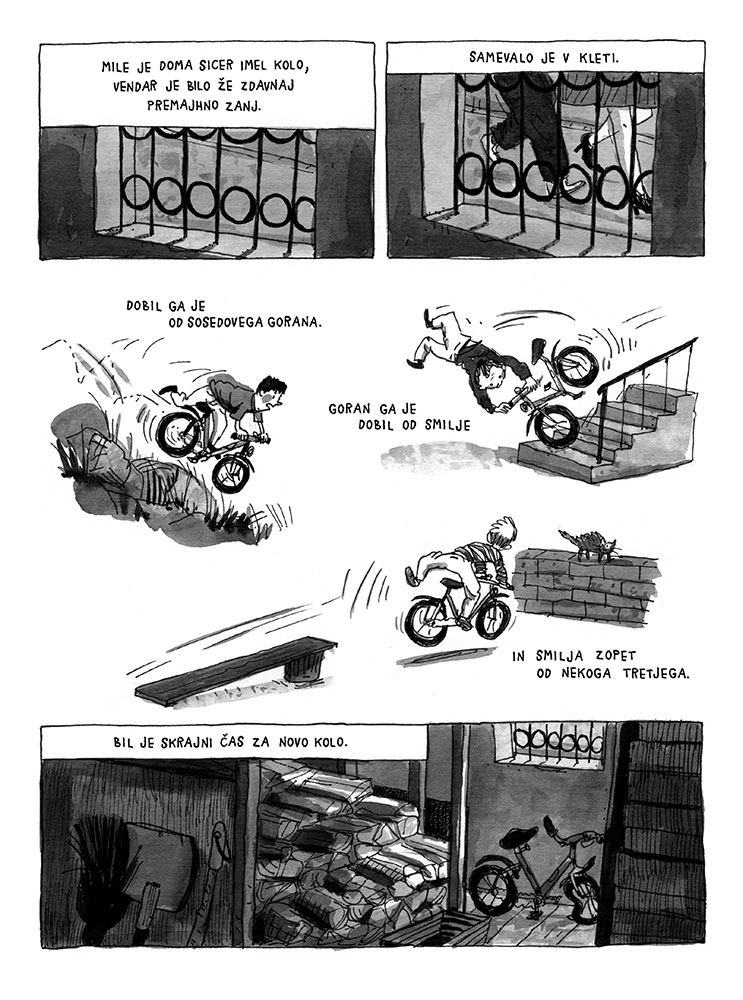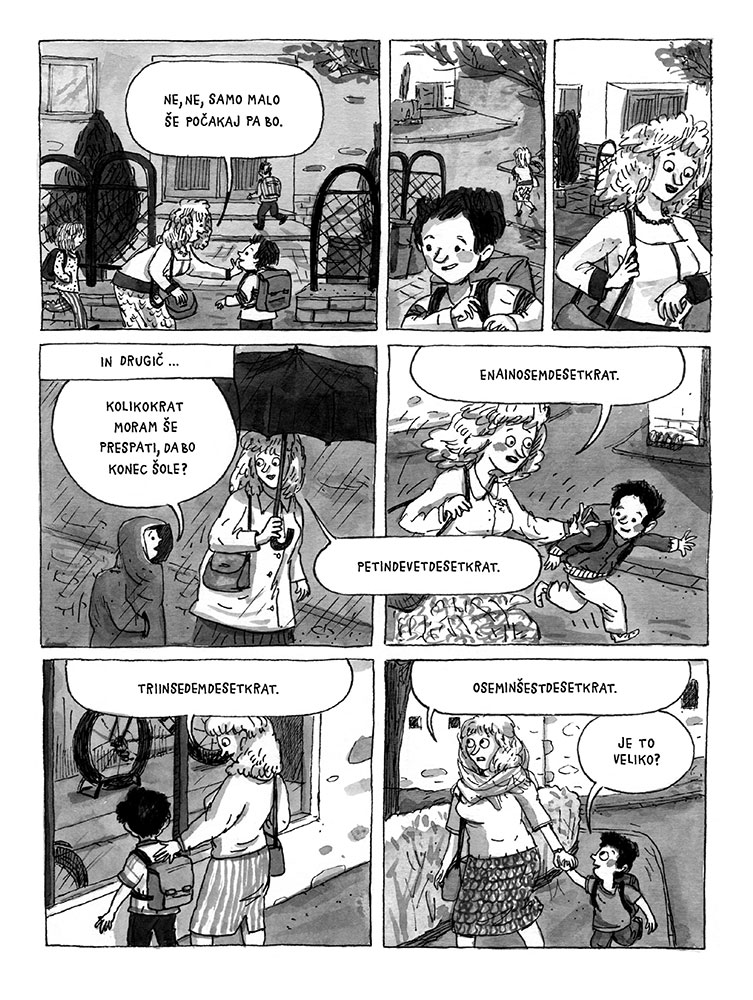 Save
Save
Save