Andrej Štular was born in the end of the sixties in Kranj, where he still lives and creates. His creation is diffused in all directions as is his comic storytelling. He has taken up photography, sculpture, film, animation …
Lately, he has been focusing more on puppetry with his life companion Petra Stare, with whom he founded the puppet theatre Nebo. Its repertoire already includes nine performances, for adults and children alike.
Throughout his creation he was motivated by the force of curiosity. We take interest in him as an all-round artist, but focus on his comic creation. The interview takes a look back into the past, more precisely eight years ago, at the crack of the century, the time of the publication of Lustri (Chandeliers). The interview was conducted by David Krančan and Olmo Omerzu. 
Lustri is a comic album with distinctive expressive lyrics that maintain the personal, intimate perspective on the world through abstract, non-narrative form. This is no classic comic album. Expression and impression rule over the story. What is your process of comic creation? 
I've never bothered much with the classic comic plot. Often I start working on it without knowing how it will end. At times I don't have two sentences ready. I don't have a script; I do however have an impulse, an association. Like in my sketchbook. In fact, my sketchbook has always been the basis. I have never sat behind my desk and began working on a new comic. That's why I was never worried if I made a mistake. You can always correct a mistake, or make a blotch out of it. I intentionally allowed for such unpredictability. 
The album is a collage of various ideas, sensations and inspirations from particular art works. You were enthused by literature, painting and film. The likes of Kosovel, Mayakovski, Eisenstein, Tarkovsky were paid a unique and intimate homage. At the same time, they are introduced to the direct dialogue: when you put side by side Tisnikar and Prešeren, Volarič-Feo and Kosovel. 
Lustri is the entanglement of literary, historical, interpersonal, angry material with the playful form. It's one big pot! The material was created over the course of years. A lot of it accumulated. Lustri was the selection of material which I still draw from today. So sometimes I use very old things. I lean against something I conceived years ago, and I go from there. Perhaps even in a different or quite the opposite path I imagined back then. 
Lustri sheds light on a pretty somber world. It is the indicator of the state of an era, of you. It is atmospheric and more importantly, full of wrath. 
It is a humorous kind of somberness, not dark per se. Let's call it dark humor. It is filled with irony, anger, revolt. When will you be angry if not in your 20's? You can be angry then. I was in this state for quite some time. 
I've learned, however, that there's a lot I can't influence. Those people lie, but it doesn't get to me anymore. I don't care about politics. Not that I'm apolitical. I just don't want to be pissed off that way. No more holy wrath. At that time I felt more anarchistic anger, which is reflected in Lustri, in the end in its mere form.
You have something in common with Pakito Bolino and Atak. The story element is most often not there. You are more interested in the language coming across the frames, which is more an art form than a message. Could non-narratives withstand a longer form? 
Zograf once said this is comic poetry in a different way. It is a borderline sphere of comics. Once put in a longer form, this principle would quickly backslide into artistic variation and montage. 
If you had a reference for a story, one that is well-known, you wouldn't have a problem digressing from it. However, longer comics do need a story. 
I personally like to skim the comic to obtain such artistic information. I did however get tired of very beautiful and nice things. It turned monotonous or pointless. You need a story, a way of passing on information, be it on the level of ad slogans. To be frank, I lack the tenacity to complete a comic novel. 
The question is do you want to tell stories at all. 
Stories not so much. Perhaps glimpses. Poetry seems the right dosage of literature for modern days. I don't feel like reading 400-page novels. I'm satisfied with a thought, note, something short. In general, I miss more experimenting. Clearing everything onto the dustpan as I do. 
Sometimes fragments of novels, sequences of films suffice. Just like your Lustri is shattered into fragments. But you didn't focus only on comics, you also studied other media. 
I started with photography. I developed photos myself, experimented with solarization, and drew on the photo paper. I soon came across comics and found material. I hand-made my instruments and played in the band Radostna destrukcija(Joyful Destruction). It was all loosely connected. Somewhere in between, film came by. It was all very spontaneous, a pure fascination over movement, and once again, I needed no script. I edited random things, sometimes even in the camera, on the spot. 
The part of the film I didn't include in the final form, I used again later on, recycled it. It was too expensive to simply throw out. I started scratching it, making animations. The film stock itself was of my great interest. Since it is analogue, you can hold it, color it, cut it … I even won some awards. But soon this fascination subsided.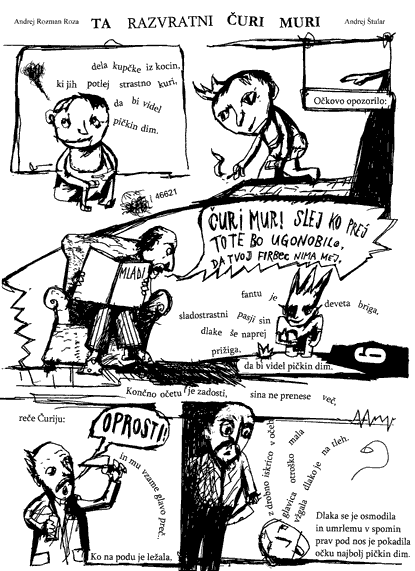 Did you get the feeling you were fed up with film, you wrung out a medium? 
The thing with film was that I had a number of images, sparks that I couldn't incorporate. I shot Kranj, the town motives, workers going off to work. I kept shooting, without ambition or plan. Similar to the first Slovenian filmmaker Grossman's In the Home Garden or Churchgoers Leaving the Ljutomer Church. Pure fascination over the medium. 
Later on I had no clue what to do with it. Should I make a documentary, a film essay, a story? Where should I direct? I should have probably just let go. I should have glued things together, like I did with comics. Like I still do. 
You have taken up puppetry in the past years. You have created a number of plays with Petra. In contrary with the principles you use with other media, you have to plan in detail your puppet shows. The dramaturgy is written and the performance practiced. 
The performances are planed inside a dramaturgical framework; if nothing else, the music requires it. I focus more on improvisation in the micro dramaturgy, where it is important to respond to the audience. You can't ignore initiatives from the audience, especially children, or they might feel left out. Comics help me a lot with puppet performances. I've also included photography and film shots into some of them. And music still plays an important role. In this way, everything overlaps and relates. 

P.S. During the time the present interview was being edited, Andrej Štular published his new album Kompost (The Compost) in the Stripburger "O" Collection. It was published as an accompaniment to his September expositionOmejeno (Limited) in the Šivec House Gallery in Radovljica, the co-publisher of the work.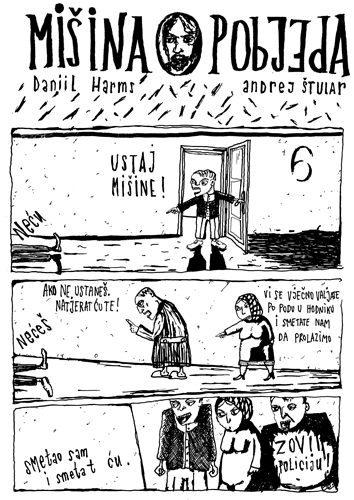 _____________________________ 
SELECTION OF LITERARY AND OTHER WORKS: 
COMICS ALBUMS: 
Lustri, Strip Core / Forum Ljubljana (SI), 2000 
Kompost, Stripburger / FORUM Ljubljana (SI), 2008 
PUBLICATIONS IN MAGAZINES AND ANTHOLOGIES: 
Stripburek, Comics from Behind the Rusty Iron Curtain, Stripburger / FORUM Ljubljana (SI), 1997 
Drozophile #5, Drozophile éditions (CH), 2001 
Mococo, La Boîte d'aluminium (FR), 2006 
Deveta soba, Stripburger/Forum Ljubljana (SI), 2008 
Komikaze/strip album #4, Autonomna tvornica kulture / Komikaze (HR), 2005 
Sunburn #15: Beyond Words, Carl Thomsen (CA), 2001 
Donga-A, European independent comics, Dong-A Llbo Daily (KR), 2005