comics exhibition // Tinta comics festival
Šivčeva hiša Gallery, Radovljica
Opening: Thursday, 5th October, at 7 p.m. / until 5th Nov.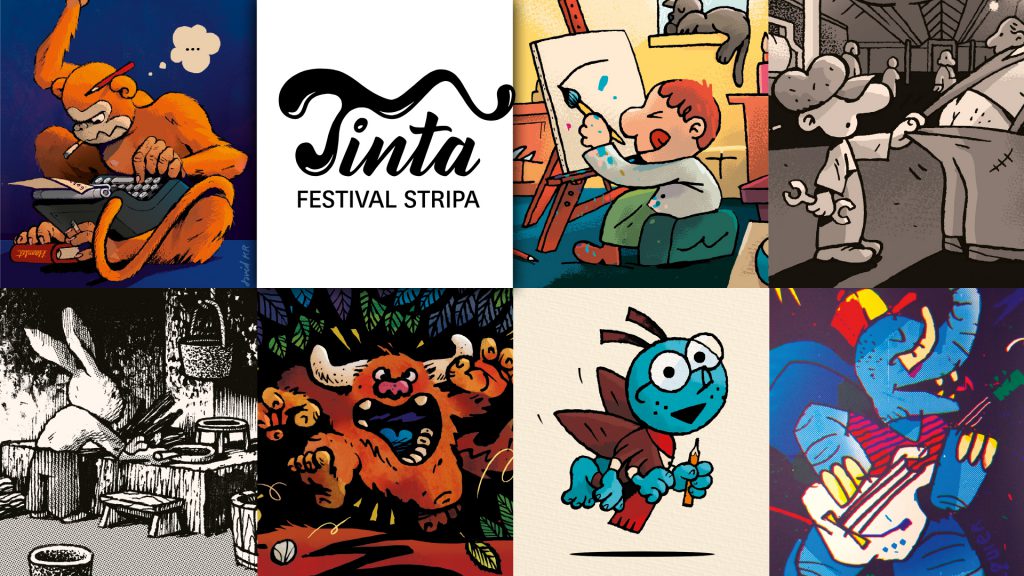 Krančan's independent exhibition brings a comprehensive insight into this artist's creative work in the field of comics and graphics in the recent years. The biggest part of the exhibition is dedicated to the display of original drawings from two comics albums published by Stripburger, both awarded several times: Grdina (2014) and Pijani zajec (2015). Both comics are inspired by folk literature, more precisely by the famous 'Zverinice iz Rezije' collection of stories collected and written by Milko Matičetov. Krančan has slightly reworked the content and adapted it to the atmosphere of the current moment: story templates thus shift into comics allegories about human nature, and at the same time also into a one-of-a-kind commentary on the world we're living in. The main part of the exhibition is complemented by a selection of older comics works and by a selection of graphic works that borrow their imagery from comics. This exhibition, which is intended for all the comics gourmands, is characterized by a well thought-out and lively visual imagination, but above all by a recognizable artist's signature style that deservedly places him on the top of the domestic authors comics scene.
David Krančan (1984, Ljubljana) graduated in comics with prof. Milan Erič at the Academy of Fine Arts and Design in Ljubljana. He's been a member of the editorial board of the Stripburger magazine for the last 15 years. In 2008, he created a haiku comics album with Andraž Polič titled 'Na prvem tiru'. Since 2011 he's also designing covers for Dnevnik's supplement 'Objektiv'. Krančan is an explorer of the possibilities of comics as artistic expression in both theory and practice. His stories are often text-less and hide the narrative keys to understanding them in images themselves. He lives and works close to Kranj.
Production: Stripburger/Forum Ljubljana. Coproduction: Muzeji radovljiške občine.
The exhibition is also part also part of the Tinta comics festival programme.