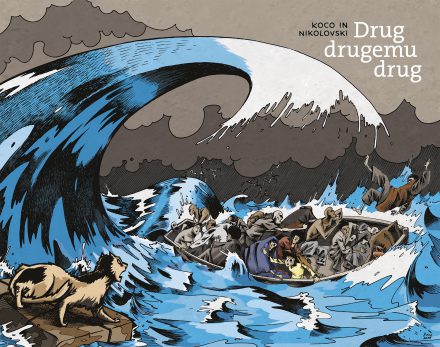 Other is brother – a poetic rap narrative in comics about the fate of contemporary refugees and of their flight to safety – through the eyes of a stray cat.
---
THIS RELEASE IS IN SLOVENE LANGUAGE!
Edition O #22, 64 bw pgs.


8.00 €Add to basket



'Other is brother' is an original comics story born through collaboration between two socially engaged and responsible artists. Matej Kocjan – Koco first drew the artwork and wrote the story which was then reimagined as contemporary rap poetry by Darko Nikolovski. This is how the first ever Slovenian rap poem in comics came to be.
Other is brother depicts the fate of modern refugees and their struggle to reach safe havens. We follow the story through the eyes of a stray cat that joins the main protagonists on their journey. The animal serves as a leitmotive and as a narrator who observes our human actions without commenting upon it. This comics story employs the noble Sartrean socially engaged literature methods that don't tell the readers what to think, but encourage them to discover it on their own and take their own ethical stance instead. Thus this rap poetry in comics tackles some of the most basic ethical questions such as treatment of others, solidarity, pacifism etc. Koco's fortright artwork and Nikolovski's expressive verbalization gently stimulate the conscience of the reader and remind them that a better world is possible and reachable, one only needs to set out.
Matej Kocjan – Koco (1978) is a Slovenian comics artist, illustrator and visual educator.  His comics often feature uncommon topics and themes. He's a staunch supporter of common sense and is highly allergic to dogmas. So far he's created several solo comics books and published his comics stories both in Slovenia and abroad.
Darko Nikolovski (1978) is a Slovenian rapper, actor, director and social activist. He deals with social, political and historical subjects in his works.