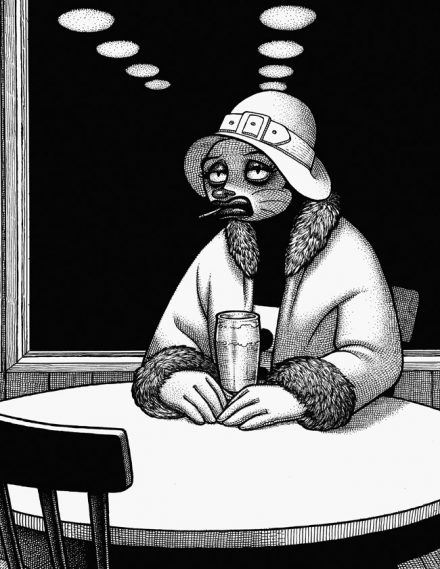 Nina Bunjevac (Canada) – interview, Stripburger 67, June 2016
A roaring thunder was heard across the comics scenes in former Yugoslavia and everyone winced as Nina Bunjevac's debut entitled Heartless was released. Later, a thunderous lightning struck the unsuspecting scene, and everybody who hadn't winced before turned around in amazement: "What happened?" This time, Fatherland, Nina's second book, stirred up the pot and raised many a brow.
Nina has become an established and famous artist on the Serbian, expatriate and international scene. Recently she has been touring Europe, promoting her last book, and while on tour she also stopped in Ljubljana. I caught up with her and I asked her some questions you might find interesting. Nina is a vivid and generous interviewee and the interview below is merely a brief summary of everything we discussed.
But don't merely rely on my words, read on…
[Bojan Albahari]
Who is Nina Bunjevac and how did she become a comics artist? What was your childhood like? What education do you have and what were your 'crazy years' like? How did you form?
I have been interested in drawing for as long as I can remember. When I was a kid the world around me kept changing, people came and went. I was 3 years old when my father died and the years that followed were very emotional for us, and I managed to survive them by drawing and escaping into this other reality. At first I grew up in Zemun, then we moved to Niš, but I still spent a lot of my time with my grandma in Zemun. That was where I saw a comic for the very first time: it was an Italian comic, in the format of Alan Ford, a comic that belonged to my uncle. I remember leafing through the pages for hours, and this must be why I prefer these wide scenes even today.
I was a (overly) serious kid, I loved classical music, I wanted to know everything there was to know about fairytales, legends, stories from the old times, ballerinas, princesses…  I regularly attended church just so I could listen to the church choir. I started reading comics regularly in elementary school, when I used to read Politikin zabavnik and Mikijev zabavnik. After completing elementary school I went to an art school. As the selection of study courses was rather weak I chose graphic design which seemed the closest to comics. I decided to create comics already in my teenage years. At that time I used 'Rotring' pens to draw zombies and similar nonsense … I was fascinated by Marvel's Satana and her costume: it was like Barbarella's, but better. (laughter)
After spending two years in Niš studying graphic design, we moved to Toronto in 1990, and there I finished my graphic design studies at a local art school. During my studies I turned to painting, fell in love with oil on canvas, and forgot about comics. After college I worked in painting and sculptural work for a while. I discovered the narrative moment – which is not particularly present in painting – through sculpture installations, i.e. arrangement of objects in space. Painting is a static form, totally bourgeois, and this realization pushed me into comics. My first comics were created in 2004, and I've been experimenting with the form and narrative ever since.
Which were your greatest influences? Who would you like to meet, and what would you ask him or her?
I'm extremely lucky in this respect, for I have met everybody that I find interesting. For example, I was signing my books at the TCAF festival in Toronto, when I raised my head and saw Charles Burns standing in line. I simply adore his work and the black&white atmosphere in them  … and he was the only one to make me 'starstruck'. I got onto my feet, my hand trembling: "Oh my God, Charles Burns!" And he said: "It's fine, you can sit down, I'll wait."
I think it's important to tell the artist who has influenced you precisely that, in as few words as possible. They all want to hear it. I've met Art Spiegelman and told him the same thing: "If it wasn't for you, there would be no Joe Sacco, no Marjane Satrapi, no me … you were the one who paved the way for us." And he appreciated this very much.
Let's focus on your drawing style: Heartless was your first book, in which certain elements of caricature and character stylization (especially of Zorka) were still present, but they disappeared with your second book Fatherland, in which some kind of photorealism prevails. It's clear that dealing with historical and non-fiction material requires more documentary authenticity (like drawing from photographs). What made you change your style? Is there a reason behind this?
There are two reasons behind this. Firstly, I wanted to treat Fatherland as a family photo album. It all started with photos from the family photo album, which served as the foundation for this book.
I wouldn't call it photo-realism specifically: of course, it is present to a certain degree, in the copies of the photos in the book, but the rest is a more or less simplified style. I wanted to use black and white surfaces, simply for the sake of design, and to save time. I also tried to change the shading and avoid doing it solely with dots.
I have a gut feeling that this is not all you can do. Can we expect a turn into another direction of drawing?
I think I'll return to colour sooner or later. I'm still fond of sculpting and I think I will be doing some in the future.
Pointilist shading, which seems to be your trademark, requires a good understanding of light and space. This obviously implies lots of peace and tranquillity while drawing. What does your creative process look like, how is your work organised and what sort of working conditions do you need?
This is my typical day at work: I get up when my kid goes to school, I brew some coffee, light one up, check my emails and take care of some smaller things. Then I make another coffee, check my Facebook account and have breakfast: oatmeal with milk and honey. After that, around noon, I sit down and draw until approximately 6 o'clock. Then I make dinner for me and my kid, we talk and watch TV together and during this time I continue drawing or writing. Every day is like this. In the evening, I continue to work while the TV is on.
While the TV is on? Is this possible? Doesn't this disturb your concentration?
No, I can work like this, but it of course depends on the work phase. I need to concentrate while I'm in the development phase, while I'm developing the idea, creating the concept, the layout, the rhythm of the narrative …  but when I start with the drawing phase, the work becomes a routine, I no longer need to concentrate as much. While searching for the style that suited me best I used to get lost in the details, but now I can draw automatically, now I can even watch a series on TV and talk to people while drawing.
How do you see your first book Heartless now that some time has passed? Would you add or change or do something differently now?
No, it's a document of a period in my life and I want it to stay like that.
Perhaps I'd mention the French issue as it contains two comics that cannot be found in the English and Serbian issues. The first is a one-pager, drawn during the interview with Paul Gravett, while the other is a story about Zorka, her friends and her social life. I'm truly fond of this comic as it was the first one in which I wanted to be funny. People perceive Zorka's stories as comedies, even though they're in fact tragicomedies, but I like to tease the readers with this.
Personally I find Heartless expressively stronger and at the same time more accessible to a wider audience that is able to recognize certain common human types in the story's characters. How did you start working on the stories and what inspired you to create this book?
Every story and title in Heartless is inspired or based on a movie or a play. The first story is based on Kafka's first novel America and contains a contemporary twist on modern life and emigration. The second is inspired by Ibsen's Doll House, while the remaining stories are based on Fassbinder's movies, especially the The Bitter tears of Petra von Kant. They're about the same type of character, the female protagonist is pure Zorka with her obsessive love story, unrequited love, etc. The penultimate story is based on the film Night Porter and the visual effects within it, for example the scene in the brothel with the officer's hat and gloves, which makes these stories even more accessible to those who've seen the movies.
The last story in Heartless stands out from the rest, and is some sort of a pilot, a precursor to Fatherland. How and why did you decide to create a graphic novel that would address this topic? Did this emerge from an inner need for closure (of a story), or was it a result of the popular demand from the readers who were interested in a detailed elaboration of this story? Was it you or was it the interest of others?
When Heartless was published, Miljenko Jergović wrote a review of the book which really touched me. I realized there was a direction in post-Yugoslav art in which the legacy of our parents was reexamined, and I found this extremely important. There was a need and interest to share this story. I also tried to address both, the readers from former Yugoslav countries as well as the readers from other countries, since terrorism became a global story. Fatherland is a portrait of a radical, a terrorist, and how his actions affected his family life, his wife and children. That was my only goal. Of course I also had some personal issues that I needed to address. While working on the book I realized Serbia was more important to my father than his own children.
Most of the comics scene in former Yugoslavia received your work positively, but not everyone. There were some negative reactions to it.
Yes, there were. In the beginning, there were certain objections that I knew how to draw but that I didn't know how to write, and that I didn't know what was going on in Serbia, that I was just bullshitting from somewhere far away in Canada. This appeared on certain internet forums that I don't follow, but some of my friends sent me the links.
Obviously, you have lots of support in Canada from local artists and your comics circles. What are the differences between the comics scenes in Canada and former Yugoslavia? How much and in what ways do comics artists in Canada hang out and socialize? What are the differences in creating comics here and there?
The differences are huge. Here, in the Balkans, there are small comics communities, there are always some events going on, even though the money is short. These scenes are sustained and supported by friendly relations between people who meet on a regular basis, while in Canada everyone operates more or less on their own. But still, there's a festival in Toronto (TCAF) that resembles the European festivals. It was started by the owners of the Beguiling comics shop that sells literally any comic you can think of, and it attracts many European artists, which is why I like it so much. In the North American comics scene sexism is much stronger and much more insidious. Since the North American environment promotes equality between genders, people tend to keep their thoughts to themselves at first, but then they gossip at any opportunity they get.
Let's return to your last book: while reviewing Fatherland, I noticed a certain coldness in the drawing and story, while moments of warmth can be felt every now and then, usually in scenes of family life. Am I mistaken? Could this be a result of handling sensitive material, or is it a deliberate approach? In my review I speculated that you intentionally established an emotional distance, like a protective cloak, in order to be able to finish the story.
It's true. I intentionally tried to eliminate sentimentalism, as it's a very difficult story and it'd be too hard if I included sentiment. When you deal with topics such as radicalism, politics and history, there is no place for sentimentalism. If there was, it would be propaganda. I love it when the narrative is neutral, especially in the political sense.
What are you going to do when the excitement around Fatherland declines? What are your plans? You also do commissioned illustrations, create dolls … what other arts are you interested in? What can we expect from you in the future?
I am currently working on a new book, based on the 1942 movie Cat People. It's going to be a noir porn in the Tijuana bible style. I'm not going to do a sequel to Fatherland. I'm sick off politics and family stories.
Recently I've finished a mural project for the retrospective of Lawren Harris, a famous Canadian painter who painted abstractions of the Great North. The mural features drawings of the part of Toronto where Harris lived at the beginning of the previous century, but depicted in the modern times.
I'm also planning a marathon tour of French cities in 2017, during which I'll attempt to visit as many comic and book shops as possible. The idea is to create a comic story about this trip. After that, who knows … I'd love to go back to teaching drawing.
Pedagogic engagement, then?
Yes, precisely, but with people over 20. This is a profession in itself, learning how to look at objects and space, observing the dimensions, proportions, positive and negative space, all of which are exercises beneficial to one's mind. A classic drawing school combined with brain teasers and puzzles for the brain.