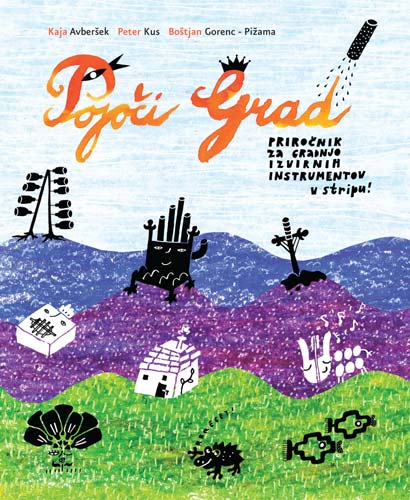 Singing castle: the Manual for the Construction of Original Instruments in Comics Form!
---
THIS RELEASE IS IN SLOVENE LANGUAGE
Minimundus edition #5, 88 color pgs., October 2010


12.00 €
The Singing Castle is a handbook for creating original music instruments from materials anyone has already at home. It features an original fairytale, a collection of comics inspired by the fairytale and instructions for assembly of home-made musical instruments. It is an ingenious and innovative manual of applied acoustics that will develop both the musical and engineering skills of your children.
Kaja Avberšek is a designer, illustrator and comic artist who contributed the illustrations and comics. Peter Kus is a composer and the creator of the concept of the book who is constantly on the search for innovative approaches in musical pedagogy. Boštjan Gorenc Pižama is a writer, translator and popular culture connoisseur of a large format.