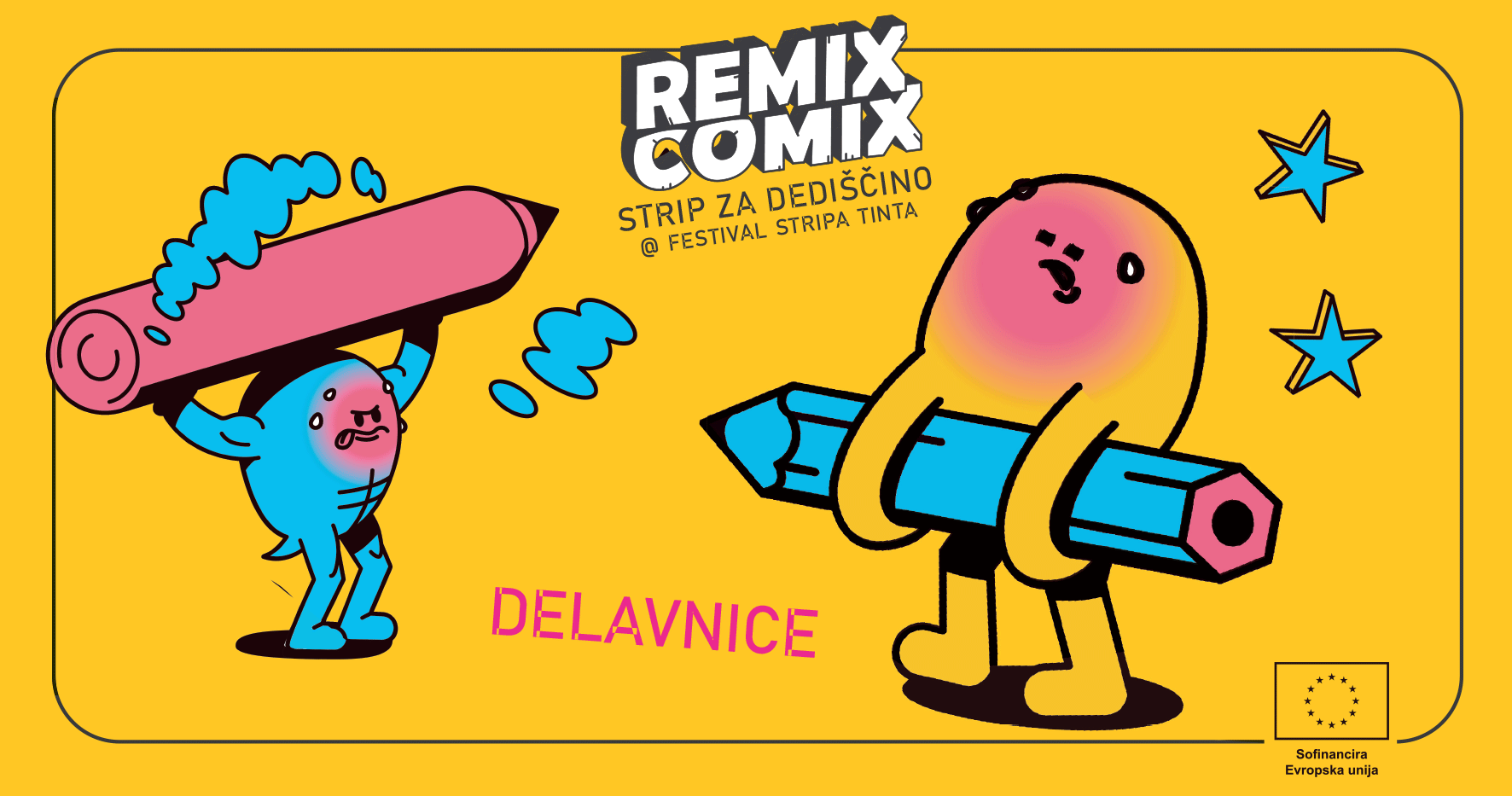 REMIX COMIX:  WORKSHOPS
comics workshops, pop-up exhibition at the Tinta Comics Festival, Ljubljana
POP-UP EXHIBITION:
Thursday,5. 10. 2023, at 19.15, ZRC Atrium
COMICS & SOCIETY
exhibition of comics, created in workshops with senior citizens (Activity Centre Fužine – CAF, Retirement home Center – Tabor) and pupils of the Primary Special Needs School Levstikov trg — Janez Levec's Centre
exhibition of comics and book editions of the participants of the conference
a harmonious selection of comics from Stripburger's publishing undertakings on the topic of the conference

WORKSHOPS AT THE TINTA COMICS FESTIVAL: 
Friday, 6. 10. 2023, at 17.00, DobraVaga Gallery
LOCAL BRUSHES
drawing workshop (15+)
mentors: Kati Rapia, Terhi Ekebom (FI)
At the workshop, which will be conducted by Finnish comics artists from the Kutikuti collective, participants shall embark on the exploration of the local surroundings and their own creativity with found objects and self-made brushes – and perhaps gain new perspectives on both as a result!
Applications and information: ema.kobal@dobravaga.si
*
Saturday, 7. 10. 2023, at 16.00, Kino Šiška
FOR A BETTER TOMORROW
comics workshop for children (8+)
mentors: Petra Gosenca (GUMB Association), Andrej Štular 
At the workshop aimed at the youngest, participants will come up with funny and playful slogans calling for a better and fairer future for all. Slogans will be drawn on billboards and their message will be highlighted with various visual elements.
Application & information: drustvo.gumb@gmail.com
*
Sunday, 8. 10. 2023, at 11.00, Vodnik Homestead Center
FOLK TALES IN COMICS
storytelling performance and comics workshop for children (6+)
mentor: Anka Kočevar
At Sunday's storytelling musical event, it will be possible to hear how the folk tales, Anzili, Death and Shoemaker, and On the Shirt of a Happy Man, sound on stage. Anka Kočevar, Jure Engelsberger and Marjan Manček gave them a fresh comic look. The stories will be brought to life by a storyteller, Katja Preša, and a musician, Andrej Fon. This will be followed by a comics workshop for children, conducted by Anka Kočevar.
Applications and information: prijava@divjamisel.org
---
Partners of the Remix Comix project: MMC LED ART – Šok Zadruga, EPK Novi Sad, Komunikart (RS), LUSTR festival (CZ), ZID Theater (NL). Remix Comix project is co-funded by the Creative Europe Programme of the European Commission.
Producer: Stripburger/ Forum Ljubljana
Co-producers: Azil bookshop / ZRC SAZU, Kino Šiška, GUMB Association, Divja misel / Vodnik Homestead Center
Media sponsors: Mladina d. d., Radio Student, DPG
Co-financiers: European Union, Creative Europe programme, Ministry of Culture, Ministry of Public Administration, City of Ljubljana, Slovenian Book Agency