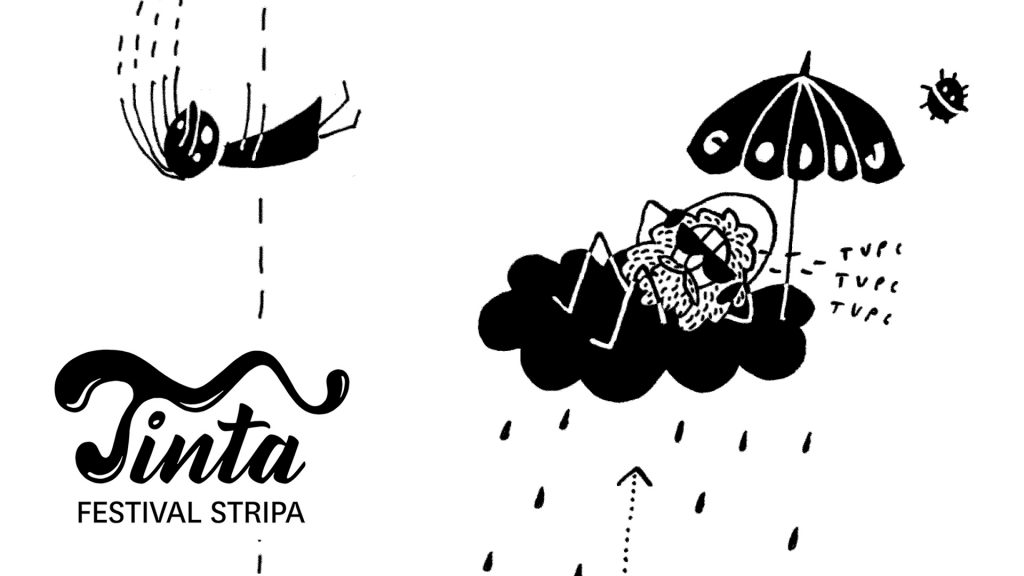 comics exhibition // Tinta, comics festival
Vodnik Homestead Gallery, Ljubljana
opening: Thursday, 12th October, at 20.00 // until 12. 11.
…………………………………………………………………………..
Comics authors: Kaja Avberšek, Primož Bertoncelj, Marko Derganc, Ciril Horjak, Jakob Klemenčič, Marko Kociper, Matej Kocjan Koco, Tanja Komadina, David Krančan, Primož Krašna, Tomaž Lavrič, Izar Lunaček, Martin Ramoveš, Gašper Rus, Iztok Sitar, Zoran Smiljanić, Damijan Sovec, Damijan Stepančič, Matej Stupica, Andrej Štular
Sculptures: Marko A. Kovačič, Rok Mohar
…………………………………………………………………………..

Gallery for Contemporary Art Celje this year hosted a large comprehensive exhibition of comic art in Slovenia. Everything was there, from children and youth comics to authors comics and educational comics. The exhibition thus presented the complete depth, width and diversity of the domestic comics creativity and publishing.
On the other hand, Vodnik Homestead Gallery will host a part of this exhibition, dedicated to  comics production in the last decade in Slovenia, aimed at adult readers. We'll highlight the specifics of the decade. What kind of novelty and innovation did this decade bring? What kind of changes are happening to the creative process and what are the effect of this? Where can we see the traces of the past and what kind of role do they have today? How is this continuity reflected in this past decade? Are these shifts signs of the complexity of projects and of a breaking of chains? Does continuity bring only reworks of older stories or is there any kind of improvement? And transitions? From where and into what? What is it that stands out in this last decade?
Comics in Slovenia in the last decade remained true to their originality in storytelling and visual approach, which was their signature trait in the previous decades. But we've detected some new phenomena that left their mark on the scene. If previous comprehensive exhibitions presented comics creators as peculiar, independent, even asocial artists, this decade reveals many collaborations, usually in the classic 'dual combo': a writer and a visual artist. It was often the writers who gave the initiative for them, which is again something new. These shifts into tandem-style work resulted not just in more complex and in-depth works that dealt with some social topics or historical characters, but also in the visual approach. The comics have, at least in some cases, broken free from the classical visual approach of framed scenes. Comics stories became greater in length and main characters could finally be properly characterized in the span of several episodes. At the same time, comics were looking around at other art forms. They drew inspiration from prose and poetry, folk tales and newpaper articles and became an educational tool as well. They also spread to museums, as part of contemporary art exhibitions, then from the internet they went back to paper, completely ignoring the rules of technological progress, they mutated into silkscreen prints, statues, games and useful tools, they even flirted heavily with comics theory. To prove the variety of options they provide, they even interloped heavily with music two times.
However, and this is key: even now, outside all these main streams, there are still those uncategorizable peculiar artists who disregard any trends, who don't even co-create them (intentionally or unintentionally), but whose works are still an irreplacable comics contribution and achievement.
…………………………………………………………………………..
ADDITIONAL PROGRAM:
… DISCUSSION WITH IZTOK SITAR:  
Tuesday, 17th Oct. 2017, at 18.00
Discussion with Iztok Sitar, the author of the extended version of History of Slovenian Comics (1927-2017) book
… GUIDED TOUR OF THE EXHIBITION:
Sun. 29th Oct. 2017, at 11.00 (Katerina Mirović, exhibition curator) and
Sun., 12th Nov. 2017, at 11.00 (Bojan Albahari, Stripburger's editor, writer and translator)
… STRIPBURGER'S COMICS WORKSHOP
11th & 12th November, 14.00─19.00
Free advanced comics workshop
mentors: David Krančan and Andrej Štular
The workshop is intended for participants 15+ who already have comics-making experience. David Krančan will have a short lecture titled 'Raz dva strip' where he will explain the basic narrative characteristics of comic, then we'll do some quick exercises to tackle the core aspects of comics creation. Krančan will discuss frames and bubbles, explain how to read a comic, how time runs in comics, tell about juxtapositioned pages, about the turning of the page, of the relation between an image/frame and the whole page, of options available in digital comics, of the classical and of the new comics from. He will also disclose secrets how to lead and mislead the reader. He and his co-mentor Andrej Štular will also focus on the analysis of your comics and reveal the possibilities to upgrade your creativity.  The goal of the workshop is to strengthen the participants' comics knowledge and their will to create using the comics medium, in order for them to become active authors in the domestic scene.
MANDATORY APPLICATIONS: core@mail.ljudmila.org, 031 401556 (Katerina)
…………………………………………………………………………..
GALLERY
photo: DK
…………………………………………………………………………..
Production: Stripburger/Forum Ljubljana. Coproduction: Divja misel. Support: City of Ljubljana-Department for Culture and Ministry of Culture.