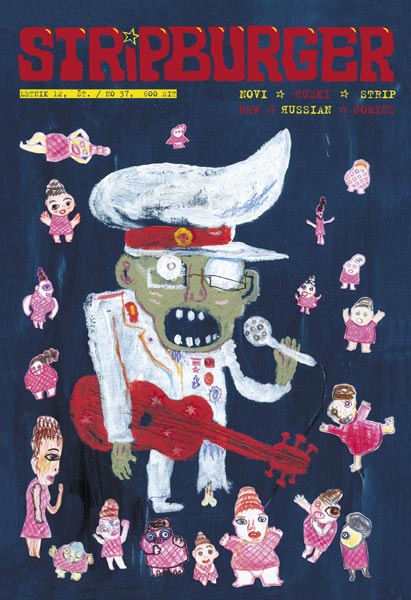 COVER
: Max Andersson and Lars Sjunnesson (Sweden, Germany)
NEW RUSSIAN COMICS
: Aleksandr Yegorov, Leonid Tiškov, Xixyc, Askold Akišin, Alim Velitov, Rei, Ilja Savčenkov, German Križanovski, Igor Kolgarjov.
COMICS
: Max Andersson, Lars Sjunnesson (Sweden, Germany), Alejandro Alvarez (Argentina), Pascal D. Bohr (Germany), Manoi, Delphine Perrot (France), Vladan Nikolić (Serbia and Montenegro), Andreja Kladnik, Andrej Štular, Tomaž Lavrič, Primož Krašna (Slovenia), Jerome Degive, Rayman (Belgium), Fabian Goranson (Sweden), Damon Belanger, Peter Kuper (USA), Kiza (Yugoslavia), Bjorn Ousland (Norway), Tomaš Prokupek (Czech Republic)
PROFILE
: Peter Kuper (USA)
INFO
: Igor Prassel, Koco, Matej de Cecco, Ivanka Apostolova, David Krančan, Carlo Steegen, Big Ben, Sigmund, Dušan Gačić, Zlatko Milenković
BACK COVER
: Peter Kuper (USA)
---
May 2004, 96 pages
SOLD OUT
---
RELEASED: May 2004, format A4, 96 pages (4 full colour pages), offset printed locally in Slovenia.
GET IT: 2,50 € + around 5 € international shipping.
HOW TO BUY: order it from our webshop or write to burger@mail.ljudmila.org.
WE SHIP WORLDWIDE! Preferred payment: PayPal.