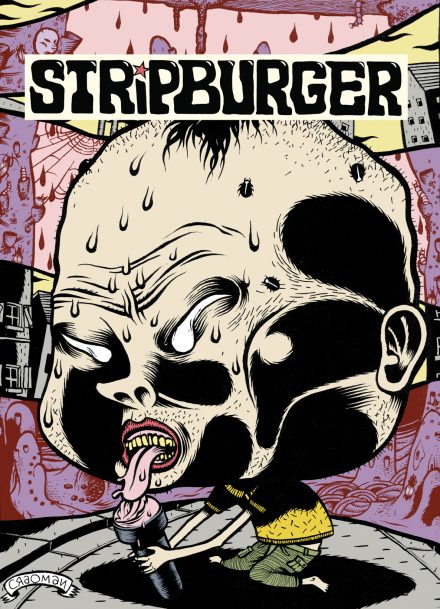 COVER
: Craoman (France)
COEDITORS
: Morgan Charpentier, Gaelle Gerbault
PROFILE
: Vladan Nikolic

COMICS
: Koren Shadmi (USA, Israel), Mallin Biller (Sweden), Goran Dacev (Macedonia), Christoph Feist (Germany), Anna Ehrlemark (Slovenia, Sweden), Koco (Slovenia), Attila Stark (Hungary), Sylvain Schnaidt (France), Akinori Oishi (Japan)
LES REQUINS MARTEAUX
: Nicolas Moog, Sébastian Lumineau, Lindingre & Lefred Thouron, Rémi, Willem, Kaze Dolemite, Olivier Josso, Jossic Tangui, Guillaume Guerse & Marc Pichelin, Felder, Karine Gervier, Quentin Faucompré, Tanxx, Pich', Lucie Durbiano, Pierre Druilhe, Besseron, Morvandiau, Nicola Witko, Bertoyas, Nato.
REVIEWS
: Gašper Rus, Matej de Cecco
INTERVIEW
: Wostok (Serbia)
BACK COVER
: Vladan Nikolić (Serbia)
---
December 2006, 96 pages
SOLD OUT
In the profile we're presenting Vladan Nikolic, who exhibited comics, illustrations and paintings in October 2006 in Ljubljana.
A special section is devoted to association Les Requins Marteaux, that created comics on the NO! topic especially for this issue. Results are mostly 1-page stories.
For the first time we're hosting Akinori Oishi, first Japanese artist ever to be printed in Stripburger.
---
RELEASED: December 2006, format A4-, 96 pages (8 full colour pages), offset printed locally in Slovenia.
GET IT: 2,50 € + around 5 € international shipping.
HOW TO BUY: order it from our webshop or write to burger@mail.ljudmila.org.
WE SHIP WORLDWIDE! Preferred payment: PayPal.