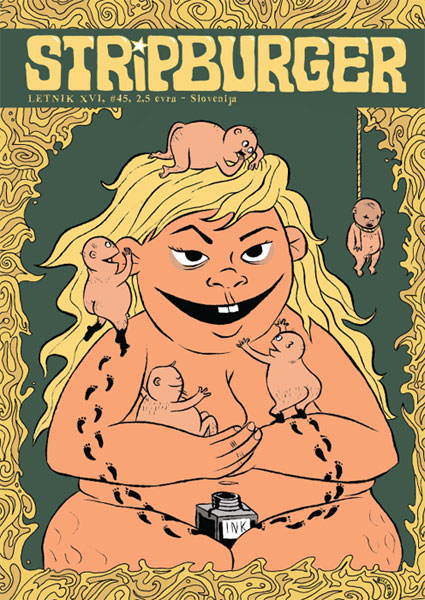 COVER
: Malin Biller
COMICS
: Gašper Rus, Matej de Cecco, Tea Hvala & David Krančan, Jakob Klemenčič, Koco (Slovenia), Pierre Maurel, Pascal Matthey, Lucas Méthé (France), Malin Biller (Sweden), Bart Schoofs (Belgium), Joonas Sildre (Estonia), Gipi (Italy)
REVIEWS
: Iztok Sitar (Ciril Horjak: 
Philosophieactioncomicgeschichtetraktat
), Domen Finžgar (Aaron Renier: 
Spiral-bound
), Tea Hvala, Špela Oberstar (Dave Cooper: 
Ripple: A Predilection For Tina
; Ivan Brunetti: 
Schizo Issue 4 With Ivan The Funniest Living American
), Iztok Sitar & Jakob Klemenčič & Gašper Rus (
Slovenski strip in animirani film 1996 – 2006
), Matej de Cecco (Domen Finžgar: 
Mačje življenje
)
PROFILE
: Malin Biller
INTERVIEW
: Gipi
BACK COVER
: Jakob Klemenčič
---
June 2007, 96 pages
2,50 € + around 5 € international shipping
An unusually high percentage of Slovenian artists in this issue is no coincidence: it is a partial response to accusations coming from some sources saying that Stripburger insufficiently fulfills its function as the main reference point of Slovenian comics, because it supposedly lacks domestic contributions. The Slovene invasion may partially be credited to this issue's block, in which none other than our editorial board is represented (at least those who actively produce comics). This ever changing group that is the heart of Stripburger, went through yet another mutation since the last issue. The aforementioned block will introduce to you, dearest readership, the people who year after year serve you issue after issue, their thoughts and how much they really know about the business they're into. Comics, namely.
At this point, I won't get into telling you who is gone, but I'd like to introduce two new members. Well, one of them is not that new, but nevertheless… Our ranks are being fulfilled by the return of the lost son (or better yet: lost father, or even grandfather) of Stripburger, Jakob Klemenčič AKA Obscurator. In his contribution he predictably deals with his trademark topics, using (lazy as he is) words to tell a considerable part of the story (and will later waste breath to tell us about the »different, unorthodox, non-comic connection between the text and the image«). The other new force in the Stripburger team is Tea Hvala. Her creative output is definitely not small; in this issue she is represented in a collaboration, but we eagerly expect her to publish her own material as well – it will surely be worth the wait! She joined forces with the co-editor David Krančan in the short story 'Confidence per Person'. Here I'd like to note that the comic is written in English, which contradicts our earlier bragging about lifting the percentage of Slovene comics. But in this case, it is the necessary evil in the benefit of artistic effect; the comic is linguistically sensitive and develops a full effect in English only. As a counter-measure we included a comic by the Italian Gipi, translated into Slovene. In addition to that, we also serve the latest comic, a seven pager by our ex co-editor Koco. But let us tell you more about the editorial block. Humor and teenage energy come in contribution by Matej de Cecco in a comic 'Kelvinov problem' (Kelvin's Problem), drawn in his trademark, cutely naive cartoonish style, spiced with a kind of cute malice. Finally, there is a weird, 19-pager, a monster of a comic entitled 'Pot v vesolje' (A Space Journey) in which Gašper Rus continues to vivisect his everyday life (he is not an astronaut!). But enough already. If you made it through here, you probably digested our block already.
So, to make the most out of this, we decided to make this year's first issue something special, in every way. We decided to play the trump card, which is an artist's profile. If you inspected the cover of this issue carefully, you probably know which way the (smelly) wind blows. 
Malin Biller
 is the favorite of our entire editorial board. This Swedish artist boasts a quality that deserves to be experienced by our readers. That is why we decided to let Malin shine in all her glory; we think her cover does the job well. The issue also features her comic 'My friends' and the 
interview
that tags along provides an insight into her comic-creating and personal life.
And if you like interviews, you're in for some more treat. In a brief article we present the Italian artist Gipi. The author of this contribution is Paola Bristot, our long time correspondent.
You might have noticed that we address you in dual (if you're reading this in English, you'll just have to trust us, I assume). You are correct. Stripburger's cockpit is currently inhabited by G. R. and J. K. This is a part of an experiment and the new magazine concept at the same time. Because of its rigid system of functioning, we wanted to pour new life into it by introducing a series of changes. If the idea lives, every issue will be produced by one or two members of the editorial board – the pilot's gloves are already being handed to Matej de Cecco and David Krančan. This way we want to make the issues as diverse as possible, or to give them the taste of a unique vision. Soon this striving for something new should become more obvious. The magazine expects to see a new format, new graphic and color experiments and the introduction of new, non-comic materials. But enough for now; we don't want to make promises we may be having troubles keeping.
---
RELEASED: June 2007, format A4, 96 pages, offset printed locally in Slovenia.
GET IT: 2,50 € + around 5 € international shipping.
HOW TO BUY: order it from our webshop or write to burger@mail.ljudmila.org.
WE SHIP WORLDWIDE! Preferred payment: PayPal.