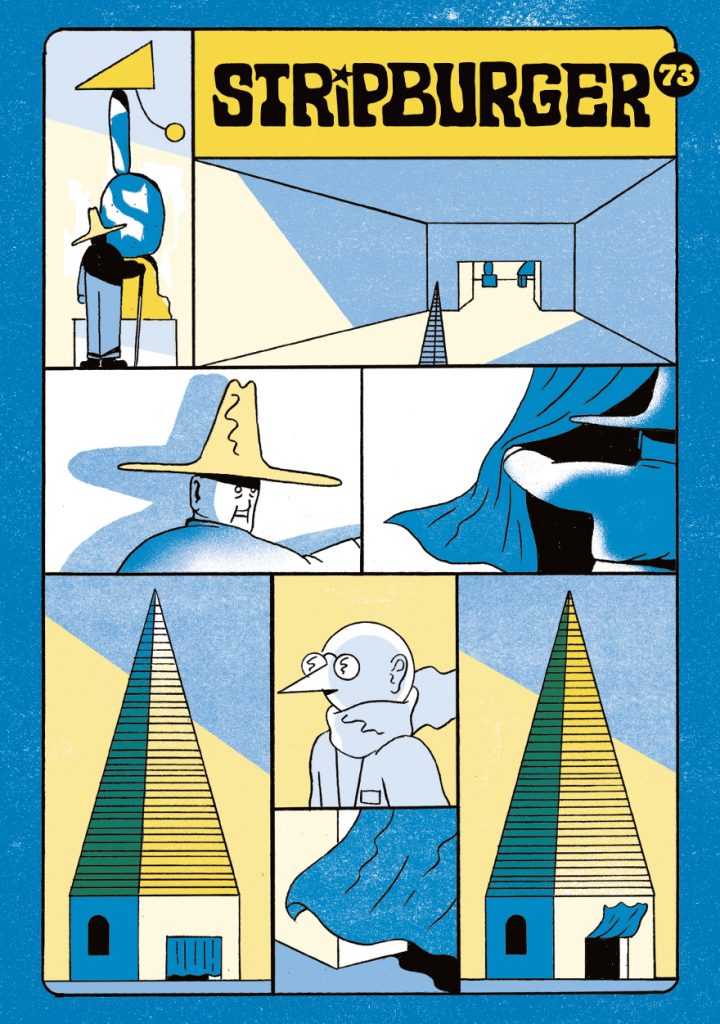 COVER: Gabri Molist (Spain)
EDITORIAL: Stripburger
INTERVIEWS: Peter Kuper (USA), Kaja Avberšek (Slovenia)
COMICS: Gabri Molist (Spain),  Jérôme Dubois (France), Peter Kuper, Tim Hunt (USA), António José Lopes (Portugal), Lizz Lunney (UK/Germany), Nadine Redlich (Germany), Franz Suess (Austria), Simon Beuret, König Lü. Q. (Switzerland), Federico Pipia & Bartolomeo D'Angelo (Italy), Anton Svetić & Stipan Tadić, Helena Janečić (Croatia), Kaja Avberšek (Slovenia)
BACK COVER: Bruno Tolić (Croatia/Serbia)
STRIPBURGER'S COMPENDIUM #1: Matjaž Ličer (Max Andersson: The Excavation), Gabri Molist (Tintin in Switzerland), Katja Štesl (Peter Kuper: Kafkaesque; Liv Strömquist: Fruit of Knowledge), Bojan Albahari (Marijan Pušavec & Gašper Krajnc: Malgaj)
---
June 2019, A4-, 120 pages: 96 magazine + 24 supplement
4.00 €Add to basket
READ SMART, NOT HARD!
Stripburger is ready to start the summer with a fresh look and a new supplement dedicated entirely to reflection and contemplation on the comics art & medium.
In the focus of Stripburger #73 we find Peter Kuper, an acclaimed and awarded American comics artist and illustrator who's, apart from his rich and varied comics opus, known also for his social engagament seasoned with sharp and witty humor. The other interviewee is Kaja Avberšek, a comics and visual artist from Slovenia whose work is characterized by creative unrestraint, humorous playfulness and crossing of borders between the media and the genres.
As always, you'll be able to enjoy the short comics stories both by already famous artists and new up-and-coming talents from different corners of the contemporary independent comics scene. The blue&yellow cover was created by Gabri Molist who is not only a great comics practitioner but also a curious researcher interested in the nature of the medium.
 An entirely new feature of the magazine, starting with this issue is Stripburger's Compendium, a special bilingual (!) supplement to the magazine dedicated to comics reviews, comics theory and well-argued deliberation on comics. Why? Because we're fed up with comics being liked but not seriously or intelligently written about. We live in a time saturated with images but we seem to have forgotten that they're not only looked at but they can and have to be read as well.
Comics: we like them, we get them!
---
PUBLISHER: Forum Ljubljana
RELEASED: June 2019, format A4-, 120 pages: 96 magazine(8 full colour pages) + 24 supplement, language: English-Slovene, offset printed locally in Slovenia.
GET IT : 4 € (in Slovenia) + international shipping.
HOW TO BUY : order it from our webshop or write to burger@mail.ljudmila.org.
WE SHIP WORLDWIDE! Preferred payment: PayPal.
SUPPORT : The Slovenian Book Agency (JAK)