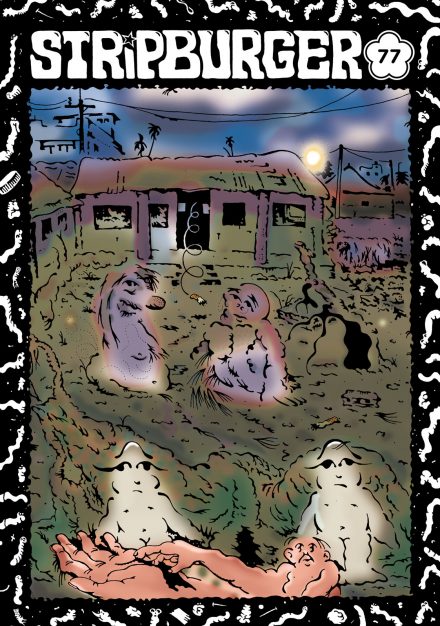 COVER: Yupojen (TW)
SOAPBOX: Chien-Fan Liu (TW)
COMICS: Pam Pam Liu, Yupojen, Wei Middag, Chien-Fan Liu, Xue Tsung-Hsien, Gunter :-), Yao-Ching Tseng, Pei-hsiu Chen (TW), Peter Kuper (US), Cecilia Valagussa (IT), Till Lukat (DE/UK), Simon Mackie (UK), Andrej Štular, Hana Černivec, Domen Finžgar (SI)
INTERVIEW: Till Lukat (DE/UK)
PROFILE: Charles Burns (US)
BACK COVER: Pam Pam Liu (TW)
STRIPBURGER'S COMPENDIUM #5:
REFLECTION: Domen Finžgar (Browsing in the Bora Wind)
CRITIQUE: Gašper Rus (Gašper Krajnc: Mestne ptice / City Birds), Bojan Albahari (Peter Kuper: Srce teme / Heart of Darkness), Ana Bogataj (Cecilia Valagussa & Ariel Macchi: ColoreInferno)
A NOTE ON DESIGN: Aljaž Vesel & Anja Delbello (Stripnoodel)
---
June 2021, A4-, 120 pages: 96 magazine + 24 supplement
5.00 €Add to basket
Taiwan, ho!
Comics can lead you on trips to all kinds of distant lands – this time we're taking you to Taiwan where we were researching the vibrant and lively Taiwanese independent comics scene with the help of our sister magazine Bo_ing Comix. Discover the coming new wave and a young generation of Taiwanese comics artists!
The 77th issue of Stripburger also brings an interview with a representative of the 'new wave' of German author comics – Till Lukat says hi from Bristol and answers all our questions. To go with the interview, we're including his comics diary too in which he depicts his recent translocation to England and adaptation to the new environment peppered up with the corona and Brexit.
And just as there weren't enough weird things in the last year and a half, we've also ventured into the beautifully bizarre and gorgeously grotesque world of Charles Burns and explored it thoroughly. If you're into black holes, genre mixers, or if you'd like to learn more about this awesome artist with a cult following, we have a great text to help you get started!
Apart from that, we made a meticulous selection of short comics stories by many of our comics friends and acquaintances, and enriched it with a choice of reviews and deliberations on comics in our Compendium supplement – especially worth mentioning is Domen Finžgar's text on his inquiry into comics narration in engravings from the late 17th century.
So embark on new journeys into the comics landscapes and revel in your wanderlust!
---
PUBLISHER: Forum Ljubljana
RELEASED: June 2021, format A4-, 120 pages: 96 magazine + 24 supplement, language: English-Slovene, offset printed locally in Slovenia.
GET IT : 5 € (in Slovenia) + international shipping. Price abroad may vary across the country
HOW TO BUY : order it from our webshop or write to burger@mail.ljudmila.org.
WE SHIP WORLDWIDE! Preferred payment: PayPal.
SUPPORT : The Slovenian Book Agency (JAK).