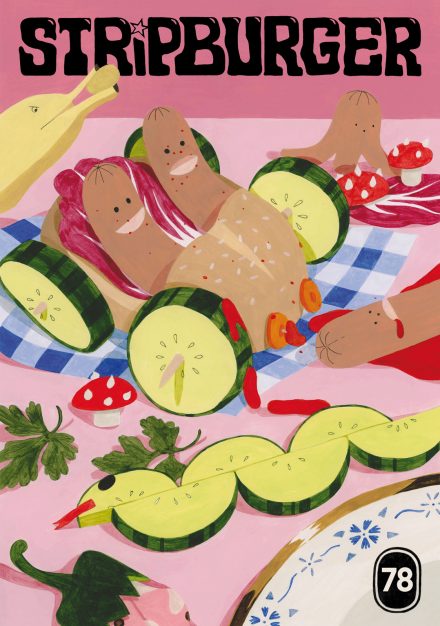 COVER: Agate Lielpetere (LV/SI)
SOAPBOX: Agate Lielpetere (LV/SI)
INTERVIEW: Rikke Villadsen (DK)
IN FOCUS: Humdrum Collective (IL)
COMICS: Rikke Villadsen (DK), Agate Lielpetere (LV/SI), Vivianna Maria Stanislavska (LV), Hadar Reuven, Geffen Refaeli, Keren Katz, Hila Noam, Shimrit Elkanati, Ovadia Benishu, Omer Hoffmann, Dan Allon, Teddy Goldenberg (IL), Mihael Bađun, Mihaela Erceg (HR), Gašper Rus, Maks Vertnik, Tamara Likon, Hana Černivec, Martin Ramoveš (SI)
BACK COVER: Miha Perne (SI)
STRIPBURGER'S COMPENDIUM #6:
CRITIQUE: Larisa Javernik (Anouk Ricard: Anna and Froga – Wanna Gumball?), Bojan Albahari (Vinko Barić: Dogodovštine Baroknog čovjeka & Nove dogodovštine Baroknog čovjeka / Adventures of Baroque Man & The New Adventures of Baroque Man), Katja Štesl (Marc-Antoine Mathieu: 3")
A CLOSER LOOK: Ana Bogataj (Srečko Kosovel & Andrej Štular: Ostri ritmi / Sharp Rhythms)
ON THE FLIP SIDE: Robert Kuret (Peter Kuper: Kafkaesque)
A NOTE ON DESIGN: Aljaž Vesel & Anja Delbello (Tutti Frutti)
---
December 2021, A4-, 120 pages: 96 magazine + 24 supplement


5.00 €Add to basket



Stripburger #78: Gourmet reading delights for all comics bon-vivants!
Indulge in the finest selection of gourmet comics delicacies from all over the contemporary independent comics scene.
A special treat in the 78th issue of Stripburger is an extensive interview with Rikke Villadsen, at the moment one of the most intriguing Danish comics artists whose work is full of evocative symbolism and pure poetic intoxication, a beautifully haunting mix of realism, dreams and of the absurd that explores the complexity of being feminist and human.
What's more, the issue features an eclectic blend of comics flavours, drawing styles and narrative approaches by the Israeli collective Humdrum, peppered up with the short presentation of the local comics scene by one of the members Dan Allon.
And that's not all – don't miss a range of refreshing new discoveries by up-and-coming talents from exotic comics destinations such as Slovenia, Croatia and Latvia. The delicious cover of this issue was created and spiced up with a pinch of humour by Agate Lielpetere.
Make it extra tasty: in our Compendium supplement, you can also find a bunch of fresh comics reviews that will perfectly complement your gourmet comics meal.
Voilà, bon appétit!
---
PUBLISHER: Forum Ljubljana
RELEASED: December 2021, format A4-, 120 pages: 96 magazine + 24 supplement, language: English-Slovene, offset printed locally in Slovenia.
GET IT : 5 € (in Slovenia) + international shipping. Price abroad may vary across the country
HOW TO BUY : order it from our webshop or write to burger@mail.ljudmila.org.
WE SHIP WORLDWIDE! Preferred payment: PayPal.
SUPPORT : The Slovenian Book Agency (JAK).