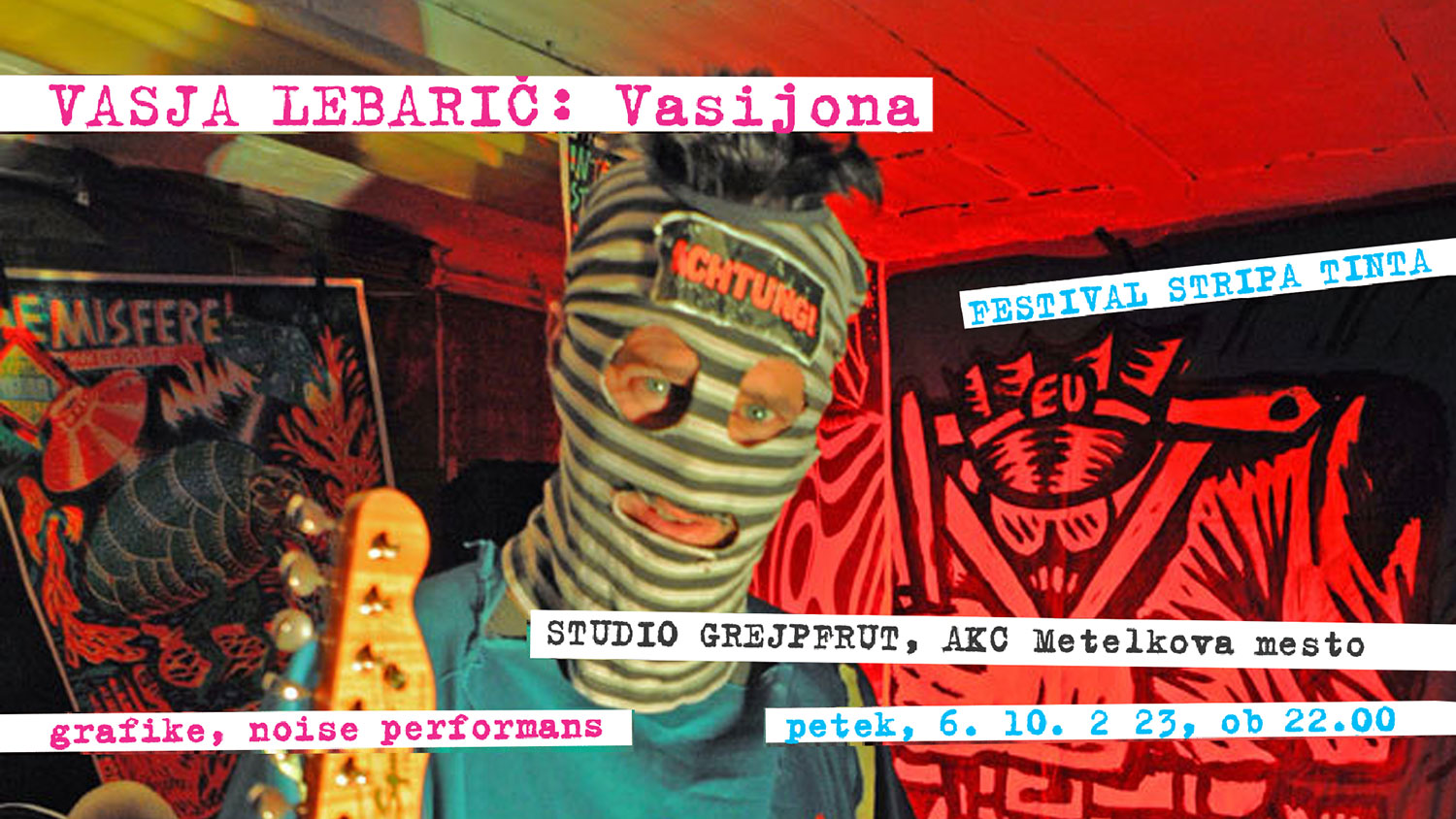 Tinta Comics Festival
Vasja Ris Lebarič: Vasijona
multimedia event
Grejpfruit studio, AKC Metelkova mesto, Ljubljana
Friday, 6 October 2023, at 22.00
At the opening of the exhibition Mondo DC, with which Ljubljana's public will be served with a rich history of French underground publishing house, Le Dernier Cri, another event for visual connoisseurs is planned in the Grejpfrut collective's studio at Metelkova (midway between Jalla Jalla and Gromka club). Namely, Vasja Lebarič, as a long-term collaborator of the Le Dernier Cri – the only local artist, so to speak – will exhibit a colourful collection of his transgenre louvre for one evening. Various visual records, the majority of which will be paintings and graphics, although there will be no shortage of moving images, form the core of the pop-up exhibition, which represents one of the rare opportunities for a live confrontation with Lebarič's production. As a highlight of the evening, there will be a special noise minestrone, with which, in addition to the visuals, Lebarič will present his artistic audio meanders.
VASJA RIS LEBARIČ (1975, Koper, Slovenia) enrolled in studies of painting at the Academy of Fine Arts and Design, Ljubljana, in 1997. Between the years 2001 and 2002, he studied at the Universität der Künste in Berlin, majoring in visual culture, and in 2007, he obtained his master's degree at the Academy of Fine Arts and Design in Ljubljana. Since 1991, he has been active in the Grejpfrut group, between 1995 and 2001, he was a member of the Ljudmila Society, and since 2002, he has also been active in the Berlin collective Czentrifuga (Fleischerei). Moreover, he regularly collaborates with other European alternative artistic collectives, such as the Belgrade Matriaršija, Le Dernier Cri, ARARA and other autonomous production spaces.
---
photo: DK