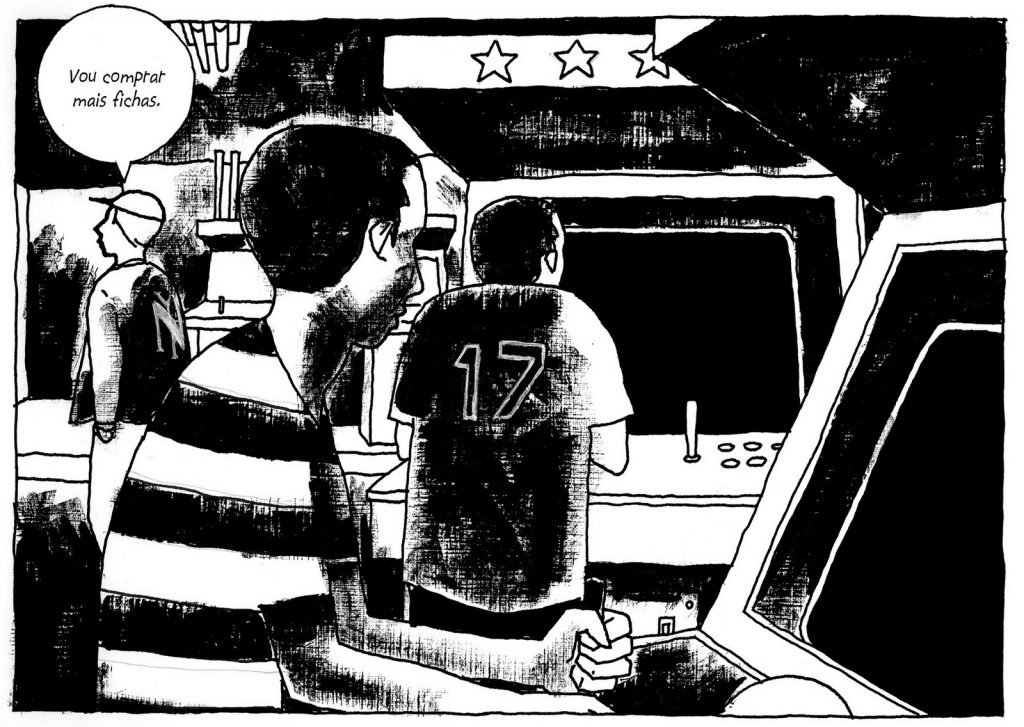 Marcelo D'Salete (Brazil) – interview, Stripburger 54, December 2010
It happened years ago, on a dull, rainy day, when a message from far-away, sunny Brazil dropped into Stripburger's e-mail box. OK, I added "dull" and "rainy" for effect, but the message was real. It contained few words, but quite some beautiful illustrations. We soon discovered that its sender, Marcelo D'Salete, is known as a comic strip writer as well. And that he is even very prolific in that field. His comics – sometimes brutally realistic, at other times lyrically impressionistic – gave us the chance to peek into a comic strip scene, which up until that time had been quite unknown to us. Marcelo's first publication in our magazine (No.47) was followed by a second (No.48), the second by a third (No.49), and as we were working on the latest, the fourth, we started itching to find out more about the context from which such comics as his originate. Marcelo proved to be a highly informative source and he generously revealed some key facts about the Brazilian comics scene: its beginnings, the current state of affairs, and not least about his own comic strip output. This interview with him is a brief introduction to the selection of Brazilian comics awaiting you in the depths of this edition.
He was interviewed by KA and GR.
Please, excuse our ignorance, but the Brazilian comic strip is, frankly speaking, quite a mystery to us. Could you, for starters, depict what the situation in your country is, regarding the comic strip? Are comics popular, widespread, or are they fighting for their place under the (Brazilian) sun?
The medium of comic strips is well-known in Brazil. Of course there are different kinds of comics aimed at different readers. The majority of mainstream comics come to Brazil from abroad. On the other hand, there are many original comic strip creations by Brazilian authors, which are meant for children. That kind of comics is very well received and sells well. In fact, in Brazil, comics were long considered as something made exclusively for children and young readers. These days, young, "alternative" comic strip artists are looking for a new, adult target audience. However, that does not mean they are neglecting their young readers. These authors want to show that they can use the medium of the comic strip to express their views on highly variegated themes, and in an intelligent way.
Can you tell us a bit about the history of the Brazilian comic strip? When can we start talking about the comic strip establishment in Brazil?
The comic strip was first born in Brazil around the year 1869 – its midwife was the Italian illustrator Angelo Agostini. He created some kind of narrative with images and text, especially by placing the text below the image. What he was creating was still very close to illustration, even if we can already detect a narrative element in his work. It was significant that Agostini published his images in the paper O Diabo Coxo(The Hunchback Devil). Agostino was followed by many other works (Brazilian, but especially foreign), which united images and text into a sensible whole.
Brazilian comics began to be better known in the second half of the 20thcentury. The most famous Brazilian author of comics is Mauricio de Souza. His characters from Turma da Mônica (Monica's Class) are known nationwide. He clearly understood the potential of those characters; today they adorn all conceivable commercial products. You will hardly find a kid who hasn't read at least one of his comics. Another author from the 60s I would like to namecheck is Ziraldo, who is exceedingly technically skilled in his strokes and composition. Ziraldo was interested in topics drawn from culture and Brazilian folklore, which gave the personalities of his characters a very special touch.
Are there any practices in Brazilian traditional (fine) arts which involve certain comic strip elements, or otherwise emphasise the narrative element?
Maybe… In the North-East of Brazil there is the so called literatura de cordel,* which is possibly reminiscent of comics in its manner of production, being cheap and simple. The image on the "cordel" illustrates a text. However, in this form the narrative does not spring up from the images themselves. The baroque was an important artistic era in Brazil and among its art we can find some of the genealogy of the world of comics. At that time, the church was using images as didactic instruments, since a great part of the population was illiterate. The stories of Christianity were more easily accessible through painted images. However, a different, modern context was key to the birth of the comic strip – dissemination through the medium of print.
Does your country have any kind of indigenous comics industry? If not, I presume that "mainstream" comics get imported? If so, where from? For example, what comics did you grow up on?
As a kid I used to read stories by the Brazilian author Mauricio de Souza, later I started discovering stories about American superheroes. As a teenager I was into Sandman by Neil Gaiman, Katsuhira Otoma's Akiraand the collection of short stories Mundo Cão by Michelanxo Prado. A friend, the graffiti artist Pato, introduced me to the work of the Brazilian Lourenço Mutarelli, his book Desgraçados. When I read those stories, I realised that the world of the comic strip was much larger than I had thought. Despite the fact that I had been drawing from an early age, "mainstream" comics remained a very foreign thing to me. I couldn't imagine myself drawing heroes. The type of narration I discovered with Prado and Mutarelli showed me how comics were linked to literature and film, two worlds that are much closer to me.
This is not a very important question, actually, but I would like to verify the rumour that I heard some time ago. Namely, I've been told that the Italian comics publishing giant Bonelli is a big name in the Brazilian comics market… Is that correct? (If so, could that possibly mean that the comic strip experience of an average comics reader in Brazil is similar to the one of readers from the countries of former Yugoslavia, such as Slovenia…?)
Yes, the publishing house Bonelli is active in Brazil. I know a bit of Ken Parker and Dylan Dog, but besides that I don't really know much about that part of comics production.
Is there a strong division between "mainstream" comics and "alternative" comics in Brazil?
There seems to be. There is a stable market for mainstream comics. A big part of that market consists of comics by North-American authors. European comics are a small niche. A yet smaller market is Brazilian alternative comics. The alternative comics that I know of are created by authors who wish to present their work to the public, but are rarely noticed by the bigger publishing houses. That happens for two reasons: for a long time, Brazilian publishers didn't see a marketable product in Brazilian comics; the other thing is, these authors can't afford to produce new comics continuously, since they get no paid jobs in this field. So what follows is a vicious circle. All of this can be further linked to the fact that Brazil has a remarkably high percentage of illiteracy (one of the highest in Latin America!). There are groups of independent comics artists which deal intensively with the question of production – and, above all, the distribution – of local comics. It's necessary to have (and keep), besides big publishers, also such publishers that deal with alternative comic strips.
Could you remind us of any Brazilian comic strip artists or comics that reached worldwide fame? (I also mean emigrant authors of Brazilian origin.) I regret to have to admit that I can't think of any right now on my own…
The most famous, popular and oldest is Mauricio de Souza, who publishes his work in various countries in the world. After the year 1990 a lot of people appeared who dealt with comics in a  more American mainstream fashion – by that I mean the method of production, which consists in authors splitting individual phases of production (pencil drawing, inking, colouring, finishing work…).
I highly value the work of Marcelo Quintanilho, who currently lives and works in Spain, mainly because of his strong, original expression.
As far as I know, the biggest comics scene on the South-American continent is in Argentina, where they also have some internationally recognised authors (like Joséja Muñoza, for example). Is there any exchange of comic strip influences between the two countries?
There is some communication. But, sadly, it's quite weak. Considering their geographical closeness, it should be stronger. The works that I saw most frequently in older Brazilian (alternative) magazines, were by the Argentinian cartoonist Carlos Nina. As for Jose Muñoz, I only know about one of his works to have been published in Brazil – Billie Holiday. A more recent publication is Che (illustration: Alberto and Enrique Breccia, script: Hector German Oesterheld). In 2008, I was invited to the festival Viñetas Sueltas in Buenos Aires. That was a very good experience. I was introduced to the works of excellent drawers and scenarists: Jorge Perez, Lucas Varela, Salvador Sanso, Ivan Bruno, Angelo Mosquito, Albert Vazquez, Brais Rodriguez. The event also included exhibitions and discussions. It's undeniable that the medium of the comic strip is very strong in Argentina. It was on that very "journey" that I discovered Breccia's work.** Extraordinary. Brazilian publishing houses completely ignore the quality of these artists' work. I was lucky to have my comic book debut Noite Luz published in Argentina, in Spanish, by Thomas Dassance's publishing house Ex-Abrupto.
These days there are comics festivals are sprouting up like mushrooms worldwide. I suppose that even your enormous home country has a couple … Which festival(s) do you like taking part in?
An important Brazilian international comic strip festival is Festival Internacional de Quadrinhos in Minas Gerais. I went there in 2004, inassociation with the magazine Front. This year I attended a meeting of comic strip authors in Rio Grande do Sul. There are other festivals as well. In São Paulo, which is a huge city, there isn't a comics festival that is accompanied by exhibitions and related events (discussions, jam sessions) for the alternative comics scene. Which is a pity. As for festivals outside of Brazil, I contributed to the 7th Luanda Cartoonfestival in Angola this year. If it hadn't been for visa problems, I would have taken part personally as well. Unfortunately, I don't have enough time, so I only take part in a few such events.
Among others, you are sharing the pages of this edition's Brazilian sector with Daniel Bueno, Jaca, Laura Teixeira, Rafael Sica … Do you know any of these authors, what can you tell us about them?
Daniel Bueno is well-known in the local illustration business. He also originates his illustrations digitally. He is one of the best in this field. Jaca belong to the older generation. I first saw his originals at the FIQ(comics festival) in 2004. Paintings. His comic strip language is very specific. Distracted, somewhat rough, complex. He plays with the phenomenon of pop culture and its massiveness … His works are characterised by an emphasised "plasticity", as are those by Laura Teixeira, for example. I went to university with Clayton Junior, as well as with the animator Adams Carvalho; I learned quite a lot from their work during our studies. I think I only encountered the work of Rafael Sica this year. I liked it. His narrative has a very specific rhythm in the frame of comic strip logic, full of experimentation.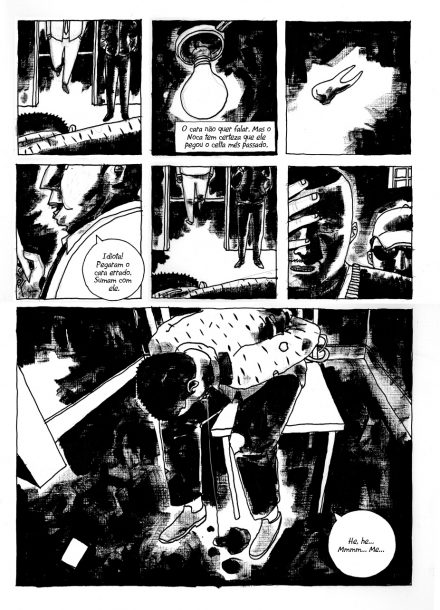 Who are, in your opinion, the most interesting Brazilian comics authors at the moment? Can you mention a name to us, which we should keep in mind, or pay attention to? (We are particularly interested in authors from alternative fields.)
There are quite a few so-called alternative comic strip authors (by that I mean those outside mainstream markets) active in Brazil at the moment, who have a strong and original approach. Lourenço Mutarelli is one of the most important authors of that kind. He started off in the early eighties and has kept his work outside the framework of the conventional comic strip. Condensed. He has created his own niche with his immense production. And it is only today, 20 odd years later, that he is known and appreciated. Nevertheless, that is more due to his later work in the film industry and his literary endeavours – he is a writer as well. Some other important authors from Mutarelli's era are Laerte Coutinho, Luis Gê, Fernando Gonzales, Angeli, Flávio Colin, Marcatti and Mauricio Pestana. They are all part of the alternative comic strip movement from the 1980s. Laerte Coutinho is, in terms of comic strip language, possibly one of the most creative authors on Brazilian ground.
Marcelo Quintanilha (Gaú) is a representative of the younger generation. He published two books of short stories. Both focus on the microcosm of Rio de Janeiro. Quintanilha has a sophisticated understanding of the gesticulation, speech and rhythm of the city's inhabitants. Not only has he mastered the narrative perfectly, his drawings are an exquisite delicacy, as he works on every detail with great care.
Eloar Guazzelli is an author who experiments with the visuals and development of comic strip morphology. Besides short stories, his work deals with literary and historic texts. His syntax is emphatically lyrical, surreal, open. André Kitagawa is a representative of a more classic style of narration; his expression is sarcastic, tough and rough. His graphics are precise, almost surgical. He is able to balance lyricism, violence and cynical humour into a meaningful whole. Two young and in my opinion very good comic strip authors are Rafael Coutinho and Rafael Grampá. And then there is DW***, a good cartoonist, but nevertheless poorly known in Brazil. I would also like to mention Guga Schulze and his comics album Saida 3; excellent drawing and a special kind of narration. Another revelation I had this year is Pedro Franz. He develops original topics and he is dealing with them from different points of view, simultaneously maintaining control over the rhythm and tone of the story. Besides the above mentioned artists there are others, whom I did not mention for lack of space and memory.
Tell us about your own comic strip creations now. More directly speaking, what is the life of a cartoonist in Brazil like? Can you make a living by it, or do you do anything else?
I don't work at comics exclusively. The market for that is small in Brazil. I carried out two or three commercial projects, which brought me some money. In general, cartoonists tend to do illustrations as their main profession, which are considered a "safer" medium. I draw comics because of the complexity of the medium – through them, I can tell people my own stories. In general, I prefer to tell my own stories or stories that attract me. For that reason, I worked with writers like Kiko Dinucci, Bruno Azevêdo and Eddy Gomez. I started drawing comics at the end of high school, basing them on stories by Kiko Dinucci, who is also a musician and a São Paulo samba specialist. Then quite a few years went by, and during my studies I was acquainted with the magazine Front, a collective publishing project, managed by an internet group (the founders of the project were Kipper and Orlando). I contributed to six editions of the magazine. That was my school of comics. Big authors, such as Eloar Guazzelli, Oswaldo Pavanelli, Maxx, Theo Cordeiro, André Kitagawa etc. published their work in that zine. I was only a beginner. Later, I started publishing in other magazines, such as Graffiti, Ragu, +Soma, Suda Mery K! and Stripburger. Now I have a full time job and I draw in my free time. In 2008 I published a comics album entitled Noite Luz; I didn't earn much with it. However, that book brought me in contact with some people who liked it and I had a chance to talk with them. That's priceless. If all goes well, I will publish a new album next year.
Can you share with us what actually brought you to Stripburger? I remember that you sent us some illustrations when you first made contact with us. We then asked you whether you drew comics as well, and it turned out you were actually very productive in that area …
My first encounter with Stripburger was through the internet. Daniel Bueno sent me a message about European and South-American comics magazines. I saw Stripburger's web site and I liked what was published there, so I sent my stories. I was lucky enough to find someone who is inspired by my work.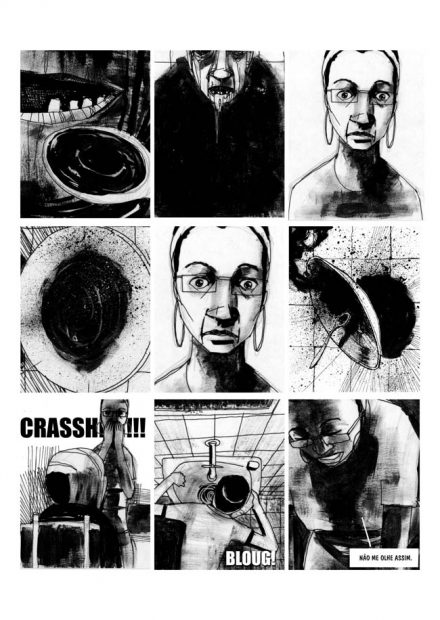 I find that the stories in your comics have something in common with those of the Japanese cartoonist Yoshihiro Tatsumi – not from an artistic point of view, but rather with their realistic themes, their feel for social reality, the little man as the protagonist, open endings… Do you know that author, were you influenced by him? If not, who are your role models (in comics, as well as in other artistic forms)?
I'm not familiar with Tatsumi's work. But thank you for the hint. Some Japanese mangas represent a strong reference point to me. They certainly raised the complexity of comic strip expression to a whole new level. Katsuhiro Otomo, Tayo Matsumoto, Takehiko Inoue are real geniuses of that style. I find Akira one of the best works that I read in my younger years; due to its rhythm, cadence, and exceptionally sophisticated form. The eastern market is so big that even absurd creations, such as the first part of Tsutomu Nihei's Noise or the obscure stories about Eru-Guru by Suehiro Maruo etc. can find their place in it. In addition to manga authors, there are Japanese filmmakers that surprise me again and again. One of them is Takeshi Kitano. In fact, his film expression is closely linked to comic strip language. I have recently discovered Takashi Miika's films. Audition, Ichi The Killer, Blue Harpand his contribution to theThree Extremes are fantastic! I love Hitchcock, Tsai Ming-Iiang, Antonioni, Haneke, Kieślowsky, Pontecorvo, Cassavetes, Spike Lee. I have also watched some brilliant African films like O Cedo by Ousnam Semben and Abouna by Mahamat-Saleh Haroun.
Despite its ups and downs, Brazilian film production boasts some very special works. Glauber Rocha's films, some films by Rogério Sganzela, Sergio Bianchi, Cláudio Assis, Luis Sergio Person, Fernando Meireles, Andrea Tonacci, Karin Aïnouz and Hector Babenko (among others) contain strong dialogues, which are from a Brazilian context.
About American comics… Quite some time ago I read Chris Ware'sJimmy Corrigan. Simple plot, expressed through a complex form with an excellent scenic layout. Ware makes simple, everyday things significant. Creates a specific rhythm. And simultaneously he tackles topics, which are particularly sensitive to Americans: racism, weakness, etc.
I like reading Daniel Clowes again and again, especially his album Like a Velvet Glove Cast in Iron. I would like to point out another remake work, which is rarely discussed, but represents an absolute reference point to me; that's The System by Peter Kuper. A complex, quiet and effective narration – it seduces you.
In 2008 I participated in a comic strip festival in Algiers (Algeria), where I came into personal contact with the French comic strip artist Matthias Lehman and Jeremy Nsingi and Barli Baruti from Congo. At a book fair I was introduced to the work of the European author Mark Turunen (Finland); it excited and fascinated me. Some other European comics artists that I value highly are Mattotti, Stefano Ricci and Hugo Pratt (all Italian).
Your comics show, as it seems to me, your great sensitivity to contemporary Brazilian social reality, especially of the marginal social groups. .. What is your relation to the world depicted in your comics? Do you narrate the stories first-hand, from your own experience, or do you get them from some other (information) channels?
A story can start in various ways. Very often they are born from discussions that I have with my friends, sometimes they come from the news, or they are based on something that happened in the street. The first story from the album Noite Luz is based on a real fragment of place and time. A friend told me about a girl who worked in a night club. I took his anecdote and developed it into a story of my own. On some other occasion I was told about the death of an acquaintance in a fight between football fans. The story entitled Bulldog was born from this.
My latest story, which hasn't been published yet, is based on an unusual event. A dark skinned man is standing in a parking place in front of a big shopping mall. He is surrounded by security guards. They are sure that he is a car thief. They beat him up. In fact, the man was the owner of one of the cars. Well, this story is already strong in itself, but I had to expand it. I added other elements and created a new story, which tells about prejudice, racism, crime and consumerism. These topics attract me in a certain way, that's why I often reach for them. However, it seems to me that there is a certain gap between the Brazilian social context and the topics discussed by Brazilian comic strips.
Nevertheless, more than the inspiration that triggers the story, these days other aspects intrigue me: the methods and possibilities for the story's portrayal in the form of a provocative, intelligent, efficient and unique narrative. The choice of the main plot is important, but exploiting its narrative and visual potentials is even more important.
While reading your album (or rather, comic strip novel) Noite-Luz I asked myself: is this a comic book, is it literature, or is it already film? Is Marcelo a comic strip artist, a writer and a film director in one? Should Noite-Luz be placed with the other comic books on the bookshelf, or would we rather put it next to novels, short stories and novellas?
I am glad that Noite Luz made that kind of impression on you. It shows that comic strips can be as complex and profound as any other artistic form. A good artwork makes the public see reality from another angle, with a new set of eyes, with a renewed sensibility to it. I am fascinated by a variety of artistic forms, which undoubtedly affects my work. Through the medium of the comic strip I can combine diverse art genres in a meaningful whole. And, best of all, comic strip artists can, like writers, do almost everything ourselves.
 In that same work (and in other works you made that I had the opportunity to see) the words are scarce, while the silences are loud, screaming, all-encompassing; where there are any dialogues, they have the destructive power of a volcano. Can you explain to us, how do you see silence – both in your comic strip (very film-like) creations as well as in general?

I think that the imagery in comics can create many possibilities of understanding. I am trying to research that field. Words are important. However, if they are not well applied, this can ruin the story. Pictures open the door to the imagination in unlimited ways. Whereas the text, when it is bad, closes this universe of possibilities, obstructs our imagination and our reading – which happens with many traditional comics. My attention was drawn to this by Peter Kuper's The System, as well as by Akira, Noise and some others (mainly comics). Perhaps the majority of comic strip readers aren't used to reading images that effectively. In general, they tend to separate, define, catalogue, understand superficially. They almost entirely overlook the complexity of the images. It is true, that we live in a world of images, in which these images are essential. However, we are used to only reading them superficially. We do not enquire deeply about them, don't involve ourselves in the details, we don't understand their nuances. A comic strip that is well planned in terms of its form, demands from its readers to read carefully, to enquire, to learn how to see and how to look. When I'm working on the plot of my comics, I (first) write a lot of dialogues. However, when I start drawing and perfecting them, I systematically do away with all the surplus text. The image itself should tell the story. Words help, but silence is most precious of all.
Marcelo, thank you very much for your answers.
* These are songs in verses consisting of six lines; their content is usually of a satirical nature or based on contemporary events.  Songs of this kind are published in booklets (generally consisting of about 10 pages, with one song in each booklet), the covers of which are traditionally adorned by woodcuts.
** Enrique, Cristina and Patricia Breccia; the son and two daughters of the late Alberto Breccia (1919 – 1993), the legend of Argentinian comic strips.
*** You can read his comic strip Projection on the pages of this very edition of Stripburger.
——————————————————–
ABOUT THE AUTHOR
Marcelo d'Salete (b. 1979) is a researcher and a specialist in the field of Afro-Brazilian fine arts, with a Masters degree in art history and a degree in graphic design. An illustrator and comic strip artist, he has also worked as an art history and illustration lecturer. His comics have so far been published in the magazines Front, Grafitti, Quadreca, Contos Bizarros, +Soma (all in Brazil), Suda Mery k!(Argentina) and Stripburger. He produced some of his comics in collaboration with the writers Kiko Dinucci, Eddy Gomez, BrunoAzevêd and Edson Aran.
He has illustrated various children's books. He took part in the exhibitions Consecuencias do Injuve (Barcelona, Spain, 2003),Ilustrando em Revista (touring exhibition, Brazil, from 2005 on) and in the exhibition of the original illustrations from the magazineFront (along with other Brazilian comic-strip authors like Eloar Guazzelli, Jaca, Stefano Ricci and Toppi. (Minas Gerais, Brazil, 2003). He has also participated in some comic strip festivals: Festival Viñetas Sueltas  – Primer Festival Internacional de Historietas de Buenos Aires, (Buenos Aires, Argentina, 2008), I. Festival International de La Bande Dessinée d'Alger, (Algiers, Algeria, 2008)and Luanda Cartoon (Luanda, Angola, 2010). He published a selection of his comics in the independent album Noite Luz (reviewed in the 49th edition of Stripburger). He lives and works in Brazil.
SELECTED BIBLIOGRAPHY AND MAGAZINE PUBLICATIONS
Quadreca n.12, (Com-arte) (BR), 2001
Quadreca n.13, (Com-arte) (BR), 2003
Noite Luz, Via Lettera (BR), 2008
Front n. 10, Via Lettera (BR), 2002 (Trânsito)
Front n. 11, Via Lettera (BR), 2002 (Cheio de Azul)
Front n. 12, Via Lettera (BR), 2002 (Noite Luz)
Front n. 13, Via Lettera (BR), 2003 (Mamãe)
Front n. 14, Via Lettera (BR), 2003
Contos Bizarros, Abril (BR), 2003
Graffiti 76% quadrinhos n. 16, (BR), 2007
Suda Mery K! n. 5, Ex-abrupto (AR), 2008
Graffiti 76% quadrinhos n. 17, (BR), 2008
Stripburger št. 47, 2008 (Between Roses and Stars)
Stripburger št. 48, 2009 (Sketch)
Stripburger št. 49, 2009 (Fifteen