Comics, drawings, graphic art, and more
two exhibitions, perfomances and a workshop
EXHIBITIONS:
Exhibition opening: 1 Dec at 20.00, Alkatraz Gallery, Ljubljana [until 29 Dec]
Exhibition opening: 4 Dec at 22.00, Kinodvor, Ljubljana [until 10 Dec]
+ workshop:  3 Dec, 11.00─14.00, Slovenian Ethnographic Museum
+ performances in Alkatraz Gallery: Sunday 3 Dec and 5–9 Dec 2017 at 17.00
The premiere solo presentation of Caroline Sury in Slovenia brings a selection of the highly versatile creative output of this French artist: in the Alkatraz Gallery, a selection of originals from her comics will be complemented by the author's drawings, silkscreen prints and etchings, as well as illustrations and animations. The exhibition places special emphasis on Sury's cutouts.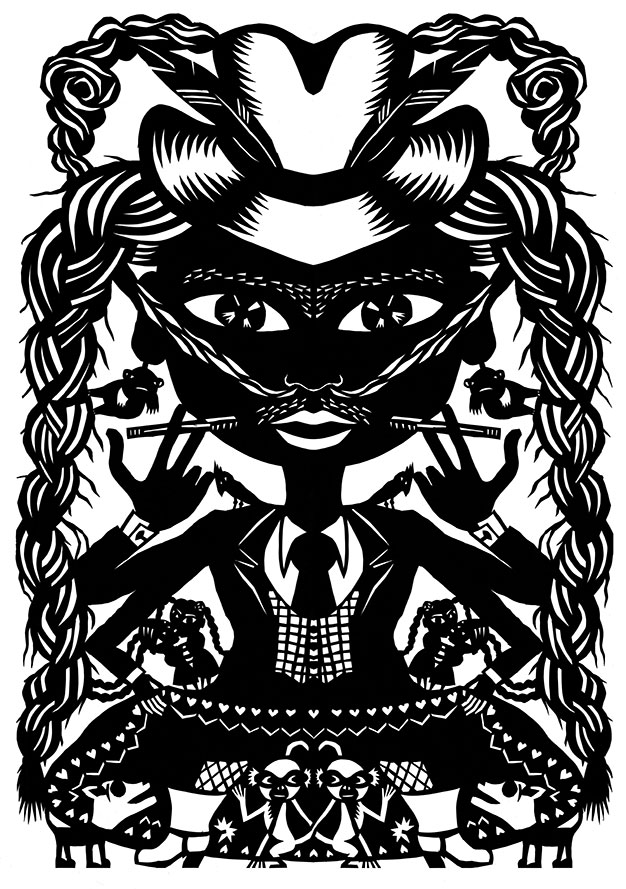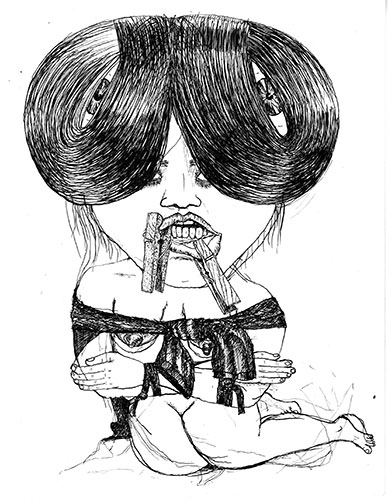 Sury draws on the tradition of art brut, her works being very straightforward, even wild, yet always highly intimate and personal, often dealing with autobiographical issues, and invariably so with infallible honesty. Even though critics describe her style as uninhibited, even aggressive and daunting, in terms of subject matter many of the emphases attest to the author's introspective insightfulness as well as her emphatic sensibility in observing life and the society at large. Caroline Sury's art is easily identifiable: her occasionally pronounced expressivity is often mixed with an artistic expression marked by palpably child-like naivety, teeming with playful and ironic elements. With the recent withdrawal of colour, the author's increasingly refined forms have become markedly graphical and polished, yet still allowing enough room for sundry details. In her work, Sury often explores women's issues and women's eroticism. As the latter is one of the focuses of the exhibition, part of the gallery space will turn into a special ladies' boudoir to display works dealing with eroticism.
Reaching all the way into the realms of virtual reality thanks to a performance art piece, the multi-media exhibit will introduce the audience in Ljubljana to the prolific, versatile body of work of an all-round underground artist consistent in her straightforward and uncompromising stance. During her stay in Ljubljana, Caroline Sury will also be part of the Animateka International Animated Film Festival: also, the author of this year's festival identity, she will show a selection of her favourite animations and open a smaller exhibition of her prints based on cutouts in the Kinodvor Gallery. Mounted in display cabinets, the prints will be looked at through mirrors perforated by small holes to allow for a special visual effect. The author's visit in Ljubljana will be crowned by the publication of her flipbook.
For an aftertaste of the event, look for a big interview with Sury in the 70th issue of the Stripburger magazine.
CAROLINE SURY (1964, Laval) is a graphic artist, illustrator, comic artist and musician with a degree from L'école des Beaux-Arts, Bordeaux, who also works as editor and producer. Together with Pakito Bolino she was a long-standing editor of Le Dernier Cri, a Marseille-based underground publishing house specialised in various publications and prints from books to graphic art and posters. Sury lives and works in Marseille.
…………………………………………………………………………….
Alkatraz Gallery opening times:
Mon – Thur: 11.00–15.00, 16.00–20.00, Fri: 15.00–23.00
Sun, 3 Dec.: 11.00 – 15.00, 16.00 – 20.00
Sat: 9 Dec.: 15.00 – 23.00
…………………………………………………………………………….
…………………………………………………………………………….
Production: Stripburger / Forum Ljubljana. Co-production: KUD Mreža/Alkatraz Gallery, The Association for Reanimation of Storytelling 2 Reels, Kinodvor, Slovenian Ethnographic Museum // The programme of Forum Ljubljana is co-financed by Slovenian Book Agency (JAK), the City of Ljubljana-Department of Culture and the Ministry of Culture. Caroline Sury's visit in Ljubljana was supported by the French Institute in Slovenia.