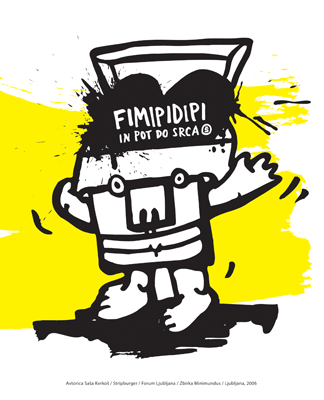 Fimipidipi and his Voyage to Heart – a charming children's story about a fantasy creature, a delivery boy of love!
---
THIS RELEASE IS IN SLOVENE LANGUAGE!
Minimundus edition #1,  June 2006, 56 pages


4.00 €
Fimipidipi and his Voyage to Heart targets people who sleep and therefore can't hear love that's been waiting there for a long time knocking on their door. These people simply need to open their eyes and let Fimipidipi in! The book is also appropriate for small children.
Fimipidipi and his Voyage to Heart is a short story about a creature that lives in a box on the rooftops of the city, close to any of us. He visits everybody that  longs for love. Fimipidipi doesn't manage to deliver a heart to a small boy living on the top of a small appartment building. He decides to give his best to accomplish this task. In his clumsyness, he breaks the boy's heart into thousand pieces, but quickly comes up with new solutions.
And so the plot thickens. Luckily, the story about a fantasy creature, a delivery boy of love, unravels in a happy ending.
EXHIBITION
Fimipidipi's story is a two-dimensional book that gains a new, third dimension, as it goes interactive with the strolling citizens that stop by the Ana Desetnica street theatre festival. Fimipidipi and his  Voyage to Heart becomes a puzzle that demands to be solved; it also becomes a part of Ana Desetnica's playground for young people and children.
SAŠA KERKOŠ
Saša Kerkoš was born in 1977, graduated from visual communications at the Ljubljana Academy for Fine Arts, studied also at the Academy of Industrial design and Arts in Helsinki and at the Academy of Fine Arts in Zagreb. She is designer, illustrator, comics artist and mentor st various workshops.
For her work she has gained several awards: Prešern award 2003 (for design project at the Caroussel du Louvre, Paris 2002), Break 21 festival 2000 (section comics), Magdalena 2001 (first award in category of bussiness gifts), Selection for the gift of the City Ljubljana 2002, Worl biennale of small graphics 2003, France  – Honorable mention, Magdalena 2004 – special mention for the Banner DELO, Magdalena 2005 – finalist in the field of internet games.
Exhibited at home and abroad: Academy of Fine Arts, Budapest; Design Museum, Helsinki; KUD France Prešeren, Ljubljana; INTO Galleria, Helsinki; Vilnius, Lithuania; Likovni salon, Celje; Magdalena Festival, Maribor; comics festival Raptus, Norway; Salao Lisboa, Portugal; SPX, Stockholm; Caroussel Du Louvre, Paris; Voipaala Art Center, Saksmaki, Finland; Moderna galerija Rotovž, Maribor, Slovenia.
Save
Save