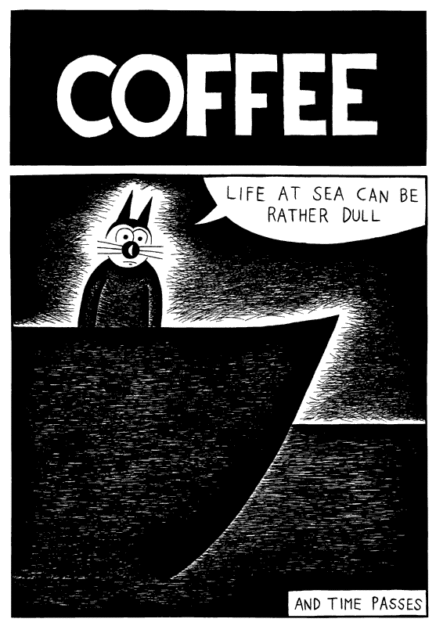 Gunnar Lundkvist (Sweden) – interview, Stripburger 62, December 2013
Having tea with Gunnar
Gunnar Lundkvist is a comics artist who published his works for the first time at the age of thirteen. In 1979, he published his first comics book with the protagonist Klas Katt, a cat that has not left his stories since. The poor success of his first book turned him away from making comics for seven years; in the meantime, he released two collections of poems and worked in one of Stockholm's bookstores. It was not until 1987 that he was persuaded by Rolf Classon (co-founder of comic book publisher Galago Comics) to go back to drawing comics. Since then he has published several comics albums and children's books as well as collaborated in countless art projects.
Gunnar's comics are intimately mischievous and their lyrical narrative keeps enthralling reviewers and a narrow circle of loyal readers. And this was exactly what our live talk with him was like – intimate and humorous. We chatted in a Stockholm bookstore – in the same room where a few days ago he had had a presentation on his latest book Klas Katt Dricker Kaffe, starring his characteristic cat.
Without an e-mail address or a mobile phone, Gunnar appears cut off from the world in a very consumer-oriented Sweden. He is reluctant to give interviews remotely, as such interviews, as he explains, quite inadvertently leave too much time for reflection to the interviewee, so he/she willingly or unwillingly shapes the answer in such a manner as to sound more clever.
 To my great pleasure, he accepted my invitation to a live chat and arrived in Stockholm by train from his refuge in the Swedish countryside where he likes to hide in his own world and create.
 Sipping tea with him among the bookshelves: Mimo.
When did you start reading comics? Which authors have most influenced you?
I started reading comics as a child, especially Tintin, then – I think I was about thirteen – I discovered American underground comic artists, such as Robert Crumb, Steve Clay Wilson, Rory Hayes, Gilbert Shelton and others. There was once a strange bookshop in Stockholm, where they had such comics and these comics compelled me to start making my own.
Part of your career is also poetry. In my opinion, those of your comics that have Klas Katt as their protagonist, are also highly lyrical. Poetry in comics. Do you still write poetry? Is there a poem featuring Klas Katt?
No, I never wrote a poem about Klass Kat. [smiles] I still write poetry, but it is personal writing. I have no intention of publishing these poems. I think now I can say everything I want to communicate through my comics. My last two books are admittedly more lyrical, but at the beginning it was not so. At that time, my comics were much more violent, funny and heroic.
You are a self-taught comics artist. Your drawing is simple but extremely efficient in helping to tell your story. In your recent works, it's fun to observe how your drawing has changed and crystallised with time. It expresses quietness, introversion and intimacy. How do you see the development of your drawing? Is it changing by itself or are you developing it systematically?
I have only one way of drawing, one style which I have tried to improve over the years. When I draw, I do not think about this but it seems to me that my drawing is better now than it used to be. When I was preparing the material for the reprint of the entire body of work featuring Klas Katt, I wanted to leave out the first two books, as I found them badly drawn. Then I realized that these two books are an important part of my artistic creation, they are parts of a whole. I can also not change my only drawing style deliberately: in fact, I can not even draw the way I used to.
Your comics feature anthropomorphised animals (cat, mole, hedgehog …). Why? Are these species that you chose deliberately?
Expressing emotions seemed easier through animal characters and, to be quite honest, my animals look more like humans with animal heads. Klas Katt was inspired by Felix the cat from the early twenties (Otto Messmer), and a cat named Waldo (Kim Deitch, who was also inspired by Felix). Cats are apparently a permanent feature in comics, although, interestingly, I never looked up to Fritz the cat (Robert Crumb). I like Crumb and his stories, but not as much as I like Felix and Waldo.
My ex-wife and I created a book featuring a hedgehog and a mole. I think the mole represented me, while the hedgehog the ex-wife. When the book was published, we divorced; or was it earlier? [laughs] I can't remember. Both characters are still in my comics, so maybe they were inspired by her.
Emmanuel Guilbert in his work Alan's War [see 'Slovenian comics delay' in Stripburger # 53], as he put it, used a very impoverished background for two reasons. The first reason is that he was not born either in the place or in the time in which the comic is set, so he did not know well what France looked like during the First World War. The second reason was his desire to give the reader more room for imagination when reading the comic. What is the reason for your use of reduced dark backgrounds? What is behind the theme of your comics?
I wouldn't describe my backgrounds as reduced, I would say they are simple. If I chose to use multiple objects in the background, it might divert attention from the core, away from the narrative. Perhaps I also don't place objects in scenes because I can't draw many of them. I think that what I do draw is quite enough. It is this simplicity of the drawing that makes it so much more powerful.
Your art, though seemingly simple, is still very thoroughly planned. Your creation process is slow and thought-through, the scenarios are well-prepared, anything but spontaneous. Am I wrong?
Often I take my time. I draw some scenes several times before I am satisfied with them. When it comes to stories I tend to know what is going to happen at the beginning and how it will end. Often the story in between arises only when I start drawing. Sometimes a long story takes a long time to develop in my head before it is suitable to be transferred to paper.
I'm faster when signing my books because then I apply a more sketchy style of drawing, without ink and fine hatching.
It is exactly your hatching that requires more time. What are you thinking about while applying line after line?
Hatching relaxes me, my thoughts can just wander in different directions. I don't always think about some specific things. Often while drawing I start to think about new stories or ideas but hatching also requires a certain degree of concentration. Yes, my backgrounds are indeed simple, but still I want them to convey a certain feeling, I want them to be alive. This is why I don't like to say that the background is reduced. This feeling could never be created with the computer, I think it would just come out a bit too 'dead'.
It doesn't generally take me a lot of time to finish a comic. I spend more time to actually get down to work. It is necessary to be concentrated. When you've got worries, for example money related problems, it is hard to get into the right mood to start creating.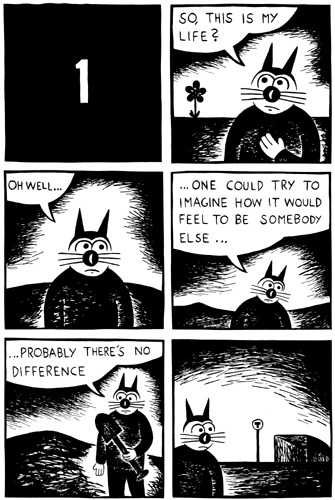 Would you say that Klas Katt was a Swedish character with Swedish characteristics or is he more of a reflection of yourself?
In a way, he has many of my own traits, but the rest of the characters in my comics also have part of my character. Probably the character is somewhat Swedish, because I am a Swede myself! However, he is certainly not a typical autobiographical character, I don't convey my current mood or things that happened to me through him. He is very much free from belonging to a specific time frame. This approach makes comics more readable and stories can remain current even after ten or more years.
Do you think it is easier for Swedes to identify with your comics or do they have more universal stories?
I think the stories are universal because many Swedes cannot identify with them. [laughs] My comics are universal in the sense that the story is not placed in any particular geographical setting. Klas Katt could live in Sweden or anywhere else.
You have also illustrated children's stories. Would you want to continue creating in this direction?
I haven't really considered doing new children's stories since I had a lot of other obligations this year. For example, drawing on photos. It is a joint project with Gunnar Smolansky. I drew Klas Katt onto his photographs, I did about ninety of these interventions. We would like to set up an exhibition or a book around these creations. We will see what comes out of this.
In addition, I am creating large images with Klas Katt and tree stumps in black and white and right now that I would like to paint even more. I do not have time to think about new books for children: when I finish these paintings, I want to return to comics for adults, because I haven't done any comics for two years now.
Can you briefly describe the Swedish comics scene and your role in it?
I do not know what to say about my role in the Swedish comics scene. I think I have a certain reputation and that there are people who like my work. However, I sometimes feel that my work has been forgotten. I'm not a bestselling author. At best, my books sell a thousand copies. Best-selling comics artists in Sweden sell ten thousand copies or more! So I do not earn much but I think they should also be proud of me. [falls into laughter]
The two best contemporary Swedish comics artists, who are also my friends, are now living in Berlin. These are Lars Sjunnesson and Max Andersson.
Maybe I'm getting old, but it seems to me that recent comics are far too heavily based on words and not enough on the picture. This does not interest me much. For me, images are more important. Words can create books but it is only with images that we can create comics.
Have you thought about a digital edition of your comics?
My comics in digital form would probably look pretty good, but I can not convert them myself. If my publisher expressed an interest and had the money, I would say, "Yes, let's do this!"
______________________________
BIOGRAPHY:
Swedish comics artist and poet, Gunnar Lundkvist (1958, Stockholm), released his first collection of poems Träden grter (Trees cry) in 1974. Since 1979 he published more than ten comics books with the protagonist Klas Katt. His short comics are more or less regulary published in swedish magazine Galago.
BIBLIOGRAPHY (SELECTED WORKS):
– Two poetry books published in Sweden, 1974 and 1977.
– Five  books for children made with Anna Höglund published in Sweden, 1998  – 2000.
– Twelve comics books about Klas Katt published in Sweden, 1979 – 2010
– A selection of comics stories about Klas Katt translated to French, L´Association, France,  2001.
– A comics book made with Swiss comics artist Helge Reumann,United Dead Artists, France, 2012