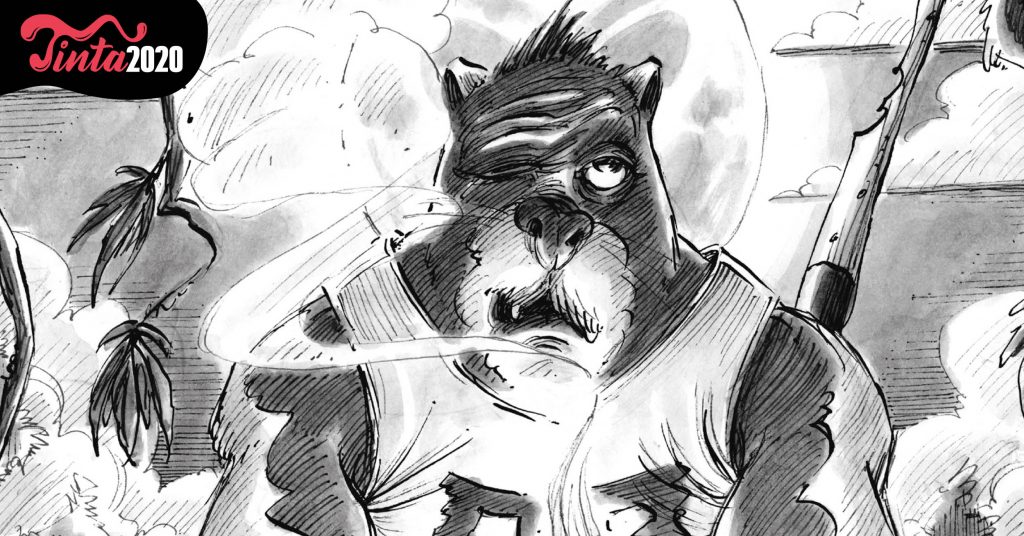 MARKO KOCIPER: BADGER AND THE THIRD WORLD. All together, all infected. No surrender.
comprehensive comics exhibition
TINTA Comics Festival 2020 // K18 gallery, Maribor
OPENING: Friday, 2nd October 2020, at 19.00 // until 6. 11.
This peculiar title brings about a comprehensive exhibition dedicated to Badger, a comics character created by Marko Kociper, a decidedly unique comics artist who's presenting his The Best Of from his body of work in comics and illustration in Maribor as part of the Tinta Comics Festival 2020.
Kociper's work is characterized, alongside a recognizable visual and narrative style, by a skillful braiding of eroticism and satire, often peppered up with contemporary political and social mishaps and all sorts of burlesque wisecrack. His works feature excellent drawings engaged in a dynamic dialogue with text and often socially engaged stories full of lucid humour and grotesque elements.
K18 gallery in Maribor will thus host his original drawings from all the Badger's albums released so far, as well as a number of other comics, posters and illustrations. Kociper is namely depicting the fearless adventures of the famous Badger in a second trilogy already. The original drawings are complemented by several sculptural and/or ambiental interventions created by Rok Mohar and Marko A. Kovačič based on Kociper's motifs. Dr. Skavčenko, a great conoisseur of Badger's life and work, will honour the opening of the exhibition with his performance.
MARKO KOCIPER (1969) entered the comics scene in the mid-90's when he as a self-taught artist quickly areouse interest with his drawing skills. He created several comics albums and published his works in many periodicals (Stripburger, Apokalipsa, Mladina, Literatura …) while he was a regular weekly contributor to the Polet magazine. His works have been shown in many comics festivals and other cultural venues and events.
Photo: DK