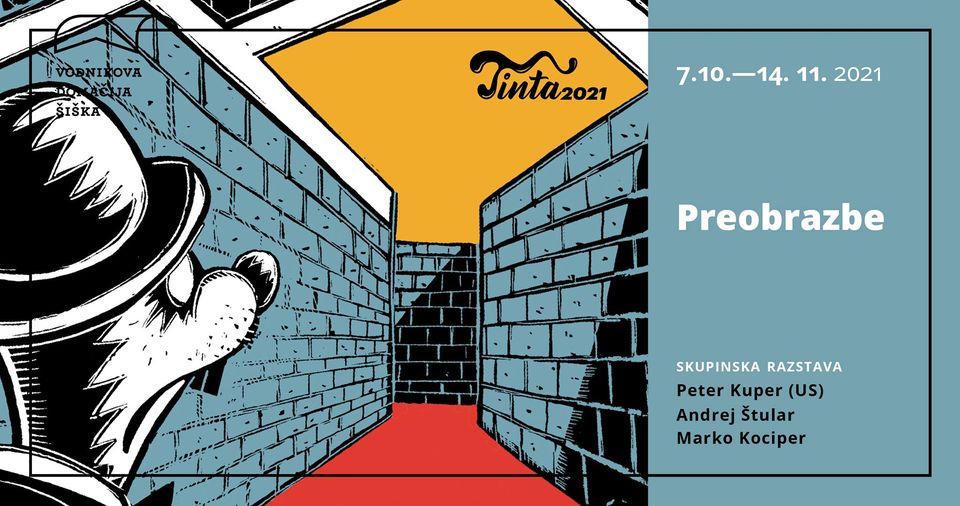 METAMORPHOSES
group comics exhibition
7. 10.–14. 11. 2021
TINTA Comics Festival 2021 / Vodnik Homestead Gallery, Ljubljana
Participants: Peter Kuper (US), Marko Kociper, Andrej Štular
OPENING: Thursday, 7 October 2021, at 8 PM
Audiovisual performance: KONS5 (Nebo Puppet Theater)
Between 6 and 10 October, Ljubljana will host the Tinta International Comics Festival, which once again brings a diverse selection of top exhibitions and events in the company of high-profile local and foreign guests and invites you to expand your comics horizons.
The group comics exhibition Metamorphoses as part of the Tinta Comics Festival 2021 brings together three recent Stripburger publishing feats – three comic book albums based on evergreen literary works. The first is the resounding work Kafkaesque by American author Peter Kuper, an award-winning comic book artist with a distinctly recognizable style and an experienced comics adapter of literary works. This time, he is presenting a striking adaptation of the timeless short stories of one of the greatest writers of the 20th century, Franz Kafka.
You will also be able to see original pages from the monographic collection of visual interpretations of poetry by Andrej Štular, Ostri Ritmi, a recently published work inspired by Srečko Kosovel's poetry, as well as original scenes from the just reprinted Butalci V Stripu by Marko Kociper (who is, by the way, diligently planning the sequel, to be published in 2022). The mouthwatering exhibition features a series of originals, screen prints and other prints from the above-mentioned editions.
The exhibition opening will also include the KONS5 audiovisual performance by the Nebo Puppet Theater, which celebrates its twentieth anniversary this year.
On display until 14 November 2021.
PHOTOS FROM THE EXHIBITION OPENING (photo DK):
---
PETER KUPER – ARTIST IN FOCUS AT THE TINTA COMICS FESTIVAL 2021
PROGRAM:
PRE-EVENT
Tuesday, 5 October 2021, 6 PM (movie) & 9.30 PM (debate) / Slovenian Cinematheque, Ljubljana
APOCALYPSE NOW & HEART OF DARKNESS
film screening & debate
Wednesday, 6 October 2021, at 6 PM / Kresija Gallery
TINTA 2021; CRÈME DE LA CRÈME
festival launch and festival exhibition

Saturday, 9 October 2021, 4–5 PM / Kino Šiška, Ljubljana
PETER KUPER – MASTERCLASS
More about the program here >>
---
ACCOMPANYING PROGRAM TO THE EXHIBITION METAMORPHOSES
Sunday, 17 October, 11 AM / Vodnik Homestead, Ljubljana
NEDELCE: DIY art-assembler
children's workshop (5+)
Mentor: Andrej Štular
Registration and information: spela.frlic@divjamisel.org
Saturday, 23 and 30 October 2021, 10 AM–6 PM / Vodnik Homestead, Ljubljana
STRIPBURGER COMICS ACADEMY
two-day workshop (16+)
Mentors: David Krančan & Gašper Rus
Registration and information: core@mail.ljudmila.org
---
Press/visual material >>
Organisation: Stripburger/Forum Ljubljana, Divja misel/Vodnik Homestead Gallery
Supporters: City of Ljubljana, Ministry of Culture, U.S. Embassy in Slovenia