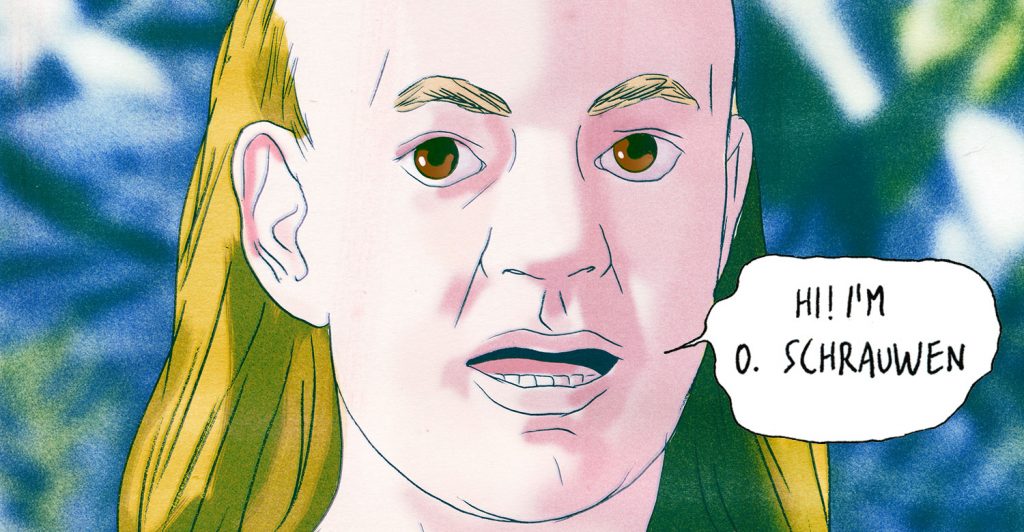 TINTA Comics Festival 2019
OLIVIER SCHRAUWEN: Hi! I'm O. Schrauwen
comics exhibition & AV performance
Alkatraz gallery, AKC Metelkova mesto, Ljubljana
OPENING: Friday, 11th October 2019, at 20.00
/until 7. 11./

---
Olivier Schrauwen is an artist who has attracted great interest with his stunning visual experiments and creative novelty in the last years, gaining an immense popularity in the international & independent comics scene. He's presenting his work in Ljubljana for the Tinta comics festival in the Alkatraz gallery with a modest but comprehensive exhibition of his opus.
The exhibition includes a selection of his original pages from his diverse comics oeuvre, accompanied by his animations and graphic works as well. The exhibition complements the publishing of his first comic book titled My Boy in Slovenian for the Stripburger's Ambasada Strip book collection, heavily influenced and inspired by the American comics pioneers like Winsor McCay and Lyonel Feininger. His surrealistic playfulness, caustic irony and numerous exotic bizarrities paint a picture of absurd fantastic narratives, a brutal and merciless fresco of contemporary times which is able to convey, virtually without any words, a subtle critique of modern life and of modern society in general. The opening of the exhibition with also feature a special audio-visual performance by the artist himself.
OLIVIER SCHRAUWEN (1977, Belgium) studied animation at the Academy of visual arts in Gent and comics at the art school Sint-Lukas in Brussels. His debut book My Boy from 2006 won him massive critical praise and established him as one of the most innovative artists in the field of contemporary comics production. This was confirmed with his later comic books such as The Man Who Grew His Beard, Mowgli's Mirror, Arsène Schrauwen and Parallel Lives. His comics are often included in many different international comics magazines and anthologies while he regularly presents his works in festivals and exhibitions around the world. He lives and works in Berlin.
ADDITIONAL PROGRAM:
Winsor McCay animated movie screenings
Slovenska kinoteka (The Slovenian Cinematheque)
Tuesday, 8th October 2019, at 21.00
A cinematic tribute to Winsor McCay, the American pioneer of comics and animation whose works inspired the Olivier Schrauwen's My Boy comic book. Introduction to the screening by Olivier Schrauwen.

Talk with Olivier Schrauwen
Kino Šiška
Saturday, 12th October 2019, at 16.30
The talk will be moderated by Bojan Albahari, editor of Stripburger.
---
Photo: DK
Gallery opening hours: Mon–Thu: 11.00–19.00; Fri 15.00–23.00
Coproduction: Galerija Alkatraz/ KUD Mreža, Slovenska kinoteka and Kino Šiška.
The publication of Schrauwen's book and his visit were made possible thanks to Flanders Literature (www.flandersliterature.be)