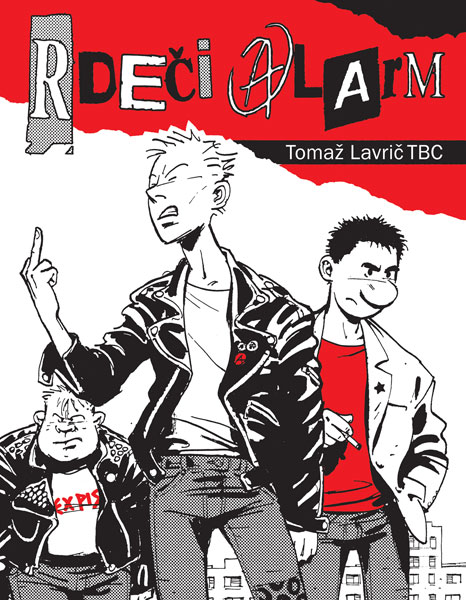 Red Alert – a cult comic book about Ljubljana's punk rock youth alternative scene of the eighties! 
---
THIS RELEASE IS IN SLOVENE LANGUAGE!
Republika Strip edition #14, November 2010, 96 pgs., 2nd enhanced edition


14.00 €



Semi-autobiographical album Red Alert give us a nostalgic, auto-ironic accounting of Ljubljana's (Slovenian capital) alternative scene of the early '80, when the punk-rock music sneaked over the Iron curtain and become quite important liberal movement, oppressed by communist regime.  Jure alias The mole, ex drummer of the local punk-band Red alert, who is nowadays grown-up, calm-down family man, remembers with nostalgia wild times of »warm beer, cold girls and hot music«, when his generation's energy unknowingly helped to change  the world.

The title of Slovenia's most productive and recognisable contemporary comic artist undoubtedly belongs to Tomaž Lavrič. His reflection of modern society, marked by political transition and Balkan war, is internationally acclaimed. Tomaz Lavrič was born in Ljubljana on November 10. After finishing the secondary school of graphic design he continued his studies at the department of painting at the Ljubljana Academy of Fine Arts. He has worked continuously with the weekly magazine Mladina since 1987, marking the beginning of his professional career in illustration, caricature and the graphic novel. In addition to the comic strip he also works with illustration and writing in various forms.
His most widely recognized creation in Slovenia is a newspaper strip called Diareja (Diarrhoea). In the nineties Lavrič published a few graphic novels from work which had previously appeared in Mladina. His Red Alert – Dark Days (1996) is an autobiographic portrayal of the Ljubljana punk scene. It was followed by Ratman (1997), a local superhero social and political parody, and Bosnian Fables (1997), a collection of stories of the war in Bosnia and Herzegovina. He entered the new millennium with a collection of black humour stories under the collective titles Extreme Sports 1 & 2, contributed to the Decalogue project which featured other prominent European artists, and published French-exclusive sci-fi series Lomm. In 2004 he created the comic album Blind Sun, a series of nine short, cataclysmic stories with poetic text. It is not just Slovenia where his work is appreciated: many of his titles are published by foreign labels and are available in French, Spanish, Italian and Croatian. He in currently finishing his new comic series Young Yeshua's Gang.
Red alert is the first album of Tomaz Lavrič, self-published in 1996, 2nd enhanced edition was published by Forum Ljubljana / Stripburger in 2010.
French edition (Alerte Rouge) was published by Éditions çà et là in 2019. The album was nominated for Prix du patrimoine (The Prize for Inheritance) at the Angoulême International Comics Festival 2020. Oi! Oi! Oi!
Save
Save