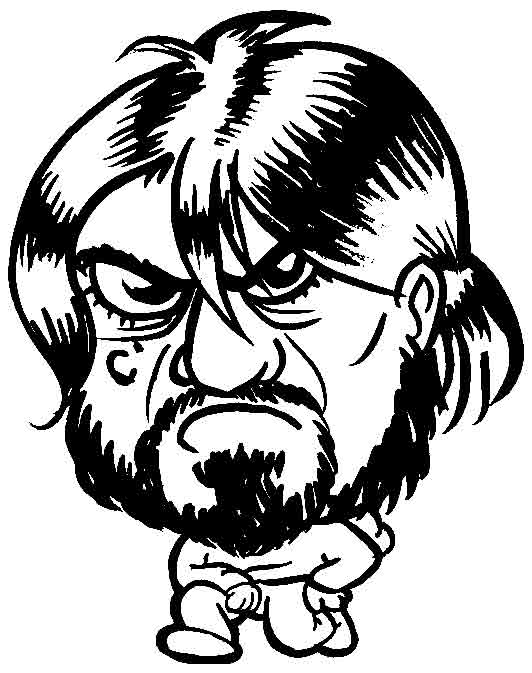 Nobody knows for sure, why Sandi Buh, a happily married man, father of three children and proffesional salesman of technical equipment, decided to open up a comics store. It seems that this, in some countries quite lucrative business, is being undertaken only by the boldest comic book lovers. Sandi talked about this business, full of metaphysical tricks and theological pains. Because he is kind of long-winded and periodically profane, we mitigated the interview and/or shortened it in places of minor importance.
After a good year of running a comic shop, what have you experienced?
As for the sales, I really can't complain, but I can't live off of it, mainly because this location is too expensive for this kind of merchandise. That's why I'm moving to a new one next month, namely home, where more space is available. I have a big garage in which my store will be in the future. For all the regular customers will be taken care of, in fact, the location's not that far from here.
So this will be more of a collectors and fans place then?
Yes! I have almost no random customers here. Sure, the Murgle Center mall is functional, but people rarely come to the store. Moving to the city centre or home is an option. But in the centre, I'd have to hire employees and pay twice the rent. I don't believe I'd have a turnover big enough to cover all the costs. Regular customers, on the other hand, would go anywhere to get their comics.
Who are your regular customers?
I divide them in three groups: the first are the collectors. They have a collector's rush, they buy a lot of comics, but they don't necessariliy read them all. They make selections at reading, but are sometimes satisfied with the cover. They read what they really like and make archives of all issues. These people may buy multiple issues of the same edition. One for reading, one for the archive. The second group are the readers, who don't buy all comics, but they read what they buy. Then there are dealers, there's also a few of them in Slovenia. They buy all kinds of stuff and operate by some kind of a pricing plan. These people practically don't read comics.
Comics have an image of children's books, but only adults come to the store. Are they grown-up children?
Kids rarely come to my place. For them, comics are a slow medium. The average customer age is about 35. The collectors are people with money. Comics production in ex-Yugoslavia has increased drastically. There are three editions per week nowadays. Comics have transformed to albums. This came from western Europe, France, where comic book is the best selling medium. It sells better than regular books and in time, this has reached us too: comics are being read like books. And for a customer, that's no small cost anymore. Especially for students, who need money for other pleasures too. As for the kids, they are more and more occupied with computer games. All of the sudden comics became too slow. Games base on constant action, they require full engagement of the user. After playing a videogame, my youngest son looks like he's been playing hockey for two hours. It may seem crazy, but that's the way it is. In some countries they figured out that kids don't read any more, so they stuffed comic books into libraries. Textbooks are written in comic-style or at least have some parts replaced by comics. The niche was discovered by comic artists, who make their money in such way.
Apart from the age structure, what does Slovene comic book lover look like?
As I got to know them I found out they all have interesting, uncommon jobs. It is amazing that the majority of my customers are policemen. There are a lot of musicians, also philosophers, there's a traffic engineer, a stockbroker, the head of a homeless shelter, there's one of the biggest fighters for gay rights, architects, a film director, actors,… They rarely have a boring job.
So can we say that boring people with boring jobs just don't read comics?
It certainly looks like it! But it's also true that there's a lot less women customers than there is men. A lot of women buy comics for their children, whereas men buy it for themselves. These women represent the majority of my random customers. The thing is that there's little home production and the kids today don't understand Croatian or Serbian. Which means comics have to be in English. An interesting characteristic of comics in Slovenia: those of us who have been reading comics in the past have been reading them in Serbo-Croatian and today they're mostly in English. Comics in Slovenia seem to have a bilingual side to them. As far as Croatian is concerned: they will always be our neighbours, no matter what you do. I guess we're very much alike. Today, as we focus more on other connections, people read in these languages less and less and knowledge of them is declining. The bond is not broken yet, but I have a feeling it will be lost one day. Which is a pity, because there's a lot of publications coming from there. Not that I'm nostalgic about ex-Yugoslavia or anything. We've gone through the characteristics of an average comic book reader. Now I'd like to know what do these people read?
You know how it is : everybody has their own preferences. I could be arguing about this with my customers at any time, but I still think that according to sales, Zagor and Dylan Dog are at the top.
???
I think it's still a part of nostalgia. They're heroes we know since our childhood. I've stopped reading Zagor 25 years ago. People read all kinds of comics and collect everything too. I guess the strongest influences are the ones from your childhood. Although tastes change, fundamental preferences stay more or less the same. It's extremely hard to sell an alternative comic book to a guy of my age.
Would you agree that there are two worlds of comic in Slovenia: there's the world of Stripoteka and there's the world of Stripburger , the world of Zagor and the world of alternative comics?
No. I sell a lot of Lucky Luke and Asteriks . Those are read by ten-year-olds and by the old people as well. The alternative comics are made by artistic souls, who found a form of art in which they can express themselves. Comics as such may even not interest them at all. An example for this is the exhibition by Croatian art group Komikaze that took place a few days ago. On thursdays, me and my customers have round tables and one of them was quite shocked by a Komikaze member who said that you don't need comic-drawing skills to make comics. To someone, who has spent great amounts of money during 30 years of collecting comics, that comes as a great shock. It's a big cleft between points of view. Some people buy Stripburger only if it contains comics by Tomaž Lavric. It's not the least sold item, but I'd like to sell more of it. I'm a kind of filter in all of this. On one hand, I'm a comic fan and on the other I'm a salesman, which means I have to consider my customers' opinion. Sometimes things get really chaotic. The fact is, I sold only one special issue of Literatura (Slovenian magazine for literature, t.n.) that was published in cooperation with your magazine. A true comics lover should definitely own a copy, especially the collectors.
We know that Zagor and Dylan Dog fans don't think highly of us (jealousy and envy?), but could you perhaps reveal to us, what's your opinion of Stripburger ? As true alternatives, we're always in some kind of identity crisis. Is it weird that we're the only ones publishing comics and comics that we publish are targeted to people of refined taste?
By all means, I think it's important that Stripburger exists. Everybody that is active in this field is welcome. To speak badly of things you don't like, you'd have to be a patient, to use the words of your chief editor Katerina. Some people that come here are not just patients… they're heavy patients. If you don't like it, somebody else does, I say. I would suggest to try publishing some other stuff too. In my opinion, Stripburger has closed itself up a bit too much. I understand you publish only alternative comics, because that's what Forum Ljubljana (parent institution, t.n.) does in all genres of art. It's a pity though, because there's no room for another comic magazine in Slovenia.
The word on the street is that another comic magazine is in the making.
In the making, yes. And if I were any more stupid, I'd probably spend even more money on it. It's an attempt to add a supplement to a daily newspaper like it is done in the West. Like Herald Tribune on saturdays for example. I'm talking about plain newspaper sheet with classics like Dilbert and Peanuts , which have been published in Europe for more than 30 years. You might be too young to remember, but I remember a commercial for Delo (Slovene broadsheet, t.n.). In it there was a paper boy delivering newspaper and a man who read the morning paper at breakfast. Imagine what a great start of day it would be, if the Slovenske novice ( Slovene news ), the best selling newspaper in Slovenia, came with a comic supplement. It would be great to have such a page to read at breakfast, before you go to work. People should begin their day in a good humor! All newspapers have rejected this offer so far. They said they lack pages for culture already and that printing machines are not capable of adding this many additional pages. They are planning new formats though, so it is possible that one day we can look forward to this kind of supplement.
Alan Ford is one of the best selling comics. You led a discussion about it not long ago in the K4 club…
…and with a very good attendance! I even had some problems with lady-fans…
Maybe they have the hots for Bob Rock?
Uh-huh… well, whatever. Alan Ford is quite specific, because it was successful only in Italy and ex-Yugoslavia. It suits Italian south and the whole ex-Yugoslavia well. A Croatian publisher decided to reprint it after a long time. He printed and sold enormous 7000 paperbacks and 500 hardcovers ( Stripburger prints 1000 issues -ed.). He was the first to find out that the point of Alan Ford was not in art, but in text. He bought off copyrights from the son of the late Alan Ford translator Nenad Brixy, who was actually acknowledged as the fourth author of Alan Ford . Italian publishers even admitted that his translations were better than the original. The first issue was sold in number of 8000 copies in Italy and 35 years later the same issue was sold in 7500 copies in ex-Yugoslavia. That's fascinating, considering that three different editions of the comic exist! It is true, however, that the first couple of issues are the best, because later the authors changed and its quality fell slightly.
Lately, there have been quite a few new editions published, from translation of TinTin, to revived Republika Strip series. You're being invited to lecture on numerous occasions and interviews. Do you think the things are moving, or is comic in Slovenia sentenced to a small number of fans?
Maybe I have spurred some kind of scene here in my store. On the other hand, comics really have gotten a lot of space in newspapers. Maybe it's because the media actually are open for this kind of happenings. But I think that only reporters are interested in comics, not common people. I wonder how does this attention of the media reflect upon the sales.
Your comment on latest editions?
It seems to me that everybody who started publishing comics did so without any previous experience. That is why I sell more of Croatian Lucky Luke than the Slovene version. TinTin, published by Ucila, is doing a bit better. Through the United States manga came to Europe. If you stroll through any bookstore in Austria or Germany, you can find at least one shelf devoted to mangas. I'm not sure why publishers don't decide to print mangas, which are a kind of novelty, instead of publishing TinTin and Mortadelc ( Mortadelo Y Filemon ), comics, that exist since decades. Latest editions, like Mortadelc and Maus were published out of personal preferences and not because of the market's needs. It might be true that only fanatics are in this business. One of the more interesting editions are those of Matjaž Bertoncelj and Izar Lunacek. But there's a catch. You have to meet all the requirements for state subvention for a comic project. Once I was applying for it and I have to say that whoever set those conditions, he was setting them for himself or he's a total jerk. An average shopkeeper or publisher doesn't stand a chance. To receive financial support, one has to have at least 50 slovenian publishing firms and 150 titles, supported by the ministry. Please tell me, who in Slovenia can meet this criteria?
One last question: the highlights of Slovene comics?
Miki Muster without a doubt. Of modern artists Lavrič stands out. But the real highlight awaits us this summer, as reprint of Miki Muster's work is on its way. Get ready!