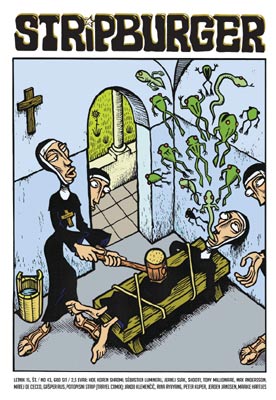 COVER
: Marcel Ruijters (Netherlands)
COMICS
: Igor Hofbauer – HOF (Croatia), Koren Shadmi (USA, Israel), Sébastien Lumineau, Sébastien Vassant (France), Jernej Slak, Matej de Cecco, Gašper Rus (Slovenia), Shooty (Slovakia), Tony Millionaire, Milo Waterfield (USA)
TRAVEL COMICS
: Jakob Klemenčič (Slovenia), Maaike Hartjes (Netherlands), Peter Kuper & Michael Bartalos, Rina Ayuyang (USA), Jeroen Janssen (Belgium)
INFO/REVIEWS
: Tea Hvala, Ivan Mitrevski, Primož Krašna, Koco, Gaëlle Gerbault, Gašper Rus, Igor Prassel, Matej de Cecco
COLUMN
: Anna Ehrlemark
PROFILE
: Max Andersson (Sweden, Germany)
HONEY TALKS – ARE YOU SCRATCH-BORED
?: Miha Perne, Ciril Horjak, Anna Ehrlemark, Pakito Bolino, Leon Zuodar
BACK COVER
: Matthias Lehmann (France)
---
April 2006, 96 pages
SOLD OUT
In this issue you can find comics about neurosis by Korena Shadmi, story of obsesivity by Milo Waterfield, paranoiac contribution of Sebastien Lumineau, psychotic narrative of Tony Millionaire and an interview with Max Andersson. Special attention is given to travel comics, including comics by Maaike Hartjes from her trip to Slovenia, Peter Kuper and Michael Bartalos from their travel to South America, Rina Ayuyang's report from a family visit to the Philipines, and Jakob Klemenčič's contribution from the walk around Ljubljana. Slovenian flavour is represented by newest comics by Matej de Cecco, Jernej Slak and Gašper Rus. Plus reviews, columns, reports and much more. Special English connector added for non-Slovenians.
---
RELEASED: April 2006, format A4, 96 pages (6 full colour pages), offset printed locally in Slovenia.
GET IT: 2,50 € + around 5 € international shipping.
HOW TO BUY: order it from our webshop or write to burger@mail.ljudmila.org.
WE SHIP WORLDWIDE! Preferred payment: PayPal.