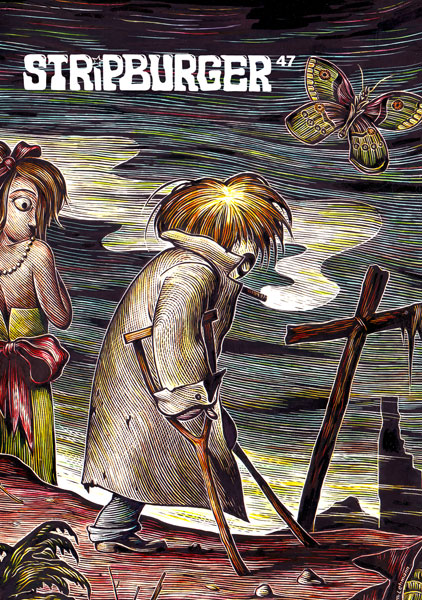 FRONT AND BACK COVER:
Matthias Lehmann (France)
PROFILE:
Matthias Lehmann (France)
COMICS:
Saša Jegorov (Russia), Juhyun Choi (France), Matei Branea (Romania), Filipe Abranches (Portugal), Matjaž Brulc & Marko Kociper, Jakob Klemenčič, Matej Lavrenčič, Gašper Rus (Slovenia), Steven Preston & Aleksandra Sieniawska (United Kingdom, Poland), Marcelo d'Salete (Brasil), Bendik Kaltenborn (Norway), Kaspars Groshevs (Latvia),  Anneli Furmark, Gunnar Lundkvist (Sweden), Thomas Vieille (France),  Mawil (Germany), Richard Cowdry & Peter Lally (Ireland), Olive Booger (France), Askold Akišin (Russia)
REVIEWS:
Jakob Klemenčič, Anna Ehrlemark, Tea Hvala, Gašper Rus
---
July 2008, 96 pages

2.50 €Add to basket
Stripburger enters the summer season with a new image; the magazine now has a smaller, more handy format and is almost entirely redesigned. In the focus of Stripburger #47 we find Matthias Lehmann, the Franco-Brasilian scratchboard master and a long-time friend of Stripburger.
A new feature of this issue is an illustrated short story, created by writer Matjaz Brulc and artist Marko Kociper.
. (Slovenia). Finally, as always, there's also a handful of reviews, bringing to you comics from Slovenia, as well as those from the big wide world.
---
RELEASED: June 2008, format A4-, 96 pages (8 full colour pages), offset printed locally in Slovenia.
GET IT: 2,50 € + around 5 € international shipping.
HOW TO BUY: order it from our webshop or write to burger@mail.ljudmila.org.
WE SHIP WORLDWIDE! Preferred payment: PayPal.
Save