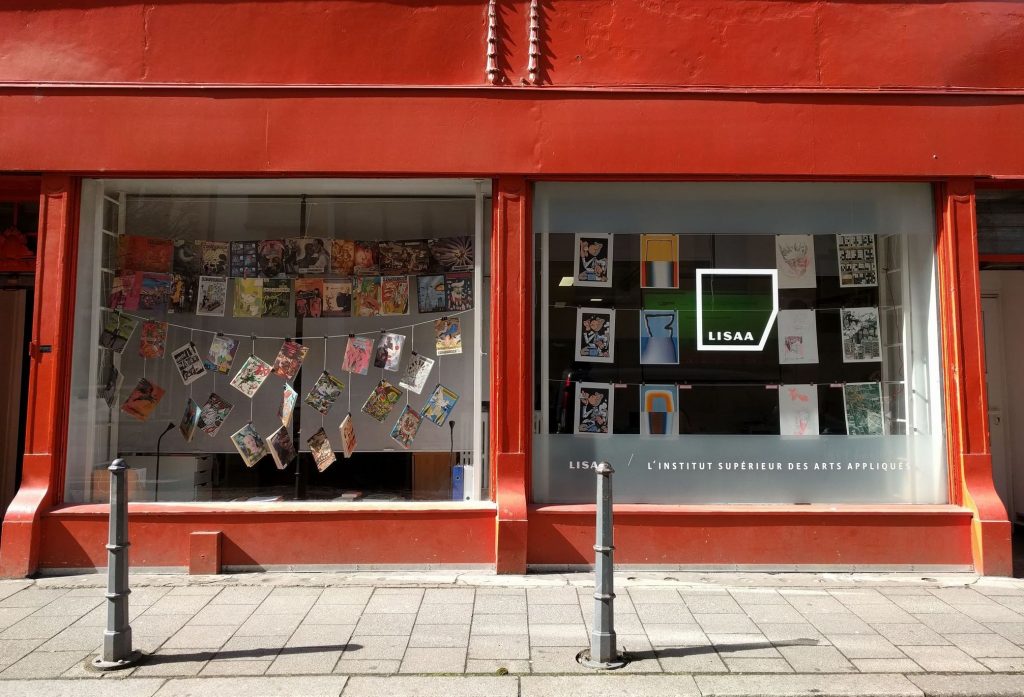 Stripburger at the hybrid Central Vapeur 10.1 festival
18th –31st March, Strasbourg, France
---
If last year was marked by endless cancellations of international comics festivals and fairs, this spring comics events are moving online.
This time, Stripburger magazine presents itself partly physically and partly virtually in one of the centres of the contemporary European comics scene – in the French city of Strasbourg where the Central Vapeur festival will take place at the end of March.
Strasbourg, renowned as a city of art and an important university centre, is a hub to the mostly young and independent comics/illustration scene in the region of Alsace. The main mission of the festival (which should have celebrated its tenth anniversary last year but sadly fell victim to the evil virus) is to present fresh visual narratives, artists and collectives from the field of contemporary illustration, comics and graphic art in all its forms. As part of the festival, several exhibitions, workshops, discussions and other events are held at several different venues throughout the city. In the current and festival-unfriendly circumstances, this 10.1 edition will be a hybrid one, with events both in real-life and online.
As part of the real-life exhibition program, our exhibition 'Stripburger In Print' will be on display in the shop window of the famous LISAA art school from Monday, 15th March, presenting a series of silkscreen and risograph prints titled Sosledja (Sequences) and a selection of the magazine's covers and latest issues. The organizers of the festival are already sending reports of the exhibition provoking enthusiastic responses from the local community, or, to quote one of the students of visual arts who saw the exhibition: »Yes! This is what I want to do when I graduate!« We can only say »Yes! This is what we want to incite!«.
The online part of the festival is culminating this weekend with an online presentation of Stripburger. Bojan Albahari is going to present the case of our magazine and the path we've taken in three decades of comics artistry, publication and co-creation of the alternative comics scene home and abroad.  On Sunday, the festival's online platform will feature the video lecture titled 'Raz Dva Strip' in which David Krančan will explain the basics of comics language and grammar in a simple but instructive way.
A selection of our publications will also be available for purchase to all comics enthusiasts at the festival's pop-up bookstore which will replace the traditional small publishers fair.
Our editorial team would surely prefer to experience the festival atmosphere live by exploring the comics scene in Strasbourg, broadening our horizons and staying in touch with the broader comics scene in our dear continent, but during the festivals' dry spell even such virtual comics gatherings are a welcome alternative to no events at all.
PROGRAM:
Stripburger In Print, exhibition
duration and location: 15th March – 9th April 2021 / LISAA (L'Institut Supérieur des Arts Appliqués), Strasbourg
exhibiting artists: David Krančan, Leon Zuodar, Nez Pez, Mina Fina, Zoran Pungerčar, Dunja Janković, Igor Hofbauer (Sequences series) and several other artists previously published in the Stripburger magazine
'The strange case of Stripburger: from fanzine to prozine', online lecture and discussion
Friday, 26th March at 17.00 / Télévapeur online streaming platform
lecturer: Bojan Albahari

David Krančan: 'Raz Dva Strip', video lecture
Sunday, 28th March at 17.30 / Télévapeur online streaming platform
More about the festival program here.
---
This international presentation of the Stripburger magazine was made possible by the Slovenian Book Agency.