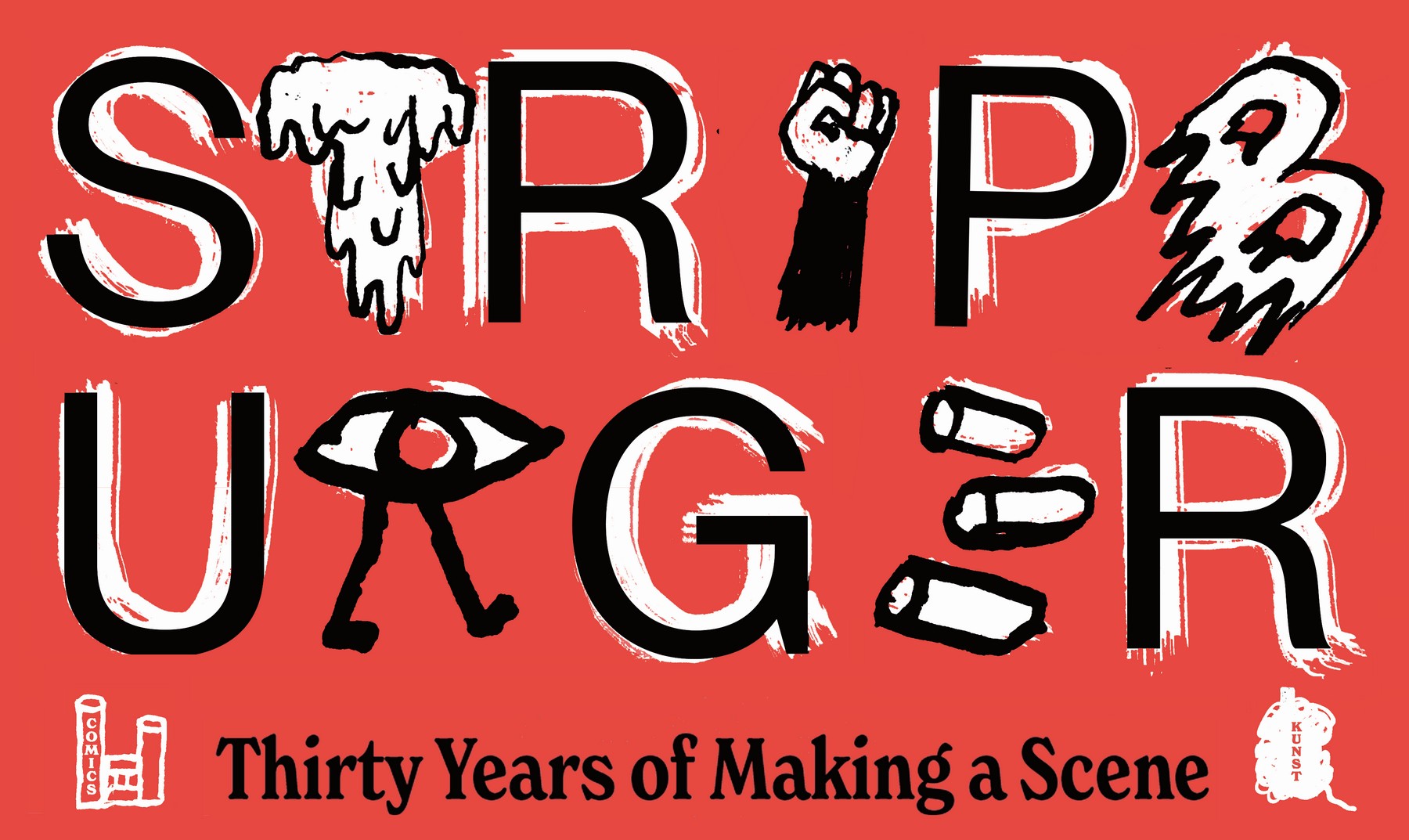 Stripburger: Thirty Years of Making a Scene
exhibition
11. 8.–30. 9. 2023
raum404 (Nicolaistraße 34/36), Bremen, Germany
Opening: Friday, 11 August 2023, 20.00
---
Stripburger, an eye-biting comics magazine with a peculiar character and a distinctive cosmopolitan taste was first published in 1992. In three decades, it has evolved from an experimental visual fanzine into one of the most prominent and active players in both Slovenian and international comics scene and an adamant promoter of independent and alternative comics culture.  Many of the now-established names have started their creative careers on the pages of Stripburger.
The exhibition in raum404 presents the very best of Stripburger's 30 years long print production: not only original pages from selected comics, but also a vast amount of other graphic and printed goodies – silkscreen and riso posters, covers, comic books and special editions such as Honey Talks, Greetings from Cartoonia, GolažGollage, Stripble and Workburger. Special focus will be put on the chunky new anniversary anthology titled Dirty Thirty: Thirty Years of Making a Scene, showcasing the most vibrant and gritty comics from Stripburger's first 30-year history.
Signed by a bunch of Slovenian and international comics artists, the exhibited works represent all the diversity, uniqueness and variety that has been one of Stripburger's hallmarks from its inception to the present day.
Stripburger's companions & friends: Andrej Štular, David Krančan, Gašper Rus, Marko Kociper, Martin Ramoveš, Kaja Avberšek, Tanja Komadina, Matej Kocjan, Matej Stupica, Jakob Klemenčič, Matej Lavrenčič, Saša Kerkoš, Nez Pez, Leon Zuodar, Olmo Omerzu, Matej de Cecco, Marko Kovačič, Rok Mohar (SI), Marcel Ruijters (NL), Max Andersson (SE), Arkadi, Atak (DE), Danijel Žeželj, Igor Hofbauer, Dunja Janković (HR), Lars Fiske, Bendik Kaltenborn (NO), Andrea Bruno (IT), Matei Branea (RO), Matti Hagelberg, Jyrki Heikkinen (FI), Pakito Bolino, Caroline Sury (FR), Filipe Abranches (PT) …
The exhibition will be introduced by Katerina Mirović (curator and co-founder ofthe Stripburger magazine). The opening will be followed by 'Sharp Rhythms' comics reading by Andrej Štular (comics artist) and Tanja Skale (Stripburger editor).
---
ACCOMPANYING EVENTS:
BREMER ZINE FESTIVAL 2023, 8–10 September 2023
ZINE FAIR
8–10 September 2023 / Städtische Galerie Bremen
Dates: Fri 8. 9. 2023 (14.00–19.00), Sat 9. 9. 2023 (11.00–19.00), Sun 10. 9. 2023 (11.00–19.00)
Stripburger will have a table at the zine fair within the framework of Bremer Zine Festival. The three-day festival is open for graphic and art zines, DIY comics and literary zines. The festival-fair will take place in the Städtische Galerie Bremen. Stripburger will be represented by its editors Katja Štesl and David Krančan and by its regular contributor, comics artist Gašper Rus.
LECTURE | Stripburger: Thirty Years of Making a Scene
Sun, 10 September 2023, 17.00 / Musikerinitiative Bremen
Stripburger, established in distant 1992 in Ljubljana (Slovenia), is an international comics magazine and a pioneer of alternative comics in Slovenia as well as in the broader region.  Katja Štesl and David Krančan (members of the Stripburger editorial board) will present Stripburger's 30-year history of active shaping and co-creating of the independent comics scene in Slovenia and abroad.
COMICS WORKSHOP WITH STRIPBURGER
8–10 September 2023 / raum404, Bremen
Dates: Fri 8. 9. 2023 (9.00–14.00), Sat 9. 9. 2023 (10.00–15.00), Sun 10. 9. 2023 (10.00–15.00).
Join Stripburger for a 3-day comics workshop during the Bremer Zine Festival! The workshop will be led by Slovenian comics artists David Krančan and Gašper Rus. Kulturnetz e,V. will produce a small booklet with sketches and eventually some results,  which documents the workshop in a small edition up to 100 copies.
Language: English
Registration and information: zinefest@kulturbuero-bremen.de
Price: 50 reduced fee / 90€ normal fee. Fees include 2 copies of the workshopdocumentation for each participant.
---
Gallery opening hours: Thursday and Friday 20.00–22.00, Saturday, 15.00–18.00
Organised by: Kulturbüro Bremen & Stripburger/Forum Ljubljana.
Supported by: Slovenian Book Agency, Senator für Kultur Bremen, Waldemar Koch Stiftung, Ortsamt Mitte Bremen