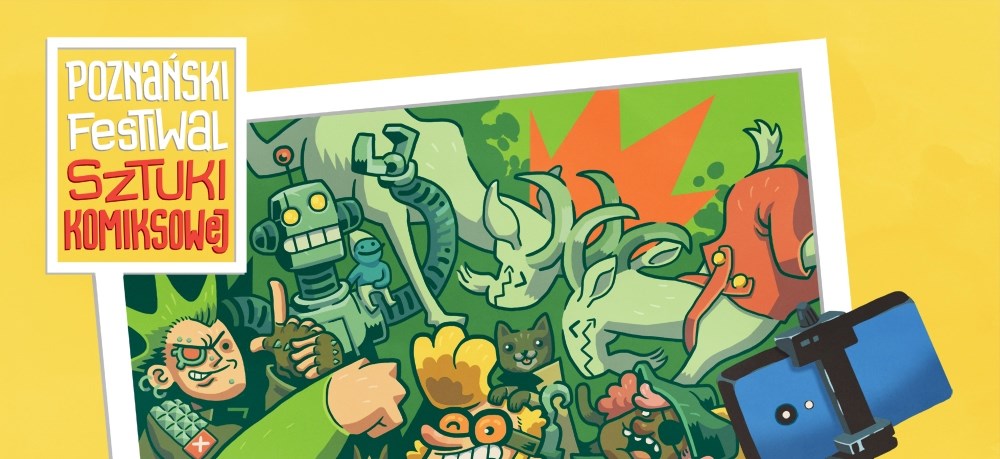 Stripburger at the Poznan Comics Festival
Poznański Festiwal Sztuki Komiksowej, 23rd–30th October 2020, Poznan, Poland
---
The Poznan Comics Festival (Poznański Festiwal Sztuki Komiksowej) is the principal event in the region dedicated to comics and attracts both expert and general readerships. It is organized by the University Library in Poznan that hosts the biggest specialized comics library in Poland, including numerous Stripburger's publications (both magazines and comic books in Slovenian). The main purpose of the festival is to popularize comics art from different parts of the world. The organizers have invited us to present the magazine and our longtime activities in the field of independent comics both in Slovenia and abroad, within the program of this year's third edition of the festival.
The festival and Stripburger's presentation within it will take place in a somewhat abridged version due to the current special circumstances.  The exhibition Stripburger in print at the Centrala gallery in Poznan will put on display a number of graphic treats and other kinds of prints created by several Slovenian and foreign artists: silkscreen and risograph prints from the Attention, work!, Greetings from Cartoonia and Sequences collections and a selection of magazine covers and latest publications. The opening of the exhibition will also include an online discussion with two members of the editorial boards, Katerina Mirović and Katja Štesl.
This comprehensive presentation of Stripburger's publishing activities will also include a unique comics zine in English titled Stripburger Digest, curated and printed especially for the event, which will be freely distributed to all the visitors of the festival. The zine features short comics stories from the huge Stripburger's collection created by nine Slovenian comics artists: Kaja Avberšek, Jakob Klemenčič, Marko Kociper, Matej Kocjan – Koco, Tanja Komadina, David Krančan,  Martin Ramoveš, Gašper Rus and Andrej Štular.
More about the festival at: komiksy-poznan.pl
PROGRAM:
STRIPBURGER IN PRINT – EXHIBITION OPENING &ONLINE DISCUSSION
Friday, 23rd Oct. 2020, at 18.00
Galeria Centrala, Plac Cyryla Ratajskiego 6a, Poznan, Poland // on display till the 30th October 2020.
---
International activities of the Stripburger magazine are co-funded by the Slovenian Book Agency.